is published ten times a year; we regularly feature a rich and resonate roster of the literary and visual arts, by both established and emerging writers and artists. Keep up with the latest: cutting-edge fine art, and contemporary poetry, fiction, and creative nonfiction from across the world.
Enjoy an eclectic mix of the literary, painting, sculpture, mixed media, photography, drawing, the innovative and the offbeat. The Woven Tale Press mission is to grow the online presence of noteworthy writers, photographers, and artists. Most contributors are credited with interactive urls back to their websites. If we discover an artist via a gallery, we will link back to the gallery's website as well.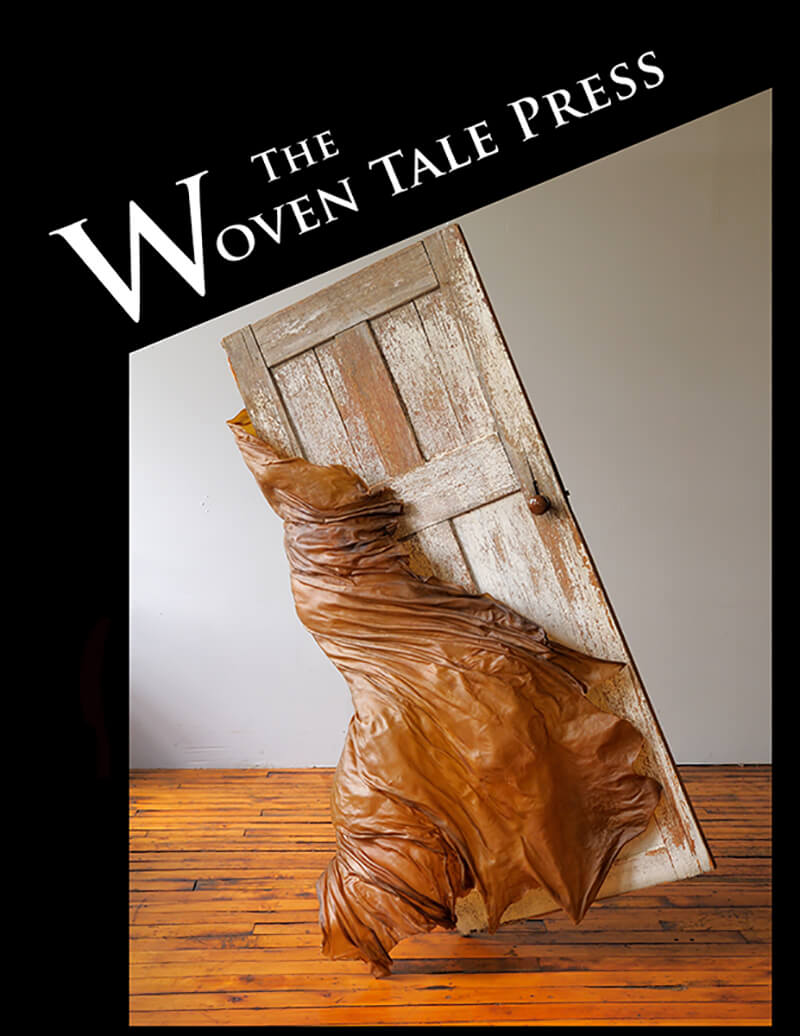 Snapshots of of Vol. VI #10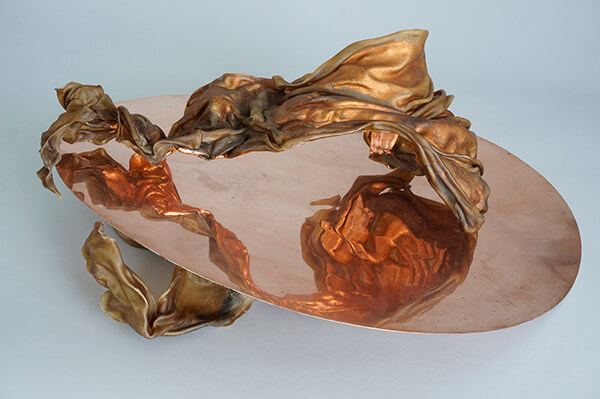 An Unusual Medium: Rawhide
During a residency in New Mexico, Driscoll discovered rawhide, a powerful, malleable material whose organic qualities evoke human and animal life, death, and transformation. Since then, her sculptures combine rawhide with various materials, including neon, light, and video.
(Narcissus 2: rawhide, copper, copper leaf 8" x 25" x 25")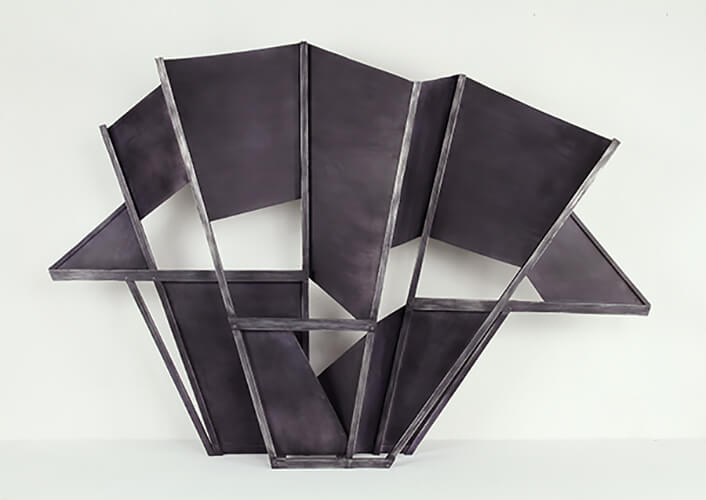 Aluminum Sculpture
Margaret Swan's new painted aluminum sculpture explores the affinity of structures in nature to those found in architecture and the built world around us. Inspired by skeletal and skin-like forms that evoke the structure of sailboat rigging, Swan's sculptures emphasize the tension between lines and planes in space.
(Aloft: painted aluminum 48" x 68" x 8")
"My paintings are an exploration of light and its relationship to color. In many of my still lifes, light passes through translucent objects, making them appear to glow from the inside. I am fascinated by the textures and tiny details of the inanimate objects that fill the world that I live in, and my work is often very detailed. I am frequently drawn to depict natural objects with delicate and organic lines. I am also fascinated by glowing lights. In addition to painting on canvas, I have recently begun to paint on lightboxes. I build shallow boxes and attach tight rows of tiny LED lights to the inside walls. Mirrors at the back of the boxes reflect the light. I stretch canvas over the front of each box, or I attach a sheet of frosted plastic as the front. When I paint with oils on the fronts of the lightboxes, the light glows through the paintings like stained glass, giving the brushstrokes increased visibility."
– Rebecca Giles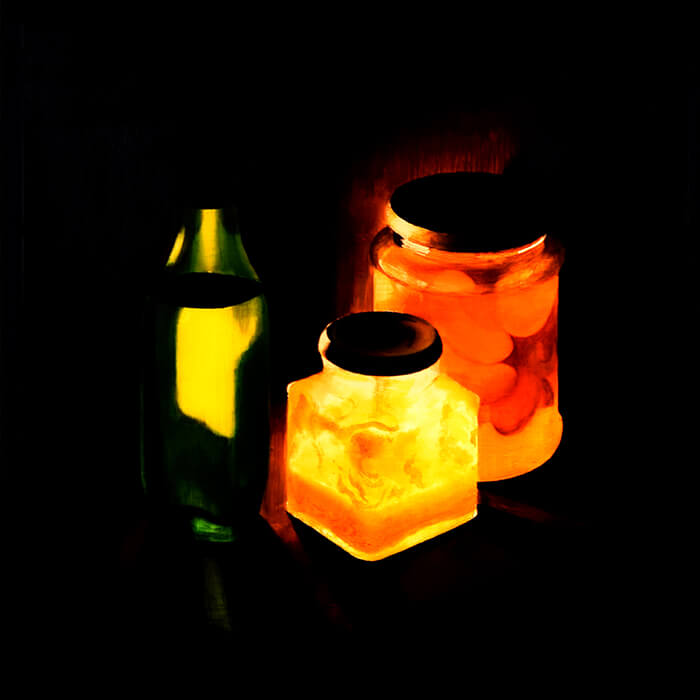 Jars of Light: oil on plexiglass with LEDs 12″ x 12″ x 2 "
By Rebecca Giles, featured in Vol. VI #10
We invite you to browse some of our magazine content that we periodically spotlight on our site. If you like what you see, perhaps you'll want to subscribe or submit.
Experience our aesthetic, by immersing yourself in powerful artworks and resonant writing.
Experience our aesthetic, by immersing yourself in powerful artworks and resonant writing.