WTP is published ten times a year; we regularly feature a rich and resonate roster of the literary and visual arts, by both established and emerging writers and artists. Keep up with the latest: cutting-edge fine art, and contemporary poetry, fiction, and creative nonfiction from across the world.
Between our Covers
Enjoy an eclectic mix of the literary, painting, sculpture, mixed media, photography, drawing, the innovative and the offbeat. The Woven Tale Press mission is to grow the online presence of noteworthy writers, photographers, and artists. Most contributors are credited with interactive urls back to their websites. If we discover an artist via a gallery, we will link back to the gallery's website as well.
You must register to view the current digital publication.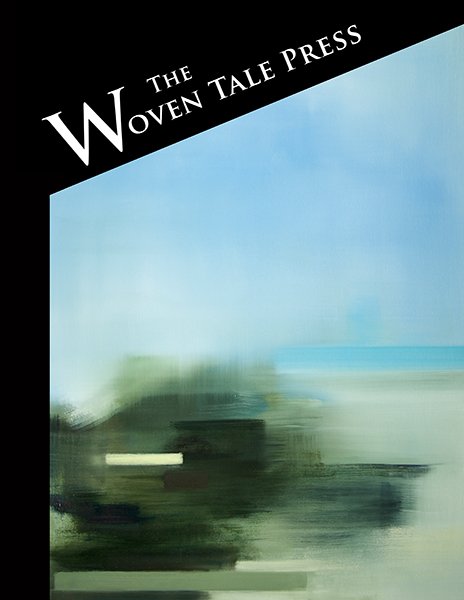 Snapshots from Vol. VII #4
Landcuts
"'Land' for landscape and 'cuts' for cutting or framing, as would be done with a camera and in the virtual continuums that I create." – Paul-Emile Rioux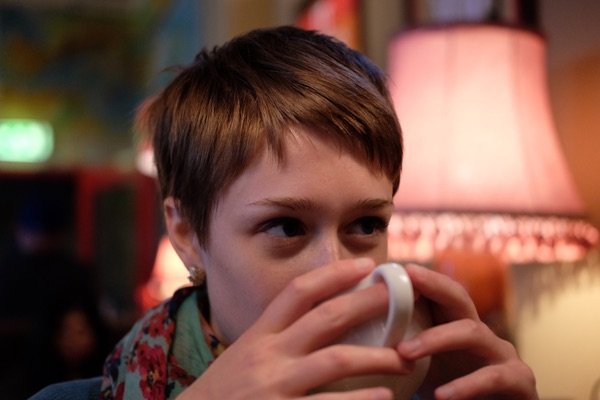 Short Fiction
Elizabeth Hamilton's work has appeared in s/word, Cordella Magazine, and The Dallas Morning News, among other publications. Currently, she is working toward her MFA in Fiction Writing at Seattle Pacific University, WA. Read her searing story  "Go Boom" in this WTP issue.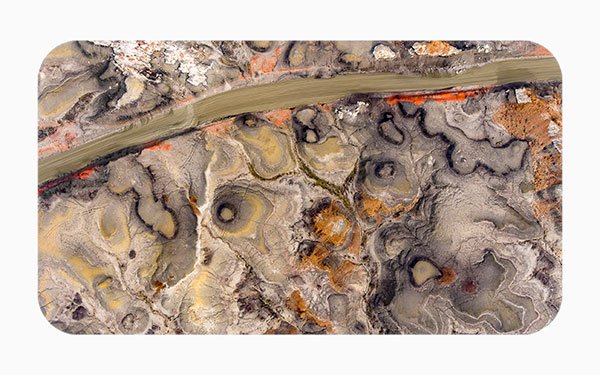 Phenomenal Aerial Art
"I think of the camera as more of an artist's sketchbook. I sketch out my ideas frequently six-to-seven miles above the earth from within a commercial aircraft moving at about 600 mph through a distorted port window." – Ronnie McClure
"Khor lo is Tibetan for circle, wheel, or spiral. Dkyil'khor literally means concentric circles from the center to the periphery, and so becomes mandala. The mandala simplifies chaos and complexity, unifying many elements into one pattern of existence. The central point is the axis mundi, the point of emptiness, the midpoint of self. Outward from the center are the four walls, encompassing the external world. These four directions of life often represent the four elements: water, earth, air, and fire. They may also represent the life qualities of us as living beings: our feelings, emotions, body, and mind. This assemblage work of 108 box panels carries the symbolism of the mandala into the everyday world of patterns: graffiti, old walls and sidewalks, fish baskets, manhole covers, the sides of old train cars. The attached objects that are included in the series were carefully chosen from my collecting drawers in the studio or brought to me as gifts by friends."
–Catherine Eaton Skinner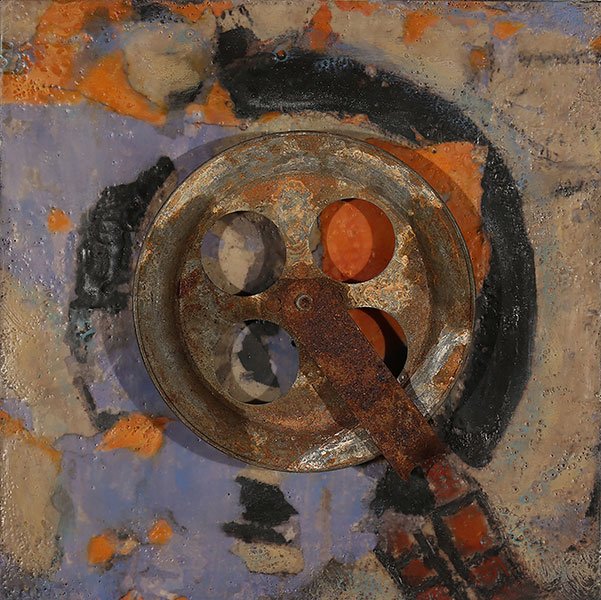 Khor lo XCIX
 mixed media on panel 10" x 10" x 2.5"
Sample our Content
We invite you to browse some of our magazine content that we periodically spotlight on our site. If you like what you see, perhaps you'll want to subscribe and/or submit.
Experience our aesthetic, by immersing yourself in powerful artworks and resonant writing.
Experience our aesthetic, by immersing yourself in powerful artworks and resonant writing.