Steeply Discounted Rates for Artists and Writers!
Take time away in the Hamptons on the east end of Long Island, NY; one block to the beautiful Atlantic Ocean Beach; the intimate town of Amagansett, with its town square, coffee and smoothie shops; and to the NYC train.

 The legendary Hamptons are a destination for artists and writers from around the world, home to the renowned Parrish Art Museum, contemporary galleries, and the Pollack-Krasner House. In this former home to the artist Elizabeth Sloan Tyler, you will be treated to the rustic charm of this expanded 1909 residence, imbued throughout with the artist's ambient paintings.

Choice of two spacious rooms:
~The Treetop Room~
The entire second story replete with a king size bed, private bath, spacious marble writing table in front of a bank of windows overlooking the woods and yard.
So named because with windows open at night, you can hear the crashing of the waves on the shores of Atlantic Ocean beach. This room also provides access to a a large collection of art books, and gallery; private bath and walk-in closet.
You are a five minute walk to the beach; take that walk at dusk to watch the sun set behind the dunes. There is also the use of a bike if you wish to explore the bay side and the inlets—spot that rare egret or blue heron!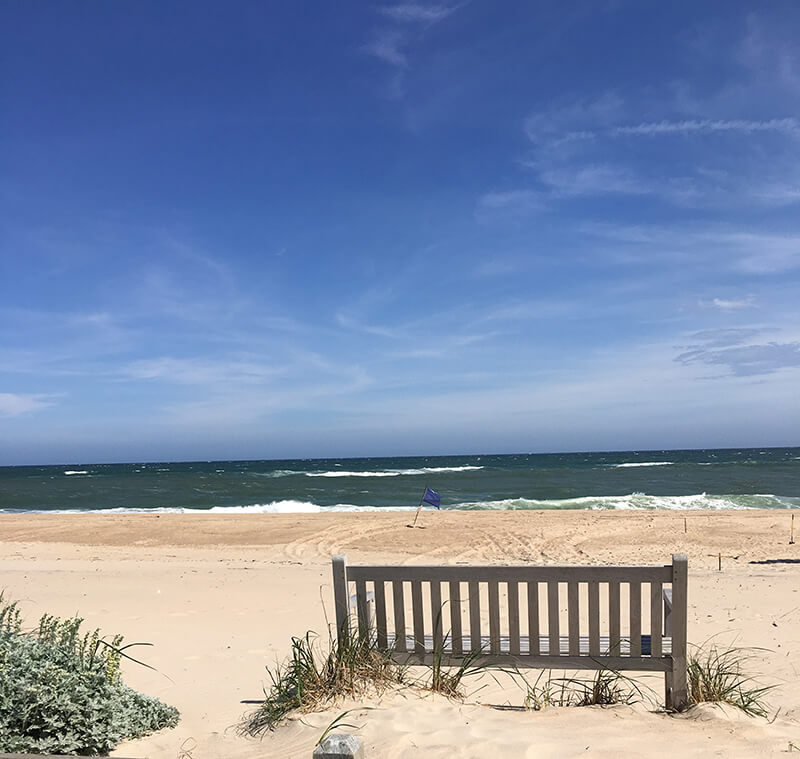 "In the sun room, I'm surrounded by beauty—the deer visit the birdbath for an afternoon top-off and the walls hold paintings in every shade of color. This is a happy house, filled with pictures of family, ceramics molded in ocean blue, treasure chests, and every room has a throw to cover a lap when needed. My thoughts are quiet here, with the sounds of wind chimes and birds on break, the washboards on the porch when the rain visits, and the fireplace that holds light when it gets cold. This is a place for reading the novel you've been putting off, for editing those poems that have given you trouble, and finally for practicing that thing called self-care you've heard so much about. I've strolled to the beach to breath in waves and passed the cherry blossoms on the way to town. Far away from the office and the responsibilities of home—I'm just a poet here, watching the world and smiling for no reason. Thank you Sandra and WTP for this happy house."
– Cynthia Manick
"My time in the shingle house has been filled with the garden's robins, cardinals & other birds; the occasional coming of a distant train; and at night, always, the rhythms of the ocean. Elizabeth Sloan Tyler's paintings form quiet focal points throughout the house, and lingering in her studio, the brushes still in their coffee can canisters, work from different points of her life on the walls and along the floor, brought inspiration and perspective. In particular, I found myself drawn to her late work, where the boundaries between land and sea and sky vanish, and all is movement. This vibrant but subtle energy ultimately fueled my own days. Coming from dry, arid West Texas, I liked nothing more than to sit on the back patio and read, write and draw, surrounded, everywhere by green. Walking beside the ocean, which is five minutes away (on foot), became a daily ritual, particularly late in the day when the light shifted, and color infused sky and sea. I cultivated solitude during my time here, but there is plenty to do in Amagansett, and I thought about going to yoga as well as out to hear music (but opted instead for the birds and sea). On my last day, though, I did rent a bike and rode to the bay at Devan Beach which brought me through the more wooded side streets further afar. I could not be more grateful to Sandra Tyler who ensured that I found yogurt, milk and oatmeal for my first morning, and drove up one night (with her dog Toby) to share dinner and her mother's work. I am deeply grateful to Sandra, Dewitt Henry, and everyone at the Woven Tale Press for making this experience possible. I will draw upon my time here in the months ahead."
—Jacqueline Kolosov
" I am so grateful for this opportunity — really, a dream come true, to spend a week in this exclusive little town, in the midst of such stunning nature, and in this charming house. The sand of the beach is so fine, like no other beach I've been to. And what I hadn't expected, was to feel the presence of your mother [the artist for whom the award is named] — I've looked through her old art books, and when I held a book on Braque, I noticed the prints of blue oils on the cover, that matched the blues in one of her paintings hanging in the gallery. I spent a lot of time looking at her paintings, and the first evening on the beach, I was seeing these same colors in her work. While in my own work, I prefer analog photography, for my bike trips to Montauk, the bay, and the beach, I took my digital camera. Of course I took a lot of  "holiday-snapshots," but then began photographing the natural environs of the area, and found myself experimenting  with the abstract as I never have before. I think I was inspired by being so surrounded by your mother's paintings. I will look through all my images when I am back in Berlin, and send you some – they may be of things you've seen a thousand times before, but for me there is this special connection with this place and with this week. Thank you, Sandra— I  enjoyed my stay here in your mother's home very much. And thank you for all your efforts, for picking me up at the bus, driving me to the grocery,  and even for the bike. This has been an unbelievable week which I will never forget."
— Alexander Klang
Note: We are offering use of the second bedroom if you want to apply with a friend. We are NOT renting out each room separately for same period (i.e. you will not have to share the house with strangers!)
April – October:
(14 nights): $3000 (includes partner/spouse)
Apply with a friend (includes partner/spouse): $3200 for both rooms
July and August 2021 already booked!
November – March:
(14 nights): $2000 (includes partner/spouse)
Apply with a friend (includes partner/spouse): $2200 for both rooms
RR Certificate #: 18-1,606
Discount for all WTP magazine contributors:
April – October:
14 nights: $2800 (includes partner/spouse)
Apply with a friend (includes partner/spouse): $3000 for both rooms
July and August 2021 already booked!
November- March
(14 nights): $1800
Apply with a friend (includes partner/spouse): $2000 for both rooms
HOW TO APPLY: • Submissions are on a rolling basis • All past and current contributors to The Woven Tale Press magazine are considered WTP fellows and are exempt from application process. Just contact us about what dates you would like to come stay! •A sample of your work is not required—we are most interested in writers and artists, or any professionals working in support of the arts, who  are appreciative of this home's aesthetics: one of character and history, and that fosters creativity and the restorative. Simply submit a brief cover letter about how you imagine spending your time during your Hamptons stay (which may simply include long beach walks, or yoga on the deck!), and a resume or artist CV;  your preferred room and dates. Partner/spouse need not apply. We require only one application per room. • If you have a friend who would like to apply for the second room, they must submit a separate application, but partner/spouse need not apply. Only one party need sign the license agreement and pay the security deposit.
To submit or inquiries, write to Sandra
editor@thewoventalepress.net
* House will be cleaned according to Covid-19 CDC.com guidelines.
*Required to sign a license agreement for period of occupancy. Travel expenses not included. All sheets and towels are included, as well as use of beach chairs, other beach gear, and one bike.  
Security deposit of 20% total fee is due within ten days of signing the license agreement minus $75 cleaning fee , or $100 for two rooms. Balance of deposit will be returned at the end of your stay.
All proceeds go toward bringing you more issues of the WTP magazine.