The question of "Why make fan art?" crossed my mind, as I was, not coincidentally, making fan art. As for me, I decided to fulfill a months-old promise to make fan art for one of my favorite webcomics, Scaredemy by Jack Slade. This brilliantly executed comic takes the best of school-aged (and school located) themes and situations (a la Harry Potter, Percy Jackson et al.), adds a "monster" twist to the genre, and presents it in a way that makes me wax nostalgic about my Disney-afternoon-watching days of my youth.
What makes Scaredemy comic so good is that it is character-focused and has its roots in situation-comedy TV sitcoms. What makes me say that? Well, Scaredemy is not a gag-a-day comic strip, but I don't really consider it a longform comic either. Situations arise and then are resolved over the course of a couple strips.  This kind of "situation comedy" is what makes me follow TV shows like Bob's Burgers rather than Family Guy and any Simpsons episode past season eight or so.  For comics (either printed or online), I have to like the characters, enjoy the humor, and appreciate the artistic merits.
So, the answer to my initial question "Why make fan art?" is a simple one: because you are a fan. This may sound like a simplistic answer, but I don't think it is. Having been active on social media for a couple of years now, with Ink Puddle and my own comic The Devil & Mr. Gandhi, there is a lot of fan art exchange going on where creators will make and share and promote "guest" strips and featured fan art of other comic creators.
This exchange is an extremely supportive, friendly, and positive thing in my opinion. But I suspect there is a lot of quid pro quo going on as well. And Webcomics are different in that, although time may be spent on a guest strip or fan art, it's more about sharing exposure online. But I have to tell you that this has made me hesitate to offer my art to others or ask others to submit a guest strip or fan art to me. So, although I am not opposed to exposure by trading art and comic strips, for me to make fan art, I really have to be a fan of the strip or the creator. And for Jack Slade and his Scaredemy, it's a no-brainer. I am a big time fan.
In  making this piece of fan art for this strip, because I am quite hirsute myself, I gravitated towards Wolfric. First, I started off by reading through some strips to get a feel for the way the character is drawn. I literally sketched very quickly what I saw on my computer screen and wrote down some notes: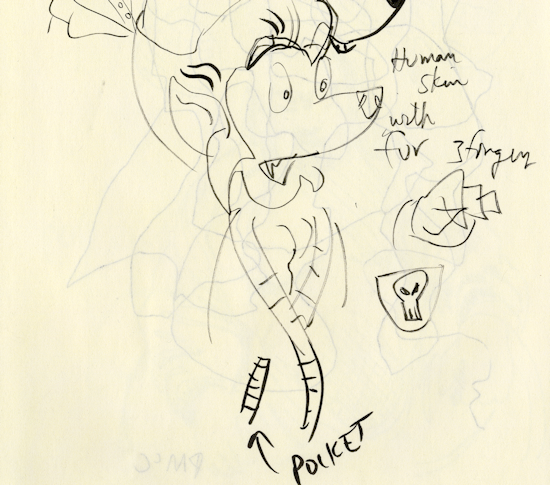 I love how Jack does his overlapping of body parts, clothing, etc. to make the characters more multi-dimensional.  The school uniform is a great way to add uniformity to the strip, and to connect the characters.
I then figured out that I was making Wolfric fat, and getting the dimensions wrong, but had ideas on changes to make, which got me to the sketches below.  This was where I figured out what I wanted Wolfric to be doing, which direction to face.
I definitely had to make him skinnier, and widen the distance between his eyes. When it came time to actually lay down some blue lines on bristol, I had to tighten some things up.  I am still looking to make changes, though.  Needed to add some angles to Wolfric's hair, his ear, and make his arm less fat.
I am sure I will make some additional changes to this drawing before actually inking this. And I will update this post after I ink, scan, color, and finish this piece of fan art.
It is still a bit intimidating to think about offering up a guest strip or anything bigger than a piece of fan art.  I definitely want to start exchanging fan art and guest strips with some of the awesome comic creators I have met through Twitter and other social media outlets, but I still feel that first  inspiration has to hit, and I have to be a true fan of the comic or creator.
I enjoy commissioning pieces of art (paying with money) that involve my characters, regardless of whether the artist is a fan or not. I think for me answering the question of "Why I make fan art?" is a way for me to justify to myself why I haven't done more fan art and submitted guest strips. This is a topic  that has weighed on my mind for some time now. I'd love to hear your thoughts on the topic and practice of fan art and guest comic strips. Leave a comment on my blog or tweet me at @inkpuddle.
UPDATE:
Here is the progression and the final product of my Scaredemy fan art: