By Seth Apter
One of the pleasures of travel for me is creating a journal that celebrates and documents my adventures. It is a time commitment for sure, but one that I have found to be worth the time and effort. Years later, when I page through my journals, I am immediately transported back to each of my trips in a more complete way than simply looking through my photographs.
Over time, I have developed a system that works well for me. I create the structure for my journal before I leave for vacation. I use a handmade book but a store-bought journal would work just as well. I often add a color wash to the pages, my preference being cold-press watercolor paper or blank, vintage books pages. Since I am working in a handmade book, I am able to keep the pages loose on the trip and bind them when I come home after they are all completed. I always pack a small journal kit — which nowadays can be a little tricky if traveling by plane. My kit typically consists of a selection of markers, stamp pads, watercolors and a watercolor brush pen, rubber stamps, rub-on letters, glue stick, scissors (when possible), pieces of handmade paper and the like.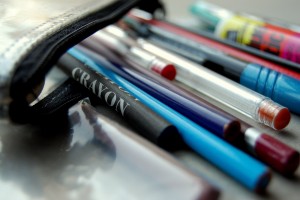 While I am away, I am always looking out for things to add to my journal, whether it be receipts, brochures, business cards, local paraphernalia, ephemera, found objects, and other souvenirs. As I am taking photographs, I am also thinking about what I might want to put into my journal. Time is always carved out to start the pages while I am on my journey, as I love working in the journal when I am in the place that is inspiring me. It is rare however that a journal is ever finished before I return home.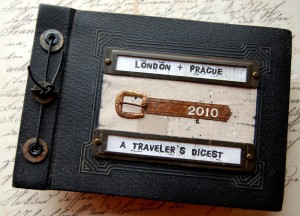 I write random notes about the vacation during the trip too. It is the only way I can remember all that I want to document and I always look forward to my note writing. One of my favorite things to do is to give people I visit or meet along the way a page to complete for my journal. This way I take home a piece of everybody from the trip and they become part of my journal.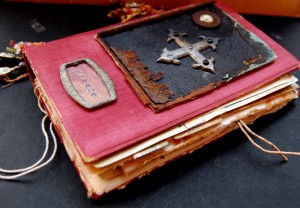 When I come home, I print out pictures, gather all the stuff I brought back, sit with my studio art supplies, and complete the pages. As I am working, I feel as though I am still on vacation. Then I will bind the book and complete the cover.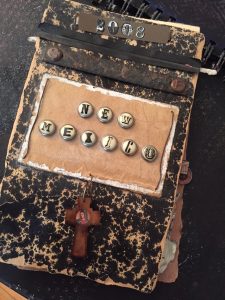 The travel journals that I have made are really sacred objects to me. Each and every time I look through them, I re-experience my travels and find myself on an adventure one more time.