Last week I told you I got a new coffee pot. Well a number of you wanted to see what it looks like so this week I'm posting a picture of my 1940's Flamingo, Hall, Drip O Lator. I'll be on the search for others as cool.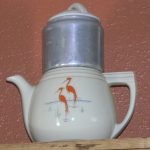 ---

http://hyperallergic.com/So sit back enjoy your drink and let's look at blog
Hyperallergic is a forum for playful, serious,and radical perspectives on art and culture in the world today. I'm not going to get into the number of awards they've received or the fact that they have over 70,000 subscribers (I'm a bit jealous), I'll just leave it to you to enjoy…or not.
---
http://savvypainter.com/?post_type=podcast
This site has great interviews and an immense amount of podcasts.
---
http://www.kontemporaryart.com/
This site is more a gallery site than a blog but the artists they show have a lot going for them. I love the quality of the reproductions on the site.
__________________________________________________
If you have a favorite blog let me know, I'd love to go and read it.