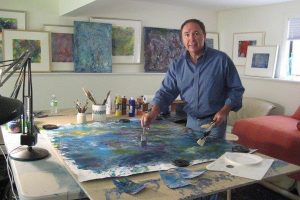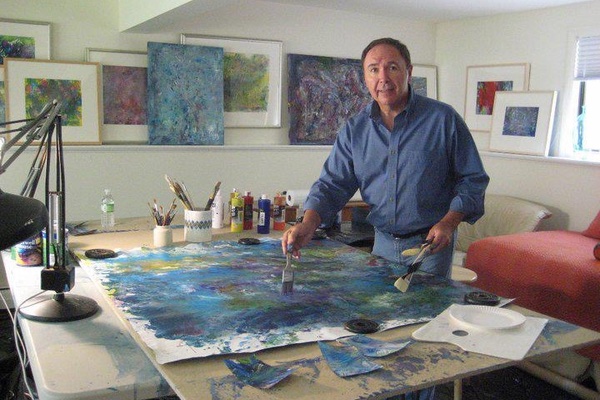 Interview with Richard Malinsky
What are you working on in your studio right now? I'm working on a commission for a private collector in Philadelphia.
What is your primary or favorite medium and why? My primary medium is liquid acrylic. I like to pour the paint and move it around while it is fluid and let it interact with other wet colors and forms. This kinetic motion makes these images unexpected, energetic and evocative.
Can you tell us a little about your creative process? I share the conviction of the first generation Abstract Expressionists that the role of art was not to report on the visible, but to reveal the unknown.  I remain faithful to the idea of working as closely as possible out of pure intuition. My images are derived from natural organic growth forms, remembered or imagined landscapes – allusions to water, earth, and sky. I am constantly trying to evoke an emotional reaction from the viewer rather than an interpretation.
Technically, I work flat with a lot of water and focused on the fluidity of the paint (symbolic of organic form and motion), atmospheric depth, and pushing beyond the edges that define two-dimensional composition.  My use of color is sometimes playful and surprising but never haphazard because color defines the form, space and energy.
How would you describe your style? As a second generation, lyrical abstractionist, what sets my work apart from Abstract Expressionism is a return to atmospheric depth, and an evocative poetic link to contemporary color field abstraction–frequently a single color field populated by organic forms pushing at the boundaries of the traditional defined rectangle.  Some pieces actually move beyond 2-dimensional illusion and actually are a 3-dimensional reality that challenges the definition of a painting.
What does your typical studio day look like? Generally up at 7:00 a.m., regardless of whatever time I go to sleep at night. Quick breakfast, glance at some mail and take my coffee downstairs to the studio by 7:30. I spend about an hour with email, posting photos on various sites, and looking thru dozens of photos friends and colleagues are posting on Facebook. I enjoy seeing art colleagues' work from around the world that I may never get to see in person. After about an hour studying my work from the previous day, I work non-stop on concentrated painting from about 9:00 – 2:00, a quick break for lunch and back to the studio from about 2:30 – 4:00. I frequently work for an hour after dinner. Usually studying what I did earlier in the day, watching it dry, and getting stuff ready for the next day. I also like to work for a few hours Saturday and Sunday mornings if I am in a productive cycle.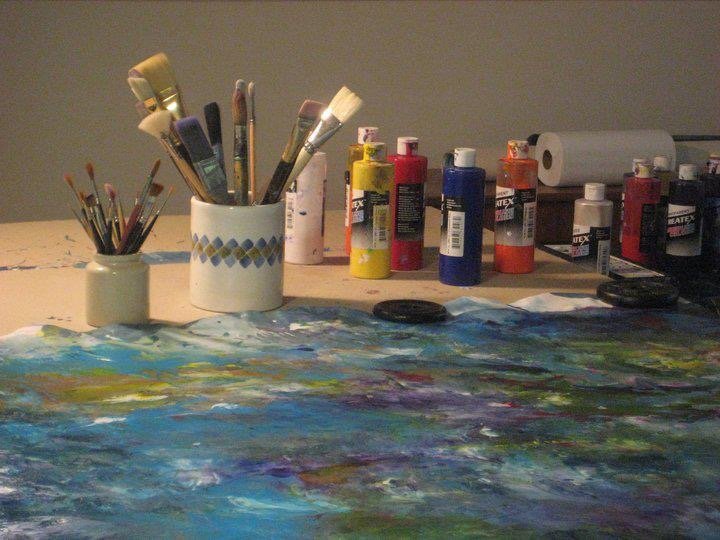 The spirit of experimentation always seems to be around. Have you tried something new recently? My newest series of paintings have focused more on pulling the liquid color across the surface of the painting with a squeegee, rather than the usual final brushwork on top of the pouring. This has added a feeling of motion and as the colors softly blend the atmospheric depth is increased.
How do you keep motivated? Staying in touch and exchanging ideas with my peers and knowing my best painting has not yet been painted.
How has your work changed in the past few years? It has become simpler, less fussy, and directed to the essence of the poem. I want my paintings to look like they basically created themselves with some guidance from me.
What other artists' works might you have collected and why? Or whose works would you most like to see displayed in your home? (Please include links when possible.)
Early influences were Claude Monet's emotive atmospheric color and Matisse's less modulated color that resonated with me. Compositionally, it was the emotional gesture and physicality of abstract expressionism that guided me–Willem de Kooning's devotion to the human form;  Jackson Pollock's surface action and working on unprimed canvas rolled out on the floor that was a precursor to staining.  Most recently the more blended, spiritual color of Mark Rothko that became a bridge to the smoother poured and stained poetic images of second generation lyrical abstractionist Helen Frankenthaler have provided inspiration. Each used color to evoke an emotional and visual experience by adjusting weight and amount of color.
https://en.wikipedia.org/wiki/Helen_Frankenthaler
 Is there anything else you would like to add? There is always more to add, but I am learning how to stop. I'd rather have someone look at one of my paintings than talk about them.