By Salena Godden
Adapted from the introduction
to her collection of poetry, Fishing in the Aftermath.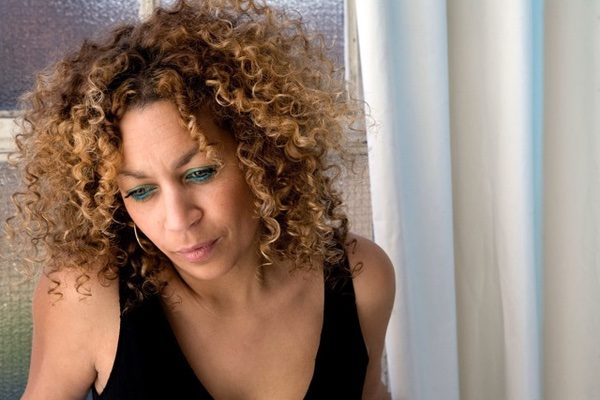 Early on, I learned that the writing life would not be an easy life. I would have to hustle. Poetry is not for the fame hungry or the lightweight. I believe every book should lead you to another book, every author to the authors they read. Reading is the gateway drug to writing. The influences of Jock Scot and Tim Wells, John Cooper Clarke and Charles Bukowski lead me to discover John Fante, Richard Brautigan, Carson McCullers and Flannery O'Connor. I spent a lot of time in the public library to nourish my appetite for reading and to find solitude. It was a place to keep warm in the winter and also the cheapest place to photocopy new poems to post to my hit list. Back then there was some method in the madness and a fierce discipline through the booze and chaos. It takes guts to stand by your convictions, and to this day my advice to any young writer is taken from Churchill: Never, never give up.
As a poet, I have only once ever worked an actual nine-five job, back when I was just twenty. It was the beginning of the 1990's, and I had just finished college and moved from Hastings to London. I wrote letters to publishers and record companies that were putting out the books and records I loved, and I roamed the streets of the West End knocking on stage doors asking for work. Eventually I was offered a job working up in the flies, backstage at The Theatre Royal Drury Lane, during the production of Miss Saigon. Working in the flies was physical work. You were up in the rafters, pulling the ropes to bring in backdrops and scenery throughout the performance. But theatre hours were perfect for a young poet. Working only during the Theatre's show times allowed me to keep my days free to pursue writing and music, to read books and get to know the capital. Eventually I went to a job interview with Acid Jazz Records. Their offices were located on Tin Pan Alley, and their acts like Jamiroquai and The Brand New Heavies were topping the charts. I was keen to the learn about producing records, and I was hired as Acid Jazz A&R assistant.
Around that same time, I also landed my first-ever poetry gig, one warm summer's evening upstairs at The Paradise Bar in Kensal Rise, at the invitation of Jock Scot, the notorious mod poet. Jock Scot was the first person I'd interviewed for my monthly 'Unsung Heroes' column in the Acid Jazz Magazine. Jock took me under his wing, and I remember with fondness his rock-and-roll influence. He gave me books and introduced me to artists like the late Ian Dury and The Blockheads, Shane McGowan, Davy Henderson and The Nectarine No.9. It was Jock Scot who gave me my first ever Bukowski, and I was soon collecting and reading everything I could find by the man and others published by Black Sparrow Press. I was so excited by this poetry that I wrote a letter to America, but I missed the boat by a few months – Charles Bukowski died March 9th 1994, aged seventy-three.
Following that first gig, I cut my teeth at weekly events that included Paul Lyalls Excess Express, The Hard Edge Club run by Joe Cairo and Mick P's Pull My Daisy. I  remember opening for John Cooper Clarke at Dirtbox – Phil Dirtbox's notorious club in Soho – and performing shows at various raves and clubs like The Ministry Of Sound for Arthrob, supporting the likes of Irvine Welsh and Will Self. I'd perform sets of poetry to break-beats and drum and bass instrumentals with DJ Delruby on the decks beside me. There were regular poetry nights for Rising Magazine on D'arblay Street at the Tactical Bar with Tim Wells. And during those years we were all doing shows together. I remember gigging alongside the likes of Murray Lachlan Young, Tim Turnbull, Jennie Bellestar, Francesca Beard, JC001, Patience Agbabi and Lemn Sissay, to mention just a few.
In between working my day job and poetry gigs, I was writing many letters to publishers and magazines. Rebel Inc and Canongate were high on my hit list. I used to post packets of poems, using a fountain pen and different colour ink cartridges for each letter, but the reply was always a friendly rejection along the lines of no matter how many colours of ink you have, we just aren't publishing poetry right now, Salena. But at least they replied, and my perseverance paid off when they published me in The Fire People anthology. It was edited by Lemn Sissay, and he invited me to Edinburgh to read at the launch. That week I remember being asked to contribute to a reading supporting Howard Marks. It was around the time when Mr Nice was first published, and I remember having the most wonderful time.
I loved those years in that A&R job. Geeky as it sounds, I enjoyed going to the pressing plant to cut vinyl. I was asked to wine and dine new bands and was out watching gigs every night. I took it quite seriously, I understood it cost money and took courage to send in demos, and so I'd listen to each and every cassette tape and write the bands a letter so at least they'd had a reply and some help. One summer, and I asked my boss Eddie Piller if I could A&R Woodstock. I told him I wanted to seek new talent emerging in the states and go to the 25th anniversary of Woodstock on the original site of Yaskurs Farm. I had been invited to tag along with an unsigned band called Spanglehead.
Woodstock changed my life. After the festival finished, this adventure escalated into a hedonistic-Hunter-S.-Thompson-inspired road trip across the US, from New York, through Texas into Arizona. When I finally returned to England it was already September, and I was black from the desert sun, fueled by tales of Timothy Leary's kitchen, and galvanized from meeting Hopi Indians. I wish I had a copy of the resignation letter I submitted to Eddie when I got back. I'd print it in here if I could. As much as it was innocent and romantic, it was a declaration to give my whole life up to writing, inspired by the freedom I'd discovered on the open road – and here we are twenty years later and I have never regretted that decision.
By 1996 I had met and formed a partnership with composer Peter Coyte. We started a ska-punk band, which after several name changes and band line-ups, was called SaltPeter. The Times heralded us as 'the art school Neneh Cherry' and The Independent 'Lily Allen for adults.' The lyrics were juicy, dark and dirty served with Peter's inimitable filmic melodies and drum and bass. As well as independently producing our own CD's and appearing at festivals in around Europe for over a decade, we also made 'SaltPetre Radio' for BBC. Following on from this, I produced an eclectic weekly show on Resonance FM for several years alongside Marcus Downe which promoted the poets, writers and the musicians on the scene, buskers and people we found on the street, it was like a party live on air every week. During the late 1990's I was introduced to Jon Moore and began recording with Coldcut and Ninja Tunes Records. My poems 'Noah's Toilet' and 'The Tale Of Miss Virginia Epitome' featured on the 'Let Us Play' and 'Let Us Replay' albums. Coldcut invited me to perform with them, and before I knew where I was, I was having the time of my life, touring all over Europe and Japan and getting lovely mentions in The Melody Maker and NME.
In my world back then, as poetry was my world, it was loud and ranting in a dark smoky room above a pub, with thick sticky carpets and nicotine stained walls. Now look where we are– poetry cuts a fine dash and headlines major international festivals; poetry is publishing fiercely and independently; poetry is online and getting hits on youtube and poetry is on the BBC. If you are under a certain age you will take many of these things for granted. I have often been the only writer of colour and/or the only female at gigs. I am proud to watch the perception of poetry changing, to listen to new voices being heard. I see poetry growing and spreading its wings, and I feel proud that I have made so many great friends, that I am part of something we might call the universal poetry family.
This collection grazes on themes of this writing life, the drink, the sex, the adventure and the after party in all its mess and glory.  Some of these early pieces were only ever performed for one show then archived away. Other poems in this book have tattooed me and become party pieces or festival favourites. For the rest of my life I cannot say the word imagine without someone somewhere laughing and saying lick it. And just like a tattoo, I cannot erase the fact that some of these poems were written from a more self destructive place. When I was twenty I believed that to be a real writer you had to live dangerously close to the edge, to starve and give it everything you had. I didn't protect myself and I was itinerant, throwing myself at the mercy of the kindness of strangers. I flew from the frying pan into the flame, from war zones to dodgy drinking dens and mad houses. There is a fearlessness I find visiting these early poems, I carved this path without a map or compass, often taking a wrong turn, but sometimes luckily remembering to write it down.