By Donald Kolberg
I hope everyone had a wonderful holiday season and a an enjoyable, safe beginning to the New Year. The blast of cold air was refreshing here in central Fl. Made me want to drink lots more coffee. So I thought I'd start out this year with a bit of an up date on me.
---
I'm in a group show that's opening at the Casements in Ormanond beach on Feb. 5th. I created a catalog of some of the art from the artists and it can be seen at http://bit.ly/1OHP0gv
---
I've started publishing a new quarterly e zine dedicated to the unique art of the monoprint and monotype. If fact that's what it's call;
Monoprint-Monotype and you can see it at https://issuu.com/dskolberg/docs/monowinter2015 This will be followed by a new website also dedicated to this art. So if you work in this type of art and are interested in being part of it contact me at Donald(at)Monoprint-Monotype(dot)com
---
Finally I have a sculpture in Marjorie Morrison Sculpture Biennial in Louisianan opening Jan. 8th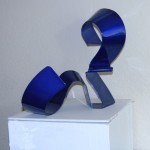 ---
That's it for now
Imagination is never Still. The Marks we Make are Verbs.