Interview with Press artist Dana Filbert. See her work in Vol. IV #1 of The Woven Tale Press
What are you working on in your studio right now?
At present, I am working on a set of sculptures that are part of my Dreamscape or Cloudscape series for an exhibit in Boston this fall. These pieces are two abstract cloud formations, each a dog in play position. I generally have a few pieces in progress simultaneously in various states of completion.  Currently in my studio I have three sculptures in the round, and two wall pieces underway in a variety of stages.
The sculpture I am focusing on presently has undergone its initial planning stage.  Now I am working on creating the overall form starting with the steel hemispheres that I weld together.  Once this is complete, I carve the foam elements, attach and coat with a few layers of paint.
I have not been great about documenting my work.  I have provided some images to give a sense of how the sculptures come to life.
What does your typical studio day look like?
Each day in the studio varies, depending on the stage I am at in any given project. At the beginning of a sculpture I spend time planning and sketching the form, with particular attention paid to the gesture of the piece. Once I am satisfied with my plan, I begin by welding steel hemispheres to create the overall form. Once this portion is complete, I begin carving the foam and then attach to the steel portion. What follows are days of intensive finishing work. My process culminates with a primer and a few layers of paint, giving the impression of a seamless form.
You work with a fascinating and unusual medium — foam! Tell us how you came about working in this medium? How exactly does one "carve" foam?
The foam I work with is a high-density foam that carves like wood. I use chisels and rasps to carve the foam. While attending graduate school outside Detroit, I was introduced to this foam as a material used by the auto industry for making models. Now I know it has many other applications, including machining and sign-making.
Many of your sculptures are mixed-media. Can you tell us about how you came about combining foam with found objects etc.?
The work I create is typically fabricated steel with carved foam, along with repurposed objects. My formal training is in metalsmithing so I tend to gravitate towards that medium. I was introduced to the high-density foam while in graduate school and found it to be a useful material to create forms in a relatively quick manner as well as its water proof nature–it can withstand weather without cracking or warping, and it will accept paint.
The epoxy I use was introduced to me while working restoring dinosaur fossils. For the fossils, this two-part epoxy was used to fill in any cracks and complete missing sections. I find this material useful for adding details and helping to make a smooth transition between the dissimilar mediums. The epoxy, like the foam, also accepts paint and can withstand the elements. The repurposed objects have come into play as elements that add dimension to the concept of each piece.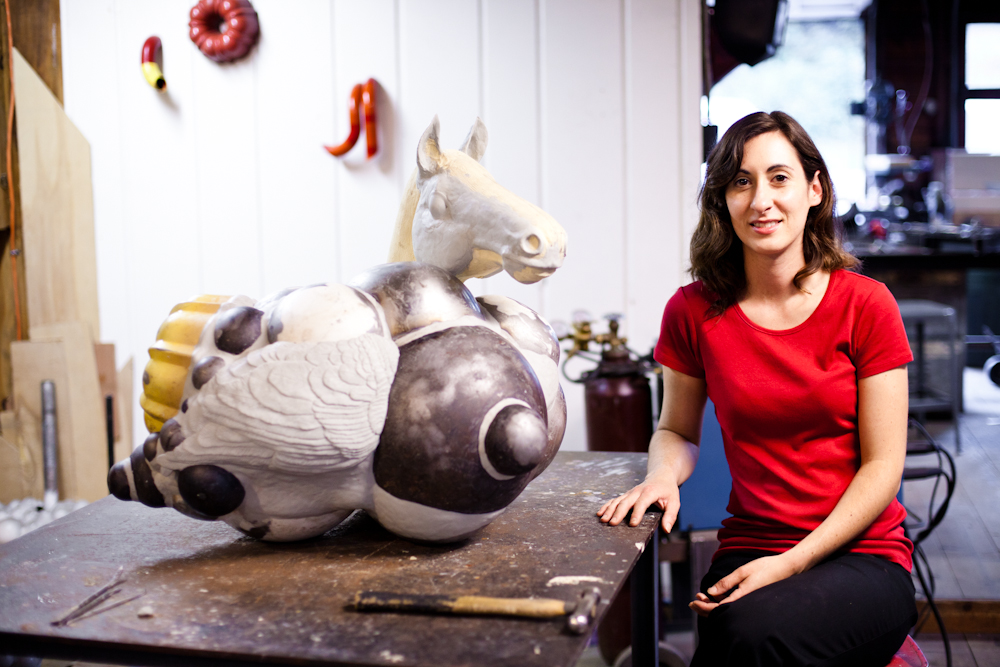 From Filibert's Dreamscapes series
Can you talk a bit about your Dreamscapes series, and how it started?
The dreamscape series arose from a site-specific installation I created, using abstract cloud formations hovering over a pack of pachysandra. After creating this piece, I was asked to submit a proposal for an installation at the Albany International Airport. This piece is where I began adding repurposed objects as a reference to child's play, looking up at the sky and finding a world within the clouds. After the installation, I began creating individual sculptures based on the airport project. Each piece represents an animal in the clouds and delves more into ideas concerning iconic animal imagery and the human tendency to bestow our own cultural values upon these creatures.
How do you actually colorize your foam pieces?
After all the grinding and sanding is done, I will give the piece a paint base, to give the surface consistency. I don't have to worry about the foam, as it is made to take paint. My largest concern is that the surface texture be as consistent as possible. Once that crucial step is made, then I coat the piece with many layers of paint. I have been partial to automotive paints for multiple reasons, including durability and my own artist concept.
In recent years I have been using a spray paint dedicated to graffiti. This paint offers me a wide variety of colors. To achieve added depth of color, I will use an airbrush on the smaller pieces, generally over the automotive paint. The final step is to seal the paint with a clear finish.
What initially inspired your pipe series, which is quite different from the foam series?
The pipe series began while I was in graduate school outside Detroit. The influence of the auto industry was all around me, as I was living in the Detroit area. I started looking at the exhaust system of the automobile, forming a comparison with human body function. The pipe series itself came out of that work. I began to focus on form and color in the work that has become the pipe series.
Have you always been sculpting? If not what other mediums have you worked in?
I had made sculpture here and there since high school, but had not truly become serious about the medium until later in college. My focus had been painting before college. It was not until access to facilities and instructors made me aware of the world of three dimensions.
How has your work perhaps changed in the past few years?
The past few years has been challenging. I had a surprise emergency surgery three years ago to remove a brain tumor. This minor setback has caused me to make the most of all the time I spend in the studio. I have been attempting to reduce the scale of my projects, which is somewhat difficult. Planning has become a more significant step in my process, allowing me structure, and I am finding myself more satisfied with the result.
My work itself is ever evolving, sometimes at slower rate than others. The Dreamscape series developed from an abstract outdoor cloud form installation next to an airport installation, then eventually to the individual sculptures that comprise the most recent work from the series.
What other artists' works do you have or wish you could have displayed in your own home?
The list could be unlimited, but I will leave it at two. Ernesto Neto is a sculptor who creates installations and interactive sculptures. His work has a tactile quality that really appeals to me. I saw one series he had done where the sculptures were these soft human-sized sculptures that one could sit inside and squeeze.
The other artist, also a sculptor, is Anish Kapoor. His manipulation of form and rich saturation of color draw me in; his creations engage me on a primal level of desire for the object, especially his smaller works. The ability he has to create sculptures/installations that manifest such magnificent visual illusions is incredibly inspiring and I would love to have a Kapoor on display in my home.