---
National Poetry Month
---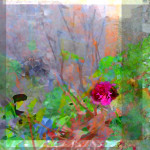 Winter window
Outside the opportune window one pink
head survives above geranium leaves
blowing in the winter wind, covered with
cold rain dropped from dimmed desire. The basil
released its hope in the face of the war—
forces of December and January—
mere stalks rising above the window box,
darkly silhouetted, backlit against
blind clouds.
— — — ——And drought dropped across the shoulders
of Judea, Samaria's back—the
Occupied West Bank. It fell off the head
of the Galilee, the Golan Heights' arms—
all collapsing to dust beneath war's weight.
The Negev desires its few drops, water,
not blood.
— — — ——This cold rain has its soft purpose,
offers some possibilities—for all
thirst, for all dry mouths—for soothing rain fall
to redeem the seeds that will grow again, in
fresh dreams of seven promising species,
land with milk and honey flowing between
strangers and cousins who light bonfires for
warmth, not war—a light unto all nations.
---
[dropcap]D[/dropcap]uring April, (Inter-) National Poetry Month (read more here), The Woven Tale Press will be posting a number of poetry-related and writing-related features. We start out with a Spotlight on Michael Dickel, a frequent contributor to The Woven Tale Press who became a Contributing Editor and is now our Associate Editor. He also serves as a Contributing Editor to The BeZine. Michael's work has appeared in numerous online and print journals. He has published three books of poetry, most recently War Surrounds Us, a personal account of the Hamas-Israel 2014 war that has received excellent reviews. Haaretz,  a major national newspaper in Israel, ran a poem from the book on its English language site Poem of the Week feature. You can read more of his work on his blog and in several past issues of The Press (see links at the bottom of this post). Michael is curating the poetry / writing features on our web pages this month—enjoy National Poetry Month 2016!
---
Visit Michael Dickel's blog.
Read Michael Dickel's contributions to The Woven Tale Press: I:4, I:8, II:11, III:2, III:3
---
National Poetry Month 2016 Features Schedule at The Woven Tale Press
Sun, Apr 3, 2016—Spotlight: Michael Dickel, Associate Editor, Poet
Mon, Apr 4, 2016—Essay-Poem Hybrid Writing by American Poet Charles Banes
Wed, Apr 6, 2016—Donna Kuhn, my lies have titles, video
Fri, Apr 8, 2016—Eleanore Hooker—Interview
Wed, Apr 13, 2016—In Paris—Charles Bane, Jr., Reading | Video
Mon, Apr 18, 2016—A Poem from Natasha Head
Wed, Apr 20, 2016—My Entrepreneurial Spirit | Video Poetry | Aaron Fagan
Mon, Apr 25, 2016—Poet Activists
Wed, Apr 27, 2016—David Loret De Mola — Guerrilla Poetry
---