A Constant Experiment
with Space, Lines, and Shapes
By Denitza
[dropcap]T[/dropcap]he featured pictures are the making and the final result of the painting "Lazurite," 26 × 26 inch acrylic/enamel on canvas. The work was painted with all blue-tone acrylics on canvas, and was meant as a central piece for the fall edition of the Affordable Art Fair in New York.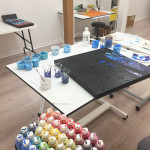 I create artwork that combines realism with abstract expressionism sm, resulting in some colorful patterns that explores the shapes and forms of our surroundings, architecture and natural landscapes. Using architecture as a backdrop on which I create an overlay of shapes and colors, my paintings are a clash between natural landscapes and the world created by humans.
I try to achieve a three-dimensional quality by combining gloss and flat paint on the canvas, both masking and revealing the representational image beneath it. The way the black shiny lines contrast with the flat black background helps define the style for the rest of the image.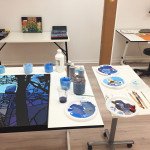 My work is a constant experiment with space, lines, and shapes. There are several thought processes happening in any given piece, but I try to restrain myself from defining them too much. The little bit of mystery adds a sense of wonder and engages the viewer's imagination. For example, often people comment about there being a 3D or stained-glass feel to my work. The truth is that the stained-glass correlation is not deliberate, but can probably be attributed to the arrangements of shapes, black lines and colors, and it's interesting that the viewer sees it this way.
For all of my paintings, I use my own mix of acrylics, gloss mediums, street- art inks and paints, and rely exclusively on a #1 liner brush. This can be a slow, painstaking process, but the best way for me to achieve the final effect, a brushstroke-free explosion of color, which I'm always seeking in my work.
March 9, 2016 was the opening of the new edition of the AAF Battersea London in UK and the unveiling of a new series of work by Denitza presented by Arteria Gallery.  A selection of this new work can be seen on Denitza's website along with images and paintings of both the work process and the final artwork.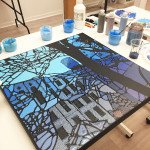 Watch this video of Denitza at work.
See more of Denitza's work in The Woven Tale Press IV:1.
Represented by Arteria Gallery, QB, Canada
Visit Denitza's website.