How I Make a Monotype
by Barbara van Buskirk
See her work in WTP Vol. IV #3
Who can say wherein lies the charm of a monotype—
that unique print from a painted plate, which stands in the half shadow 
between painting and printmaking? … Its spontaneity and freshness, 
its directness and freedom place it apart from other traditional print media 
as a means of artistic expression that should not be overlooked."

 —Ida Ten Eyck O'Keeffe,  1937
I've been making monotypes for more than 16 years and have dreamed up dozens of variations on the basic monotype process to create hundreds of finished as well as In Process monotypes. Currently I'm working on Seacoast Women, a series of pieces suitable for framing and for using as book covers.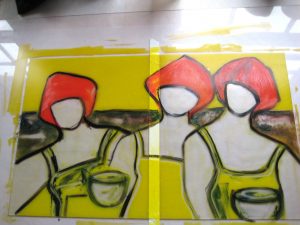 The most basic way to make a monotype is simple:
#1. Using oil or water based ink, draw or paint an image on a flat surface or plate.
I use water based Akua-Kolor Monotype Block Printing Inks, water based Akua Intaglio Inks, and Plexiglas as my flat surface. I've also experimented using Graphic Chemical Litho Ink and copper etching plates to make monotypes.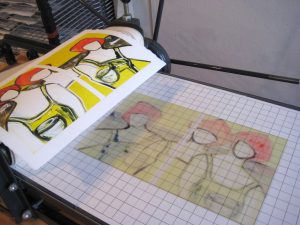 #2. Place a piece of paper on top of the inked surface.
#3. Apply pressure to transfer the ink from the plate to the paper by using an etching press, rolling pin, brayer, spoon, the heel of your hand. Voila! You've made a monotype.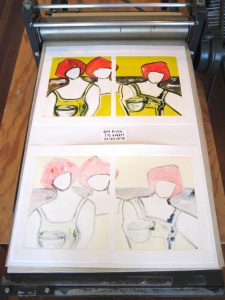 I always print a second impression from the ink remaining on the plate after I've printed the first impression or monotype. This second impression is called a ghost. I always print ghosts on quality printmaking paper because you never know exactly how the ghost will print. A ghost can be a finished monotype in its own right; an underpainting of sorts on which one can draw and/or apply additional ink; a base on which to build with chine collé and/or cut-outs. I absolutely love ghosts! So many possibilities. The mind reels.
Once the first impression monotype and ghost (second impression) have been printed, there is  virtually no ink or image remaining on the plate. A monotype is the ink.
Because monotype is perhaps the simplest, least time consuming and most spontaneous printmaking process, it is, for me, endlessly absorbing. I also have a lot of fun making monotypes. A powerful combination. Remember one thing when making monotypes: It's only paper. Experiment. Play. Print. Most importantly, have fun!