Four Artists Working the Web
By Cory Huff founder of The Abundant Artist
In 2009 I started The Abundant Artist website (TAA for short) as a way of teaching online marketing to my artist friends who were asking me for help. Since then, I've helped dozens of artists go from never having sold anything to now selling pieces monthly or weekly. Some of my artist friends and clients have gone on to sell their work for $20,000 or more.
I teach artists to dispel the starving-artist myth by using the Web to sell art directly to their fans.
And as artists build their own businesses online, they are also building a greater Web presence—which in turn, increases their allure to reputable bricks-and-mortar galleries seeking new talent to represent. The five artists I've written about below have proved themselves masters at online marketing. They are great examples of artists who are living their authentic truth while also having a great time doing it, and receiving financial rewards for their efforts.
Online Marketing Masters
Keith Brymer Jones is a clay pottery artist who is not only highly technically accomplished, but also lends a tremendous sense of humor and fun to his marketing. His videos are not only viral sensations, but are also fantastic visual displays of his work. See Rolling Clay with Keith (parody of Adele's Rolling in the Deep) just below.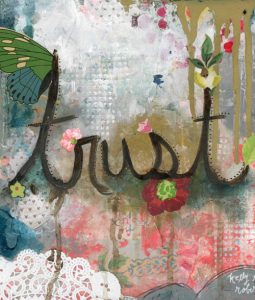 Kelly Rae Roberts has proved to be a highly successful at online marketing for almost a decade. Her mixed media work contains images and messages of beauty and positivity, and she has been open and vulnerable about her process along the way. She started her blog when she was just a beginning artist, and people have loved following her journey. What to look for: Kelly Rae has an incredibly popular blog as well as a podcast and email newsletter. She's really doing it all quite well.
Chuck Black is a wildlife artist based in Montana. He has over 1,000,000 followers on Facebook and he does an incredible job of keeping them engaged. His work-in-progress videos regularly see thousands of shares and tens of thousands of views. In addition, his email newsletter is a great case study on how to get onboard new fans and how to tell compelling stories about your art.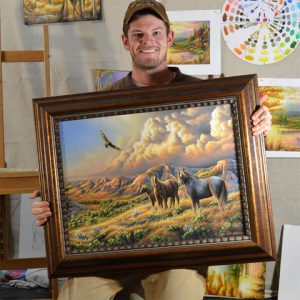 Check out Chuck's Facebook page, specifically his work in progress videos. This video of him drawing a fish has over 1700 shares.
Ashley Longshore is a painter based in New York City who spent 20 years trying to get noticed by the establishment. When Instagram came along, Ashley finally found her way in. While she doesn't have the largest following, only 31,000 as of this writing, Ashley's fans are loyal and enthusiastic. She has been collected by some of the biggest celebrities, and has landed licensing deals with the high-end department store Anthropologie. Look at Ashley's Instagram page (Mature Content Warning). Ashley is her loud, bombastic, sensational self on her IG page. Her style turns a lot of people off, but it also excites her core fans, and that is GREAT marketing.
As a professional creative myself, I enjoy studying not only the work of other artists, but also how they present and market themselves. I suggest looking at each of these artists' marketing and studying how you might adopt some of their tactics yourself.
---
Cory Huff's book, How to Sell Your Art Online, will be released on June 28, 2016 by Harper Collins. You can get a free guide to getting started with online marketing by signing up for The Abundant Artist's Free Content Library.
---