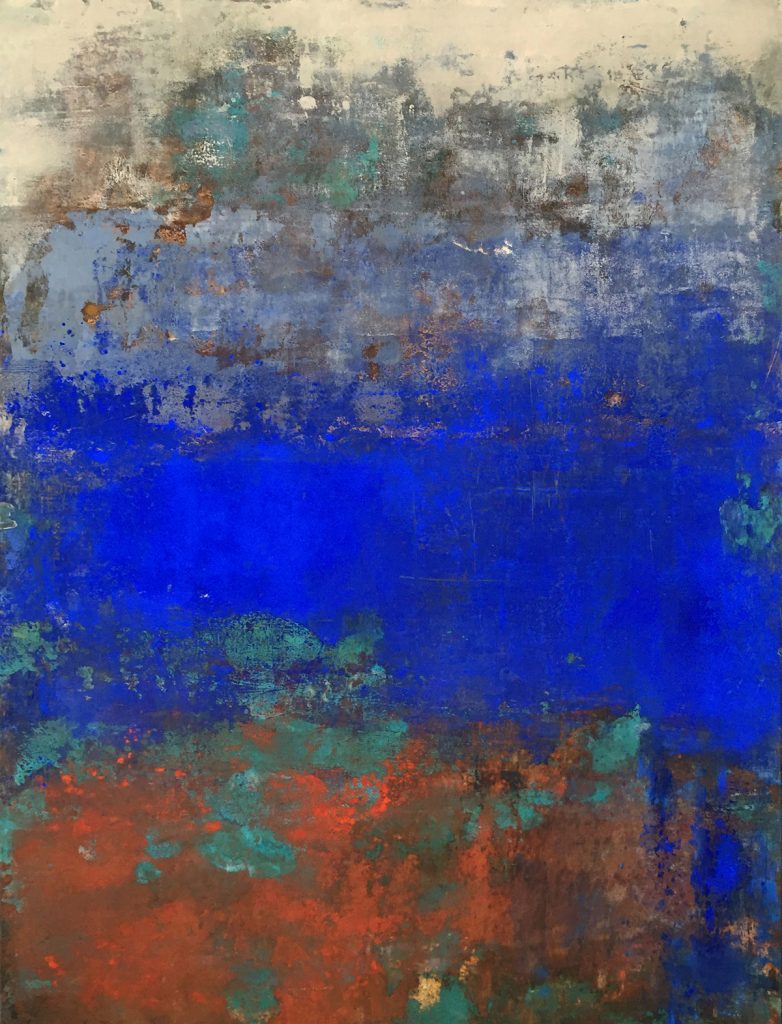 [dropcap]M[/dropcap]y paintings celebrate the interplay of past and present, imagined and tangible, that which is lost and what remains. I have always been drawn to the physicality of aged surfaces that reveal the endless and shifting remnants of time. The patinas that build up where mankind and the atmosphere coalesce are especially interesting to me. Fragments of ancient walls, fading frescoes, and urban decay represent some of the initial inspiration when creating my abstract paintings. I look for ideas while traveling as well as in my everyday environment. The ever-malleable nature of oil and wax to create rich and unpredictable qualities drives my passion to create open-ended works.
One of the most prevalent and compelling influences in my work originates from spending the last decade in Florence, Italy, teaching in the summer at the Santa Reparata International School of Art. While there, I experience an abundant palimpsest and a juxtaposed kaleidoscope of imagery. I find inspiration in the aging architecture, time worn sculptures, and other world-class art treasures existing side by side with sun-parched graffiti sprawled walls found throughout the vibrant street culture. These experiences, intertwined with memory and invention, continue to feed my studio processes when I return. However, I constantly seek influences in other unexpected places. Wherever they may be, I am drawn to the stories suggested in the interaction of the layered urban and natural environment, the gesture of man made marks, and the embedded history of the walls and surfaces as they continuously transform.
I embrace the unpredictable and experimental nature of combining materials and thrive on unfamiliarity when making an image. Most of my recent paintings are made on braced panel with oil paint, beeswax (cold wax), and other media such as powdered marble, dry pigment, gold leaf, and a wide range of drawing media. The process includes adding and subtracting paint, erasing, excavating, scraping, and improvisational calligraphic mark making. These marks may be almost legible at times, but often inhabit the ideas found in Asemic or illegible writing. This creates mysterious written and drawn messages that hover between recognition and suggestion, specificity and chance.  Ultimately, I am interested in creating works in a free spirited arena with no preconceived notions of what may happen."
---
Visit Allison B. Cooke's website.
See more of Allison B. Cooke's work in The Woven Tale Press IV:4.
---