Ventures in the Tilt-Shift
See his work in October's

 

Vol IV #8 issue
One of my favorite techniques in photography is to play with scale. Or more specifically, making it difficult to tell how big or small something is. I want m viewers to look at a photo, do a double-take, and wonder "Just what the heck is that?" While they'll accept certain aspects of it, something will seem "off." Why do I want them to react this way? Because everything deserves to  a chance to be looked at. Why can't I just leave these objects at their regular scale? Because sometimes in order to appreciate something that otherwise might be overlooked, it needs to viewed from a slightly different perspective than from what reality allows.
I add a tilt-shift focus to many images, which I create in Photoshop. I'm using it differently than usual, however. In most cases with tilt-shift you see something huge being turned into something much smaller, such as a cityscape being turned into what looks like a hand-made model. In my case I'm doing just the opposite: making smaller objects appear to be larger. Some examples can be found below: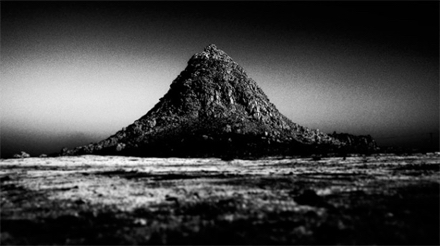 Here we have something that appears to be a mountain but which is only about eight feet high. It is a mud volcano found at the Salton Sea. These small volcanoes spurt mud at constant intervals. There are about 20 of them in the field and each one spurts mud at a different rate.
I came across this structure at the Salton Sea while hiking around. To this day I have no idea what it is. Was it something new that was being constructed or something old that was decaying? It's about 30 feet long. The pieces of wood are each about two feet high. I really need to revisit the area to see if it's still there…
This wave is only about six inches high, but placing my camera down very low on the surface of the water made it appear to be much larger. The wave was about two feet away from the camera in this shot. It was not a waterproof camera, so I had to lift it up at the very last minute.
Here we have what appears to be an organic creature of some kind. It is actually a decomposing waste barrel. This was found about 50 feet from the mud volcanoes. The barrel itself had totally disintegrated, but the metal rings on the top and bottom of the barrel were still in tact, although totally warped out of shape.
This shot of downtown Los Angeles was taken from Echo Mountain in the San Gabriel Mountains. I love the way downtown Los Angeles is represented by something incredibly small, a few rectangular blocks at the bottom of the image. It was a very noisy image to begin with, as it was a very smoggy day, and blurring the image further sank the buildings into the murkiness.
On the day before a number of the mobile homes along the beach in Laguna Beach were going to be removed forever, I took a walk in the area. I came across these cement structures sticking out of the sand. They resembled large pyramids, especially with the long shadows, but are actually only about three feet long.
I was the cinematographer on an independent movie and one of our destinations was Coyote Dry Lake in the California desert. We traveled the lake bed in search of large, natural "pits" that can be found in the surface. Near one of those pits I found this small "tree," about 8 inches high. I took a shot right from the ground. Many of these small bushes can be found, but this one had a particularly tree-like appearance.
Here is what appears to be a huge Canyon but is actually only a trench about five feet high. I crawled down inside with my camera. I first threw some dust in the air to give it more atmosphere which gave it a depth cue and made it appear even larger.
In my first year of digital photography, I visited many construction sites. I found the shapes fascinating, though I often had to find ways to sneak in. They were usually abandoned on the weekends. In this case I came across two small pieces of wood on cement right after it had rained. Though it's obvious to me that these are two small pieces of wood, almost everyone who saw this thought that I must have shot it from a plane.
This dust devil was shot at El Mirage Dry Lake in California. I've been chasing dust devils for years, as they are so often very similar to tornadoes in structure but are of course much safer. In this case I darkened the shot quite a bit to take out the foreground details, which would give clues as to the actual size of the dust devil. With those details missing, the size becomes questionable.
There is a huge field of mud flows near Trona Pinnacles in California. I took a drive out there but on the day of my trip I was just getting over a cold and had quite a headache. I didn't stay for very long but captured about 50 shots of the mud flows of which this was my favorite. Some very subtle tilt-shift focus warped the scale enough to make it appear the it might have been shot from a plane.
I came across an outcropping of red sandstone in Fish Creek at Anza Borrego Desert State Park. Processing it in black and white gave it the appearance of a mountain top covered with snow. I love the way that one formation in nature imitates another in this case!
Originally published on jeffalu.wordpress.com