Abstract Expressionist or Minimalist?
---
By Sandra Tyler, Editor-in-Chief
Agnes Martin's works are not immediately impactful. There is no Jackson Pollock wow factor. They are to be ruminated upon, studied; appreciated for their emotional resonance, a hallmark of abstract expressionism – a movement I've always identified foremost with my mother, with the sweeping gestural and atmospheric of her own paintings. My mother strove to "evoke"  the "poetry of place," and this evocation I am reminded of in Martin's statement about her own mission: "I want people, when they look at my paintings, to have the same feelings they experience when they look at a landscape…It's really about the feeling of beauty and freedom you experience in landscape. My response to nature is really a response to beauty."
Beyond this statement, however, Martin's actual works can seem a far cry from the expressionist movement, little about them resonating of  "freedom," or the emotional spontaneity of "feeling of beauty," except for her earlier, more overtly bold works, such as "Mid Winter":
Later in her career, there seemed a marked shift away from the expressionistic to the then trending minimalism, with an emphasis on the geometric. This shift suggests that her works became less emotionally driven than she claimed them to be, far more measured–that is, at first glance. And therein lies the requisite for fully appreciating the finely nuanced drawings and paintings she was best known for.
I spent a long time at this exhibition, yes, ruminating, moving up close to examine the gradations, as in "The White Flower" (below), and was reminded of the oxymoron I used to describe Ross Bleckner's own fascination with the geometric: Martin's paintings are equally astounding in their subtlety. Whereas the geometric in Bleckner is shapes breaking up larger planes, for Martin it is uniform parallel lines and especially grids. But within this uniformity is actual variation, as in the blue sweeping across a textured background:
Beyond the blue, up close, breaks in the repetition can be seen against that textured surface. However subtle, indeed there are real variations in color, line and shape:
Martin was proving that even in repetition there can be variance, as can be seen in her drawings as well. In "The Egg" parallel lines reveal themselves to not be so perfectly parallel nor of the same thickness throughout.  She revered these differences in the seemingly repetitive, especially in nature: "I used to pay attention to the clouds in the sky…I paid close attention for a month to see if they ever repeated. They don't repeat. And I don't think life does either."
Martin devoted most of her career to exploring these variations, even as her palette shifted from subtle gradations of earth tones, white and gray to, for however briefly, real color. But color never real punctuates as much  as pulsates — subtle but not subdued, as in the untitled painting below. There is a kind of layered translucency to the colors; they seem to rise up as if to the surface of water:
Perhaps her largest body of paintings makes up The Islands I-XII, a series of twelve seemingly white paintings–but again, only at first glance.
It is up close when you can truly appreciate their nuances, and see how Martin's works ultimately do pay their respects to the abstract expressionist values–my mother's paintings were entirely different. But not only do her intentions resonate in Martin's own,  so do their effect on the viewer. I can look at the works of Martin and "feel the beauty" as I always have with my mother's, and so for an afternoon I felt her there with me at this gorgeous show. I could hear her quietly gasp "Wow."[gap]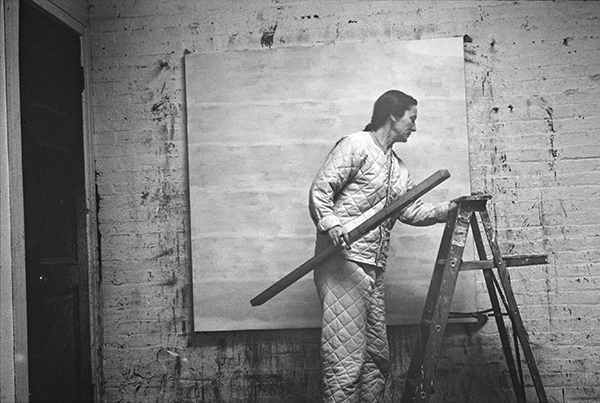 This exhibition runs the gamut of Agnes Martin's career, making it the first comprehensive survey of the artist's work since her death in 2004. To really appreciate the complexity of Martin's works, you do need to see them in person. Jpegs can't nearly do them justice. The show is up at the Guggenheim until January 11, 2017. Anyone in the New York City vicinity, go experience these paintings for yourself. Reflect on the natural world. And ruminate.
Copyright 2016 Woven Tale Press LLC. All Rights Reserved.