The Possibilities of Poetry
by Emily Jaeger, Features Editor
Sarah James, which began as poet Sarah Leavesley's promotional website, has evolved into a cache of reviews of indie poetry and interviews with poets, and is still evolving. Leavesley, a poet and playwright with a background in journalism, is the author of four collections of poetry: plenty-fish, The Magnetic Diaries, Be[yond], and Into the Yell, as well as multiple chapbooks. Based in the United Kingdom, Leavesley offers special insight into the independent literary scene of the region.
The site contains many blog posts, interviews, and micro reviews focusing on the processual that Leavesley has amassed over the years. It is a prime example of how an emerging author can grow a personal publication list into an engaging form of outreach and community organization: 
I hope that the result is a website that provides resources for writers: workshops, prompts, and other writers' experiences and processes and also for readers: general information about titles, recommended books, [and] insights into writers' behind-the-scenes' thoughts."
Leavesley makes up for the website's humdrum visuals with her astute observations as well as her commitment to reading and showcasing writers from independent presses. In her latest project, "In the Booklight," a bi-weekly series of interviews, Leavesley approaches each poet with thoughtful questions.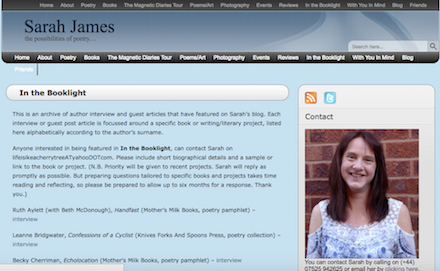 For example, in a recent interview with Ruth Aylett about her and Beth McDonough's chapbook Handfast, she addresses the common but difficult challenge of writing about life experience while simultaneously creating work of literary merit, prompting Aylett's epiphany about the effect and empowerment of that writing poetry has over memory.
Leavesley: Memories, and loss of memory, thread through this [chapbook], along also with autism and the caring that both involve: "Sightless now, I spin on all this clatterspill / try to still, pick and thread these beads / seek a motif, find reasoned patterns…unfold the map we need to bring us home." How easy was it to put such experiences not just into words, but these words crafted into such beautiful poems?

Aylett: I'd never use the term 'easy' in relation to poems, but they are the best kind of labour in which you can give a kind of physical reality to things that may lie heavy on the heart. In doing this I think you gain power over experiences which otherwise might have power over you. You keep wrestling with the language until it does what you want it to do."
Visit Sarah James for a new perspective: the independent literary scene in the United Kingdom. Stay for the great resources unfolding at every corner of this website: android poetry apps, prompt suggestions for poets and teachers, manuscript review services, and much more. There's a lot to unpack here, and I can't wait to see future evolutions.
Copyright 2016 Woven Tale Press LLC. All Rights Reserved.