The Medium and its Messenger
by Richard Gilbert
Handling the Truth: On the Writing of Memoir by Beth Kephart. Gotham Books, 254 pp.
Here's three good reasons to read Beth Kephart's book on writing memoir: her lapidary prose; her vision of memoir as an instrument of inquiry and transcendence; and her superb annotated list of recommended memoirs. Handling the Truth: On the Writing of Memoir is more a meditation—on the writing life and on life writing—than a simple how-to book, as indicated by its winning a Books for a Better Life Award in the motivational category. Published in 2013, it is in its fifth printing.
Kephart is the author of 21 books of fiction and nonfiction. Her most recent memoir, her sixth, is Nest. Flight. Sky.: On Love and Loss One Wing at a Time, which explores her mother's death and her own growing obsession with birds and flight. Her blog, Beth Kephart Books, features concise posts, from her home in Philadelphia or from her travels, on what she's writing, reading, and thinking. A recent seven-line post titled "brilliant first draft? hardly?" is typical in its poetic compression, rhythmic sensitivity, and deft declaration. It opens:
I write a first draft, but it isn't good. Plank, by plank, I take it apart. A new prologue helps me see what the book might be; it gives me a sail and a chart. A shift in tone pushes me to go more real, less arch. A shift in tone places into question every single anecdote and scene."
Her savory prose and her buoyant view of memoir likewise shine in Handling the Truth's opening paragraph:
Maybe the audacity of it thrills you. Maybe it's always been like this: You out on the edge with your verity serums, your odd-sized heart, your wet eyes, urging. Maybe this is what you are good for, after all, or good at, though there, you've done it again: wanted proof, suggested the possibility. You teach memoir. You negotiate truth. Goodness doesn't matter here. Bearing witness does."
Writing memoir, she makes clear, is about becoming a vulnerable seeker after truth. Pitfalls include narcissism and anger. Again and again she returns to language, to "the atmosphere created by word choices." Much is contained in that, including and perhaps especially persona. The indiscriminate "I" seldom works, she observes. The self on the page is a construct of a self that's aware of the effects it is creating.
Memoir is first and foremost a meditation and quest, she believes. An inquiry into truth by a writer who has made herself vulnerable. Kephart advocates prologues that make the story and its stakes clear. Coy doesn't work, but honest concerns do.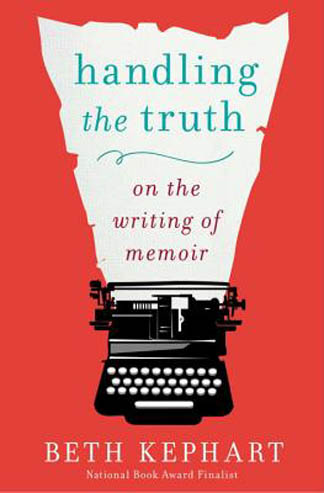 There's a lot to learn, a lot to interweave. Not counting its annotated appendix, meant to be read, Handling the Truth is broken into four parts: "Definitions, Preliminaries, Cautions"; "Raw Material"; "Get Moving"; and "Fake Not and Other Last Words." Kephart's preoccupations emerge in each section, shining light from a new angle. She returns as well to successful literary memoirs, praising and quoting them. She checks off her requirements:
. . . I expect deliberation with structure, ambition with language, compassion in tone, magnanimous reach, a refusal to presume that chronology alone teaches. And since I am so busy expecting that of others, I cop to expecting it of myself. Memoirs—their memoirs, my memoirs—must transcend not just the category and the particulars of the story but also, ultimately, the author herself."
A poet and young adult novelist, Kephart brings the strengths of those genres to her memoirs. Sensitivity. Precision. Reflection. Narrative. The sense one gets from Handling the Truth, is be an artist. How? Always, she says, the memoirist is not armored but open on the page. Seeing is essential. She's a photographer. Her camera leads her outside into nature to zoom in and zoom out. Practicing that art gives her material and metaphors for her work in words. Another aspect of artistry is trying to know yourself. Whom or what do you love? She writes diary entries, and she also counts as part of her practice—of being aware of her life and what it touches—blog posts and words scribbled on theatre programs. A former figure skater, she's careful with structure—or, as she thinks of it, the choreography of sentences, paragraphs, passages, chapters, the whole.
These principles of outward and inner awareness shine in a passage by Kephart in Handling the Truth:
I know what the weather was on the night before we drove our son back to his second semester of college. We'd waited all day for the snow, and when it came the flakes were saucers—huge and slant, conjoined. We had had our time as a family of three, but the next day our boy would be headed back to the hills, to Literature and Advertising, to Probability and World Cultures, to a sound engineering booth and a dorm. So we drove through the night on backcountry roads—the snow falling, the moon rising, the world bright and wholly bittersweet, for what does one do with the deep, rutted, impossible love for children who grow, too, who emerge, like us, into the age they are becoming? What does one do but drive across roads and inside the shell of a heart-quelled silence, anticipating tomorrow? For that is what the weather was that night—a heart-quelled silence."
Handling the Truth grew out of Kephart's work as an adjunct teaching memoir to undergraduates at her alma mater, the University of Pennsylvania. The sense of having gathered around her intimate workshop table suffuses the book. She asks her students to journal daily and to consider blogging. Not that either is memoir, "but it's a start, an inroad, a gesture." She asks them to empty their pockets on the table and write about what's there. One day she plays international music they've never heard, maybe a tango, and they write. On another, she sends them out to photograph what they notice.
Such low-stakes inner and outer looking underscores for her students, as it does in Handling the Truth, the steady quiet practice of a working memoirist. Discovering one's meaning, even one's feelings, takes time. Thankfully such work lasts longer than the news story you just forgot. There is bad, sure, Kephart acknowledges: "But no memoir is worth reading unless it is leavened with beauty and love. And no memoirist should start her work until she can, with authority, write about the things she loves."
Copyright 2016 Woven Tale Press LLC. All Rights Reserved.