Reimagining a Historical Place
by Richard Malinsky, Arts Editor
In Place: Contemporary Photographers Envision a Museum at the Florence Griswold House in Old Lyme, Connecticut, is an exhibition of a select group of photographers tasked with creating works that address the historic site's landscape, collections, and story. The place has proved an inspiration to artists for over a century, the property and its surrounding landscape subjects of iconic works of American art going back to 1899, when painters of the Lyme Art Colony stayed at "Miss Florence's" boarding house. Each photographer uniquely reflects this history: "While motifs of art, history, and landscape emerge in the photographers' works, the variety of their expressions articulates how multifaceted the discipline of photography is today," notes curator Amy Kurtz Lansing. "Visitors will find a range of art, from representational to abstract, from film to video, and from historical to digital processes."
And a wide range it is indeed. Of the photographers who drew their inspiration from the museum's collections, Alida Fish's "Metcalf Collection #4″ transcends small fragile specimens of butterflies, moths, and nests into a mystical imagery of her own making:
The specimens are from the collection of American impressionist painter Willard Metcalf, and she transferred her pigmented prints of these digital images onto oxidized aluminum plates. The resulting slightly textured but shimmery surfaces echo and enhance the original specimens. "Time has taken its toll on many of the pieces," she says. "It is the persistent beauty of the objects that most interests me – especially the fragility of the butterflies and moths." 
Those who found their muse in the landscape of the historic site used the museum as a point of departure for the more abstract; in "Murmurations," Kate Cordsen is innovative in returning an older process of cyanotype prints for her large-format photographs. Integrating abstract forms with the chemical precision required of cyanotypes effectively explores the tension between chance, accident, and control. She also pushes the photographic into the three-dimensional, accenting swirling patterns of migrating swallows over the nearby Connecticut River with the fabric-folding pliage technique:
Also notable is her powerful composition Untitled:
Several artists used the iconic Griswold House itself as a catalyst for their work, notably Adrien Broom; for her photographs, she actually created elaborately constructed scenes that evoke memories of time past and a continuity of relationships over time as in "Dining Room":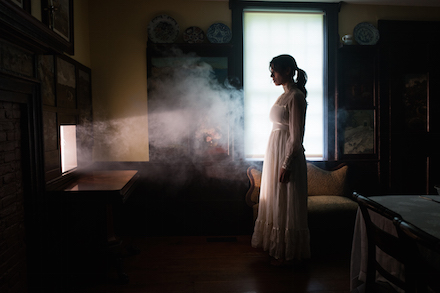 There is the emotive and fantastical about these images. Broom's use of dramatic staging and lighting suggests that the legacy of "Miss Florence" and of the artists endures; and as she says, the images are also about loss and light, with a female figure trying to find balance between the two.
Overall, a delightful and varied exhibition for art lovers as well as scholars. The exhibition, on view at the Florence Griswold Museum in Old Lyme, Connecticut, October 1, 2016, through January 29, 2017, brings together artists Tina Barney, Marion Belanger, Adrien Broom, Kate Cordsen, Peter Daitch, Alida Fish, Ted Hendrickson, Sophie T. Lvoff, James Welling, and Tom Zetterstrom.
For more information contact the Florence Griswold Museum.
Copyright 2016 Woven Tale Press LLC. All Rights Reserved.