Link Highlights for Writers and Readers
By Dewitt Henry, Literary Bookmarks Editor
Monthly I'll  post and describe links here to online resources, magazines, and author sites that seem informative and inspiring for working writers. Most are free. Suggestions are welcomed.
1. AGENT QUERY  is a helpful tool both for querying over 2000 agents ("the internet's largest free database," they claim) and for other tips, including sample query formats, lists of publishers, websites for writers, and lists of residencies/colonies.
2. TK PODCAST with James Scott, begun in 2015, is an ongoing series of podcast "interviews with writers, editors, agents and book lovers of all types about what goes into their writing and what they get out of their reading" conducted by James Scott. Scott is the author of the critically acclaimed debut novel The Kept (Harper Collins, 2014) and a writer to learn from and watch. So far 17 episodes are available, featuring an impressive list, starting with Laura van den Burg and her editor Emily Bell. Later interviews have been with Urban Waite, Robin Black, Jaime Quatro, and Jennifer De Leon. Most of the writers are under 40 and "emerging" from MFA programs into the world of trade publishing.  Some of the interviews tend to go on for too long, but all contain nuggets of revelation and insight.
3. SHORTSTOPS is a site devoted to "short stories in the UK and Ireland—in print, online & live." Writers/readers may browse lists and links of live lit, literary magazines, and contemporary short story collection authors for "ideas for where to submit your stories, read short stories and listen to short stories being performed."
The site also offers a daily blog of posts from lit mags, live events, competitions, interviews with editors, and reviews of magazines and events. A newsletter goes to free subscribers every two weeks, rounding up the daily offerings. UK or Ireland-based magazines and presenters "can sign up to be a ShortStops contributor and design your own Page."
As I scrolled through the list of authors, most of whom were new to me, I turned to the review tab for guidance, but otherwise missed any screening process. The site does actively cultivate its community, and for American fiction writers/readers will prove a helpful supplement to such listings as those available at Poets and Writers and elsewhere.
4. WRITERSCAST: THE VOICE OF WRITING comes from David Wilk, former director of the Literature Program at NEA, and also director of a nation-wide distribution program for small presses and literary magazines. Wilk's career spans the changes from the paperback revolution to off-set printed books and magazines to the internet. As he puts it: "Publishing Talks began as a series of conversations with book industry professionals and other smart people about the future of publishing, books, and culture.  As we continue to experience disruption and change in all media businesses, I've been talking with some of the people involved in our industry about how they believe publishing might evolve…"
He has archived his interviews by drop-down category: "authorsvoices," "pipeline," "publishingtalks (e-books and digital publishing, publishing history, technology, the future)," and "writerscast (art and photography, children's authors, fiction, graphic novels, non-fiction, poetry)." Out of a searchable archive of 295 interviews going back to 2008, his most recent interviews include: Nicolás Kannellos of Arte Público Press, Bill Henderson of Pushcart Press, John O'Brien of Dalkey Archive Press, and Robert Pennoyer of the Whiting Awards.
5. FICTIONAUT: FOR ADVENTUROUS READERS AND WRITERS was launched in 2008 by Carson Baker and Jürgen Fauth. This ongoing internet magazine/anthology/community works something like Zoetrope.com in that members may publish their work (including previously published work) and then get feedback and critiques from other members. Poems, memoirs, and stories that receive the most feedback are listed as "recommended."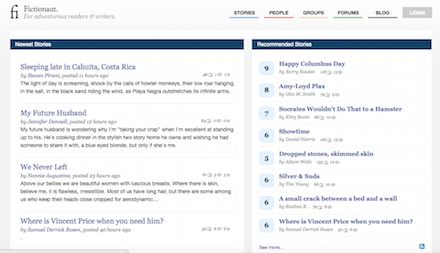 The site is in an "invite only phase," and ask new users to request an invitation. In addition to new stories and poems, tabs offer different categories of features: people, groups, forums, and blog. People list new users and users with the most comments; groups, which any members are free to start, include memoir, LGBT interest, writing about writing, and many more; forums are topic strings formed by members; and blog is a particularly rich feature, well-edited, with interviews with emerging and prominent writers as well as leading editors. There is also an archive of features in such categories as "Books at Fictionaut," "Editor's Eye," "Redisovered Reading," and many more.
---
DeWitt Henry is the founding editor of Ploughshares literary magazine; awarded the Commonwealth Award in 1992; has authored The Marriage of Anna Maye Potts (winner of the Peter Taylor Prize for the Novel) two memoirs, Safe Suicide: Narratives, Essays, and Meditations and Sweet Dreams: A Family History; a collection, Falling: Six Stories; edited five anthologies, including Sorrow's Company: Writers on Loss and Grief; graduate of Amherst College, BA, and Harvard University, PhD; attended MFA program at University of Iowa; Professor Emeritus of Emerson College, MA. www.dewitthenry.com and http://dewittsend.ink.
---
Copyright 2016 Woven Tale Press LLC. All Rights Reserved.