Invented Landscapes
by Richard Malinsky
Tula Telfair: Invented Landscapes; Abrams; October 18, 2016; U.S.; 160 pages; $60 Hardcover
Tula Telfair: Invented Landscapes presents a wide range of Telfair's major paintings, at once both intimate and grandiose. Its focus is on the power of the landscape and fragility of nature informed by her childhood divided between four continents, and its horizontal format does real justice to her large-scale works. The intimacy of this beautiful and well-designed book allows for in-depth insight into how Telfair's early experiences, education, and inspiration informed her mature style. Throughout its pages one can revisit any imaginary place at will.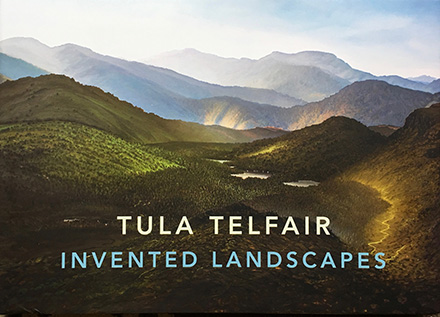 Great attention is paid to Telfair's formative early years. At the age of two weeks, she was transported to Gabon in West Central Africa because of her father's profession as a geological mining engineer.  By the age of nine, Telfair had already been exposed to a diversity of landscapes, ranging from the Gabon jungle and the Alps to the urban of major European cities. Her exposure to multifarious natural phenomenons of desert, rain forests, and Antarctica ice flows permeates her aesthetics.
Her large-scale paintings are primarily invented—while some may arise from personal memory, most are imagined rather than actual recollections, and thus resonate of the universal, as in Most Approaches Suffer From The Predictable Isolation of Schools. Irregular color bands framing the work disassociate the painting from any real personal experience. Early on, Telfair worried that her landscapes would be marginalized by contemporary critics if they appeared too realistic a depiction of actual place. Consequently, she dreamed up long titles that reinforced the idea that they were indeed fantasies.
Tula Telfair: Invented Landscapes features a detailed critical-biographical essay by art historian Henry Adams; an essay by Wesleyan University president Michael S. Roth; and an afterward by biologist, ecologist, and conservationist J. Michael Fay. Also included are detailed descriptions of formative years in formal art schools and professional influential critics, painters, sculptors, and teachers.
Perfectly timed with the book's publication, an accompanying exhibition opened at the Forum Gallery, 730 Fifth Avenue, NY, November 10–December 31, 2016.
Tula Telfair is a Professor of Art in the Department of Art and Art History at Wesleyan University in Middletown, CT. 
Copyright 2016 Woven Tale Press LLC. All Rights Reserved.