Short-story author and novelist Jacqueline Crooks
Looking Back on 2016
Interview by Jo Ely, Contributing Editor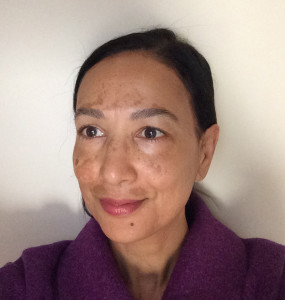 Jacqueline Crooks is a Jamaican-born, British short-story writer whose main subjects are migration and Caribbean subcultures. Crooks is A Wasafiri Prize runner-up, and the first chapter of her novel Fire Rush was published by Granta (WW15, the Anthology of New Writing, 2007). You can also find her short stories in Virago ("Something was there," 2011), Vanguard Readings ("Urban Isolation," 2015) and Mslexia (2015). Educated at Goldsmiths University, Jacqueline has read and performed her work at the V&A, Vanguard Readings, Brixton BookJam and Volumes Book fair in Zurich. Her short story "Old Goat" was published by the The Woven Tale Press Vol. IV #1.
Ely: Your short stories are very like poetry, rhythmic, musical. So it shouldn't come as a surprise that you have successfully set some of them to music, to aid your performances. Can you tell us about how this came about?
Crooks: I'm so pleased this is your first question because rhythm is my driving force. The melody of a piece of writing comes to me before the words. I listen to music while I'm working on a first draft, headphones on. Music guides me into my writing space. One of the challenges I set myself is to try and evoke a melody through the rhythm of words on the page. I'm not sure it's possible, but I'm curious about what can be achieved in the attempt.
I edit in silence.
The stories in The Ice Migration are all based on my family, my grandparents, siblings, parents, aunts and uncles, and are based on real events.
My brothers are musicians, my sister was a singer. Their music is inspired by our family, our heritage, our ancestors—it captures the voices of the second generation characters in my stories. And I realized that some of the readers I want to reach may not read books, but would probably respond to readings and performance.
There is a strong tradition of oral storytelling in the Caribbean and I was influenced by this, so this is another reason why performing my work, with music, is something I want to explore further. I've written songs to accompany each of the migration stories, the melodies and lyrics coming to me during my writing. Writing songs for each story is another way of giving voice to characters. I'm a writer who is preoccupied with voice.
Ely: I know that you are very drawn to migrant stories, and it seems to me that you have an extremely interesting "day job." Could you tell us about how your work filters into your writing?
Crooks: I've worked with refugee and migrant families for over 20 years. I consider myself to be a life writer, a social action writer. I write about people I know within the context of social issues.
Writing this collection has been my way of exploring the psychological impact of migration on individuals and families. This interest in the impact of migration led me to work in the social welfare sector and subsequently motivated me to write these stories. My experience as a migrant drives my professional and creative life, they are connected, without a doubt. I could not do one without the other.
In my work I've seen the similarities between the issues of refugees and migrants with those that my family faced back in the sixties when we arrived from Jamaica. Identity negotiation, the repositioning of self.
Ely: There are layers of subtlety and nuance in your treatment of the subject of migrations. In your short story "Old Goat" (published here in The Woven Tale Press) the stoic old patriarch's vulnerability is revealed through his yearning for the countryside and people of his childhood. But there is also the bitterness, for him, in straddling two worlds, neither of which is quite home. In your novel Fire Rush (the first chapter published by Granta in 2007), your unnamed main character describes her "bitter-sweet pain, like a homecoming that was way too late." And we sense that this isn't so much because home is lost as because she feels lost to it. Urgent even. What speaks to you the most about these stories?
Crooks: Paradoxically, it is the voicelessness of these characters that speaks to me the most. The things they did not say, were not able to say. The quietness of the socially excluded.
Ely: I noticed that people being silenced and voicelessness thread through your short stories in a motif of tied tongues.
Marisa, in "Swinging Low" from The Ice Migration short story collection, is told by her teacher to stop speaking Patois. To "Speak English." Later, Marisa is unable to make herself understood to the police and she cannot protect herself from the danger she's in. Marisa's words are stolen again and again, with tragic consequences: "Love, hate, hurt tied her tongue."
In the short story "Talking Bad," a child is silenced. Mikey is "tongue-tied" by weeds and Lorne, the survivor, is unable to find either the words to save Mikey, or the words with which to talk about his love for his friend. In "Cornmeal Dumplings," the child's shamed silence is as useful as a knife to her abuser.
Is this what drives you to write: to untie the tongues, to let the voices be heard?
Crooks: The thing that drives me in my professional work and my writing is voicelessness. That has without doubt been the driving force behind this collection. The stories are a way of giving voice to the voiceless and to myself, too, as the stories are about my family and about me. "Talking Bad" is the first story where I was consciously exploring psycholinguistic issues, but I think "Swinging Low" and other stories also focus on this.
As children we were constantly told not to "speak bad"—not to speak Patois. You would not do well if you "spoke bad," as was borne out in "Swinging Low." But Patois was my first language, the kernel of my identity. When I write, I hear the words in Patois although I can no longer speak it with confidence. Writing these stories has given me back my true voice.
Ely: The character of an adolescent or teenage girl, in many different guises, and in very different stories, comes up time and again. Her youthful powers and her absolute vulnerability reside all in one contradictory package. In "Swinging Low," Marisa resembles all of your young female characters. She is a paradox and therefore a real girl—her vulnerability and pain is matched by her strength, her resourcefulness and her endurance.
In the short story "Skinning Up," you have written a very different, but equally vulnerable, young girl who is also in very grave danger. Again, this young girl seems to defy anyone to make her story tragic. She is intelligent, emotionally aware, shrewd.
And, when you write about middle-aged or older women, often it's the young girl they once were who leads us back to the heart of your story.
In "Zhooka," an unsympathetic character is fully rendered by your hands. We come to see where the damage started, in the young girl, and we wind up rooting for the character. Similarly, Riley, in "Gwaan," is a middle-aged woman on a bar stool. Through your eyes, we also see the 12-year-old version of Riley, when she still danced. However, in the end, "Gwaan" is a short story about the death of a child's hope.
There is such an empathy and understanding in your writing for this vulnerable but strong, intelligent, resourceful young black girl, surviving, but not thriving, in a world of menace and of closed doors. Who inspired these very powerfully drawn adolescent girls and young women?
Crooks: The characters are all based on family members, people who I grew up with. "Skinning Up" and "Gwaan" are stories about my sister, fictionalized in places—she smoked ganja but never used coke. I wrote "Gwaan" to raise the issue of disadvantaged young people who don't achieve their potential because of their socio-economic situation. My sister was a talented dancer, singer, writer, comedian. But our family were focused on survival, we could not afford dancing lessons or any other kind of lessons. What would she have been if she had benefited from dancing lessons? That's the question that led me to write "Gwaan." I care about the potential of every child to cultivate and channel their creativity.
Ely: How do you make space in your life for your writing?
Crooks: Making space to write—it's the thing I talk about the most with my writer friends. I write in the mornings when my creative and physical energy is high. I rarely write in the evenings.
Up until 2014, I was running a charity, working seven days a week. I would write on the train or bus into work. The urgency of my work fueled the urgency of my writing. It is an advantage that the two are connected. I am writing about real people, real lives. I need to be amongst people to write about life authentically. I don't think being a full time writer would work for me, cut off somewhere in a study for days on end.
Ely: Which writers most influenced you, growing up? And which books are knocking over your bedside lamp right now?
Crooks: In our traditional Caribbean household, church was obligatory, so I grew up on Biblical stories: David and Goliath, Samson and Delilah, Moses leading his people to the Promised Land. The stories were told by the preacher and these were interspersed with gospel music, so perhaps this is where this idea of music and words first shaped itself in my consciousness.
We had no books in my home, but the town's librarian lived on our road and she guided my reading, encouraged me to use the library. She gave me the Greek classics, traditional literature, such as Wuthering Heights. My English teacher at school brought us up on Somerset Maugham. His story, "Rain," is still one of my favorite short stories. Doing the MA at Goldsmiths exposed me to a great range of authors: Borges, C. L. R. James, Olive Senior, Faulkner, James Baldwin, Truman Capote, Graham Green, V.S. Naipaul—Miguel Street is a favorite, and Eudora Welty—I love her character-driven stories. I am a big fan of the writing of Jacob Ross and Bernardine Evaristo, and I've studied with these writers to develop my writing—I've worked very closely with Jacob [Ross] on the Ice Migration stories.
I have way too many books on the go and am currently reading Ayiti by Roxane Gay, Tiphanie Yanique's Land of Love and Drowning, magical, and Drown by Junot Díaz. Junot achieves what I'm trying to achieve in my writing, articulating the reverberation of migration on migrants and subsequent generations.
Ely: Can you tell us what you are working on right now?
Crooks: I'm working on the second draft of Fire Rush. It is a fictionalized account of my life. Set in the underground dub music subculture of 1980s London, it explores the concept of female urban rage. The characters in Hood Rat by Gavin Knight are a couple of generations on from the characters in Fire Rush. This story places a woman at the heart of the misogynistic dub scene and the underclass that inhabit it. For once, it is a female narrator telling the story of the dub music scene, using the rhythmic vernacular. The voices of women in this sub-culture are often secondary or silent and this novel seeks to address this imbalance. Again, it goes back to my preoccupation with voicelessness.
I've been lucky enough to work with Bernardine Evaristo and Maggie Gee on the first draft. I don't work in isolation. I always work with different mentors at various sections and various stages of drafting.
Each chapter of Fire Rush will be written for performance as well as the page. That is the challenge I've set myself. A specific dub track will drive the writing of each chapter and will be the track that will accompany readings.
Ely: Thank you Jacqueline Crooks, for sharing your words with us, and for letting us have a glimpse into your creative life. I'm so looking forward to reading your novel, Fire Rush.
Copyright 2016 Woven Tale Press LLC. All Rights Reserved.