"The photographic medium doesn't need to be
about documentation."
Interview by Emily Jaeger, Features Editor
Brian Wehrung graduated from Case Western Reserve University in Cleveland, Ohio with a degree in engineering. An entirely self-taught artist, he started pursuing photography as a hobby, only professionalizing in his fifties. His highly technical training as an engineer continues to influence his photographic style: identifying geometric abstraction in the architecture of urban settings. Wehrung's work has been featured at the Affordable Art Fair in NYC in 2014 and 2016; the Rod Dot Miami show in 2014; and printed in Savoir Tout Faire en Photographie: La Ville, Sept/Oct 2014; Boston Review, Jan/Feb 2015; Elle Decoration UK, May 2015; and RUM, Sweden, Feb 2016. He lives and works in San Diego, California.
Jaeger: Your photographs in this month's issue feature vibrant architectural elements abstracted in what you have coined Extractive Reductionism. Could you talk about the development of this concept in your work? 
Wehrung: I define Extractive Reductionism as the process of extracting details from large complex objects in a way that reduces those objects to their basic constituent properties of color, line, and shape. The deconstruction of these objects and the attendant removal of context creates images that are simultaneously abstract yet concrete. 
The concept of Extractive Reductionism really crystalized when I moved from California to Albuquerque, New Mexico. At the time, I was exposed to a lot of structures—office buildings, retail establishments, and light industrial facilities—comprised of very simple, unadorned shapes and painted in intriguing, bright colors. I began to photograph them in order to capture their shared underlying themes of shape and color.
I was interested in the unifying properties that existed in these structures if you could look past seeing the whole object in the context of its surroundings. I had to train myself to look at a building and not see, for example, a department store, but rather, a green rectangle connected to an orange square connected to a grey square. 
Jaeger: Before photography, you had a career as an engineer. How did you come to photography at a later age?
Wehrung: Actually, I have been interested in photography since childhood and I have almost always owned a camera. However, in the past, photography was something I did on the side, it wasn't my raison d'être. Then, around 2007, a number of things changed. I bought my first digital camera, which freed me from the tyranny of buying film and rationing exposures. Then, in looking for an online mechanism to store my photos, I discovered various photo sharing sites and the huge number of talented people who were doing interesting things with photography. Finally, the startup I was working for ran out of money and closed. When I began a new job in Albuquerque, I discovered very different architecture prominent in that area.   
My key realization was that the photographic medium doesn't need to be about documentation. It offers just an many opportunities to be as expressive and creative as painting. 
Jaeger: In your artist's statement you write: "What I try to do with my photographs is break those mental connections with context and experience in order to see the parts instead of the whole." Can you talk more specifically about how you achieved this "break"? In, for example, "Indio CA Study 6," and how you came to be so interested in the predominance of the geometric? 
Wehrung: I try to achieve this "break" by composing images that do not provide any visual cues to context. With "Indio Study 6," there are no cues to location, function, or even scale. My goal is to create a puzzle for the viewer: is the subject inside or outside? Why are there nine purple squares inside a red square? Is the object flat or is there depth to it? Is the object twenty feet tall or one foot tall? You cannot tell—all you can see is geometry and color.
I suspect that my interest in geometry is related to my background in engineering. Geometry is about angles, lines, shapes, surfaces, and their mathematical relationships. It is a very fundamental part of our existence. Engineering is also a very concrete subject concerned with matters of physics and mathematics and tends to require an analytical approach to things. It trains your brain to think in certain ways: to look for patterns, to ask how things are constructed, and to consider underlying fundamentals.
Jaeger: In one of my favorite photographs, "Local Colors," both the photographic angle and bold colors lend to the image an appearance of being flat, as if painted. Can you talk about the role of color in your work, as well as the compositional?
Wehrung: Color is a key aspect of my photographs. In my architectural series, I reduce everything to color and shape. It is impossible to remove either element because they reinforce one another: the shapes contain the colors and the colors define and differentiate the shapes. Color creates an energy, and hopefully elicits some emotional response from the viewer. In "Local Colors" you have the soothing blue of the sky that plays off against the more energetic reds and oranges of the building.
Jaeger: Outside of the architectural series, you have other quite varied styles of work. In your series Reflectionism, you interrogate light reflecting off of metal surfaces. In "Desert Night," for example, a minute reflection seems to contain an entire landscape. What was the evolution of this series?
Wehrung: This series evolved from my interest in cars. California has a very car-centric culture. Almost every weekend you can find some sort of car meet-up where everyone brings their cars that they have restored, pimped out, etc. I would go to these events, looking for a way to photograph the cars that was different from a documentary style. I started out just shooting parts of the cars: a chrome bumper, a mirror, the lines formed by a door, etc. While these photographs meshed with my interest in color and line, they weren't sufficiently abstracted: you could still look at the images and know what you were looking at. 
I noticed that the car owners kept their vehicles heavily waxed, which caused a lot of reflections on the paint. Many antique cars have a lot of folds and curves in the metal, and I was interested in the distorted reflections made by these curves. I started to shoot even closer, looking for reflections that triggered some memory or connection. I find many of these images evocative of natural landscapes. I like that this series is not geometric, it is much more about lines and curves, which feel more organic. The photographs in Reflectionism are more abstract than the architecture series—another step further away from being representational.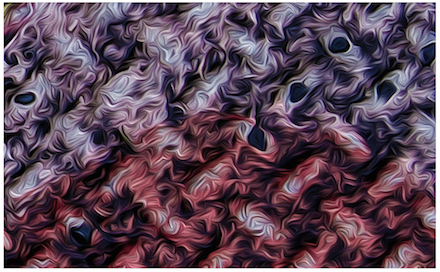 Jaeger: Another series that stands out is Digital Art, where you digitally manipulate photographs beyond recognition, blurring the line between photography and painting. How did you come to the inspiration and realization of this series? 
Wehrung: I had some bad photos and too much time on my hands. For a while, I was traveling frequently to Taiwan on business for long periods of time. I would take a camera with me on the weekend and shoot the surrounding area, or even stuff in my hotel room if I was really bored. I ended up with a lot of terrible photos. With nothing better to do, I started playing around with them in Photoshop, zooming in to the pixel level, applying filters, and trying all sorts of strange manipulations.
Many of my early attempts resulted in geometric images with lots of color. I have always wanted to be able to paint, but I have a complete lack of talent there. The works in this series helped me address this desire. I enjoyed that there were no limits on what I was doing and that I did not need to have a particular vision of where I was going ahead of time.   
Jaeger: Could you talk about the technical process of creating some of these works?
Wehrung: Generally I start with a reject photo, one that I worked on which didn't come out the way I had wanted. I often zoom in on a small section with some interesting colors or lines, crop the area, and resize it. Sometimes I crank the saturation and contrast or alter the tint on some parts or all of the image. I also find that massively over-sharpening can produce interesting results.
After watching a documentary on Gerhard Richter, I tried playing with the motion blur and liquify tools to mimic the effect in his squeegee abstractions. I have also found the minimum and maximum tools produce some interesting, geometric results.
Jaeger: What are some of the next steps in your work?
Wehrung: I'm taking a hiatus from architectural photographs, but I expect to do more of the Reflectionism series. I might also pursue the application of Extractive Reductionism to Macro-photography. That said, I tend to discover new ideas more by accident than by planning.
Copyright 2017 Woven Tale Press LLC. All Rights Reserved.