"By miniaturizing the landscape…it is possible to protect, nurture and if necessary, regenerate that which is endangered."
by Emily Jaeger, Features Editor
Jean Eng was born in Sudbury, Ontario and graduated with high honors from Sheridan College in Oakville, Ontario. Since then, she has worked as a freelance illustrator before becoming a painter. Her work has been shown in public, private, and institutional galleries in Canada, the United States and Japan. Several private collections, as well as the Government of Ontario, own her work.
A bathtub in the side of a cliff, a chair sprouting roots, toilets in a forest. Jean Eng, whose paintings are featured in the June issue, delights in surprising combinations of human artifacts and the natural world. In addition to the striking juxtaposition of natural and man-made elements, Eng, who hails from Canada and is the daughter of Chinese immigrants, also weds Eastern and Western traditions in her paintings. The results are surreal but warm landscapes, with ample room for whimsy and playfulness alongside deeper explorations of conflict.
Despite her surrealist style, Eng describes herself as a rule-keeping artist. In her collection of introspective blog posts which detail both her artistic process and practical facets of life as an artist (a favorite post describes her personal experiences of communal living in industrial artist studios), Eng both extols the works of experimental artists such as the Abstract Expressionists but also warns against breaking rules merely for the sake of it: "I still love formal art that contains images, good drawing, skillful use of design and colour. And I have a particular fondness for narratives."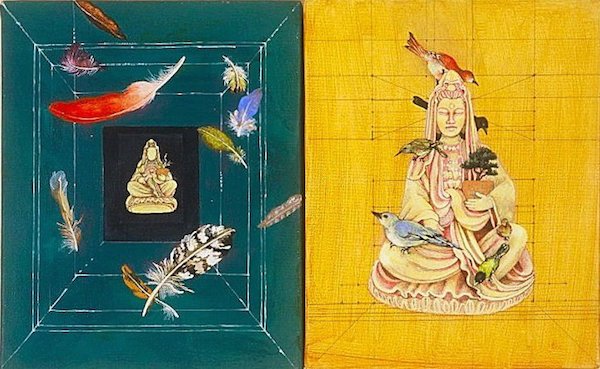 Eng's clear-eyed artistic perspective and fondness for narrative is particularly reflected in a past series, The Singing Bird Will Come. Here, Eng works with a limited palette of imagery: birds, bonsais, and goddesses. The manipulation of these three elements leads to a type of combinational delight, as the viewer moves between these intricate paintings.
In The Singing Bird Will Come the bonsai represents both the natural world and the human care necessary to create a tiny tree. With the bonsai, Eng masterfully balances both a critique of the negative impact humans have had on the environment with an image of redemption: "By miniaturizing the landscape and confining it into man-made receptacles such as bowls, cups and dishes, it is possible to protect, nurture and if necessary, regenerate that which is endangered."
Environmental themes maintain a central role in Eng's more recent work, which juxtaposes familiar domestic appliances with natural landscapes. For example, in "Ensuite: Nightjars," six toilets lie in a vine-ridden forest under a starry sky. The toilets are almost laughably ridiculous in this otherwise romantic scene. The arrangement of the toilets is reminiscent of classical paintings portraying scenes of leisure such as Monet's "Luncheon on the Grass." In "Ensuite" the toilets stand in for humans and their interruption of natural settings. Perhaps they also stand for strange man-made environments—where such odd objects as toilets are so commonplace they are more the norm than the novelty.
Surrealism's embrace of opposing combinations and hybridism also serves Eng as a way to portray her Asian-Canadian perspective. The image of the bird, ubiquitous in her paintings, is one such vehicle for touching on Eng's cultural heritage: "Just as birds are able to navigate more than one element, their metaphorical association with qualities such as transmigration, freedom and the harbinger, allows for possible interpretations according to a diversity of reference."
Copyright 2017 Woven Tale Press LLC. All Rights Reserved.