The Time for Nuance is Over?
by Emily Jaeger, Features Editor
Walking into the first floor of the Whitney Biennial, one is immediately accosted by what can only be described as the cacophony of 2016–2017. The first step off the elevator lands you in front of Dana Schutz's "Elevator," a bright jumble of bodies and bugs inspired by Solange Knowles and Jay-Z's infamous feud. Art videos growl, whir, and sermonize from side galleries, while audacious installations such as Pope.L's bologna sculpture and Jon Kessler's performative sculpture (a couple swimming in an ocean made of moving screens) command attention. All at once it is anxiety, overstimulation, and FOMO inviting a single question: is this the death of nuance?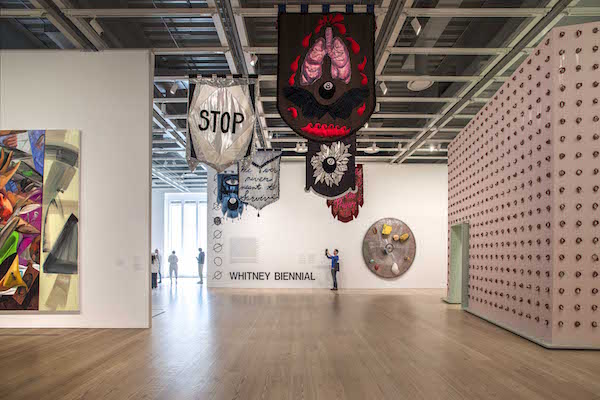 The goal of the Whitney Biennial, now in its seventy-eighth installment, is to survey the most contemporary American art. Organized by Christopher Y. Lew, the Whitney's associate curator, and Mia Locks, an independent curator, the 2017 Biennial features works made in the past year by sixty-three artists and collectives. This year's Biennial is the first to take place in the Whitney's new building on the Lower East Side and is, historically, the most political in tone: "The 2017 Whitney Biennial…arrives at a time rife with racial tensions, economic inequities, and polarizing politics. Throughout the exhibition, artists challenge us to consider how these realities affect our senses of self and community."
One of the quintessential paintings touching on the trifecta of racial tensions, economic inequities, and polarizing politics is Henry Taylor's "THE TIMES THAY AINT A CHANGING, FAST ENOUGH!" Reminiscent of a movie still, the painting captures a moment from Diamond Reynold's cellphone video after her fiancé, Philando Castile, was fatally shot by a police officer in July 2016. The size of the canvas, use of block colors, and lack of blood command attention, even dignity.
On the surface, "THE TIMES THAY AINT A CHANGING, FAST ENOUGH!" projects some clear messages: calling out a society which allows for the horror of police racism and violence. For some the painting is a chance to mourn. However, there are also surprises and beauty in the craft of this work—a patch of cloudy sky through the window, a striking blue seatbelt which streams down the center of the painting, replacing blood with water.
While the initial impact of the exhibit is overtly political, moving deeper into the galleries mirrors a movement towards deeper investigations into the impact of political art and the role of the artist. In Frances Stark's Ian F. Svenonius's Censorship Now for the 2017 Whitney Biennial, Spread 1 of 8 (Sincerely), the text of Ian F. Svenonius's satirical work Censorship Now!! painted on eight colossal canvases brilliantly sheds light on the former issue.
Stark, creatively depleted after a recent retrospective of her work, rather than create an entirely new work for the Biennial, decided she would use the opportunity to showcase a favorite writer. In Censorship Now!!, Svenonius argues that artists have bought their artistic freedom by sacrificing their relevance. In order for artists' political messages to be effective, he sardonically recommends that artists censor their work.
Sam Sax, author of Madness (Penguin 2017) writes in a recent poem, "Doctrine," that the time for nuance is over because ultimately nuance is the act of making hidden, of diverting insurgency:
the time for nuance is over
i argue over breakfast….
what i meant over breakfast
is the time's too urgent for work
that doesn't have blood in it.
what i meant is insurgency
is our birthright, that nuance
comes from the french meaning
to shade—why another painting
of a lake when there's so much
rage boiling outside the canvas?"
However, Stark's work in conversation with, for example, Puppies Puppies installation "Trigger (Glock 22)," a row of disembodied triggers, strikes an important balance and a sense of intentionality for the exhibit. By poking at the foundation of artists' ability to convey messages and create change alongside pieces which work to do just that, the curators are both leaving no stone unturned and importantly creating a space for viewers to reflect after that chaos of the first gallery: just how did we get here?
Another prominent theme of the exhibition is collaboration. While the curators originally invited sixty-three artists to participate in the show, many of the artists chose to invite additional artists to participate. For example, John Riepenhoff's "The Handler," a tribute to those who transport and install artworks, incorporates canvases and videos by multiple artists, including one of his own student's. In a time of great political divisions and disparity, portraying collaboration and unity among artists emerges as a healing alternative to political anxiety.
The 2017 Whitney Biennial was on full display at the Whitney Museum of American Art from March 17–June 11; however, selected works all still on view through July 16th.
Copyright 2017 Woven Tale Press LLC. All Rights Reserved.