"This gives me the impetus to create, the belief
that the glitter of metals is more than mere reflections."
by Emily Jaeger, Features Editor
Eduardo Terranova, originally from Cali, Columbia, works and lives in New York City. His works are in corporate and private collections, and his exhibits extend to domestic and international galleries and museums. Terranova holds a Masters of Architecture from Rhode Island School of Design and a Bachelor of Architecture from the New York Institute of Technology.
Eduardo Terranova's paintings, featured in July's issue, are made from gold and precious metals painted onto burlap and explore the sacred nature of these materials both on an individual and cultural scale. Terranova has been fascinated by precious metals from a young age: "My first pure and real encounter with precious metals, especially gold, was at the Museo de Oro (Gold Museum) in Bogotá, Colombia. I was about eight or nine when my grandfather took me there. I was mesmerized by the reflection and the glitter emanating from this metal, I could not believe the light and how the surface captured and distorted the surroundings."
The Museo de Oro, housing Pre-Columbian artifacts made from a variety of materials, including gold and other metal alloys, showcases the remains of the indigenous cultures before the Spanish conquest. Terranova's visit, as a young child, not only inspired a sacred moment between grandson and grandfather, but it also cemented the link between gold and Terranova's cultural history: "My personal heritage is intimately involved with both pre-Columbian gold and shamanism. This gives me the impetus to create, the belief that the glitter of metals is more than mere reflections, more than optically perceived phenomena."
Intent on reliving the sacred experience from his childhood, initially, Terranova experimented by creating works with gold leaf. However, he found the gold leaf—both its delicate nature and the predetermined shapes—limiting: "I wanted to express larger expanses of reflection, light, capturing more and more on the surface." Now working with larger quantities of gold, Terranova incorporates layers of copper, zinc, chrome, silver, and color combinations, all which add reflective elements and dramatic moments to the surface of the metal. He also imbues his pieces with added holiness by creating in sacred places: churches and synagogues.
In a departure from his metallic art, Terranova's series Plaster & Pearls combines humble plaster with constellations of pearls. The imaginary landscapes encompassed in these works convey the awe of the cosmos and navigational systems of ancient mariners:
Using skews, files, needles, chisels, nails, pins and carpenter tools, my intent was to transform the cast plaster into "living" three dimensional works, excavations of infinite imaginary landscapes. Since the plaster and pearls share the same mineral composition, colors and luster, it was just a matter of leaving the terrestrial world for the celestial. Then, as if sowing seeds into the sky, the pearls were placed into the plaster compositions."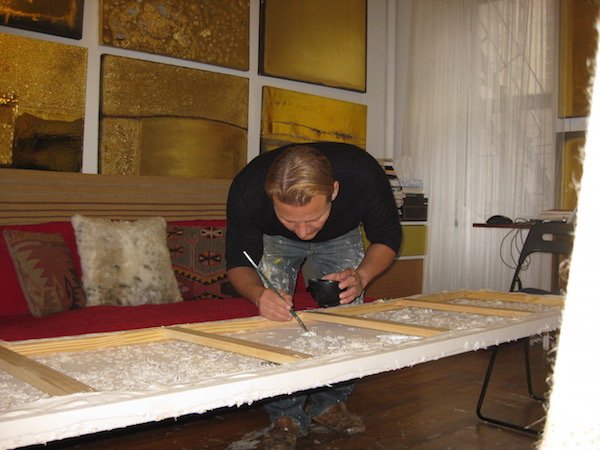 In addition to Terranova's interest in humble tools and materials (burlap, plaster), conflict often serves as a guide in the creative process. Columbia, Terranova's birthplace, has been involved in internecine war for over fifty years. By building, destroying, then resewing his canvases to paint them over with a new metallic skin, Terranova both enacts destruction and the potential work to rebuild.
Terranova jokes, "Somewhere in the middle I find myself destroying and constructing my own canvases by hand stitching, using metallic paints as 'skins'—to 'hide my own pain?' or to 'disguise the pain of the stitching with color and light?'" Ultimately, the lengthy process of hand-stitching reflects a slow, but possible process of healing both physically and psychologically from the trauma of warfare.
Copyright 2017 Woven Tale Press LLC. All Rights Reserved.