"
Living in a farming area and observing nature…h
as been my own version of living a Thoreauvian or Franciscan kind of life"
By Emily Jaeger, Features Editor
Submit your website for review by WTP

Wally Swist's works range the gamut—as the author of over twenty collections of poetry, on his website you will find his complete bibliography, which also includes a play and even a children's book. Drawn to both the art of haiku and the natural world, Swist's poems observe daily interactions between humankind and the environment. His deceptively simple language and elegantly unadorned style send ripples beyond the page.[gap height="10″]
lightning flashes through driving rain
immoveable toad
on the porch stair"
Born in New Haven, Connecticut, in the 1950s, Swist migrated into the literary field as a young adult, eventually managing a bookstore at Yale University. For over thirty years, Swist organized readings and sold literature in multiple genres. Working as a bookseller provided crucial exposure to the writing community and opportunities to connect with new readers.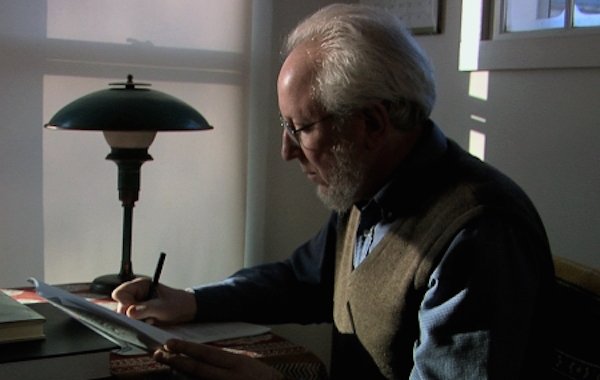 However, always accompanying his occupation with bookselling was his own pursuit of creative writing. With Robert Francis as a muse, Swist often juxtaposes the natural world with human activity. Much of Swist's imagery is drawn from his own observations of rural life, as Swist jokes in a recent interview:
Living in a farming area and observing nature, while trying to make a living as a bookseller, and now as a freelance writer and editor, has been my own version of living a Thoreauvian or Franciscan kind of life. I have invited Humility to dine with me every night, and it has never refused any one of my invitations."
For example, in "Silence Between Us," Swist writes:
sudden rainstorm—
crimson leaves stick
to our new umbrellas"
Each line is a bite of imagery conveyed with concise language: the harsh, large rainstorm, the delicate crimson leaves, and the practical umbrellas—perhaps purchased quickly at the onset of the rainstorm. The line breaks indicate both moments of silence, to exist within a particular image or moment, and opportunities for surprise. Often the best poems capture and make strange the ephemeral moments hidden in the everyday. Here, Swist avoids the obvious observation—raindrops—for a more specific and surprising image of sticky leaves.
In addition to his poetry, Swist has also written multiple collections of nonfiction, including a monograph examining the friendship of Robert Frost and Robert Francis, and a memoir, Singing for Nothing from Street to Street: Selected Nonfiction as Literary Memoir, which is forthcoming from The Operating System in 2018.
Singing Nothing from Street to Street pushes the boundaries of genre, combining personal and expository essays, reviews, original poetry and even blogs: "topics include reviews of the work of significant poets and writers; a chapter regarding haiku, an often misunderstood Japanese poetic form, and its intersection with Zen; a few academic essays regarding pop culture, the science of measurement, and the history of retirement in America; several blogs regarding psycho-spirituality; and a guided morning meditation using the chakras closes this book, which also includes some of this award-winning poet's poetry." In its eclectic arrangement, the memoir attempts to encapsulate what has been a life intertwined with and committed to the literary arts.
On his website you will also find there latest "news" on recent publications as well as information on arranging a poetry reading with Swist. You can also find Swist's poetry in WTP Vol. V #5.
Copyright 2017 Woven Tale Press LLC. All Rights Reserved.