"Creating meaning through personal stories."
By Emily Jaeger, Features Editor
Talking Writing, an online literary journal spearheaded by Martha Nichols and Jennifer Jean, aims to provide a home for first-person journalism. Defined on their "About" page as "features told from a personal perspective but underpinned by research and reporting," first-person journalism, the editors claim, is an increasingly rare art form. However, the premise of Talking Writing is based on the belief that first-person journalism is a genre worth preserving because it allows for a diversity of perspectives in an era of an increasingly polarized media.
Similar to the hybrid form it represents, Talking Writing is formatted as a combination of periodical and newsletter. Subscriptions are free, and the journal is biannual, published in the fall and spring; each issue is themed. In addition to first-person journalism, Talking Writing also publishes poetry, fiction, collaborations between two authors, interviews, and other hybrid genres.
Where the Talking Writing format differs from other online magazines is that each issue is delivered in installments; the first installment consists of only five or so pieces, a manageable online single read. In the following weeks, the journal then publishes additional content. Borders, the Spring 2017 issue, expanded to around thirty pieces. By slowly doling out further content, Talking Writing keeps the conversation flowing after the initial launch.
In addition to its innovative format (and charming layout), the highlight of Talking Writing is the quality of authors contributing content. Pulitzer Prize–winning novelist Jennifer Egan joins for an interview about chronology in novels and chick-lit, and award-winning poet Denise Duhamel collaborates with visual artist Brice Brown for a poem in Borders.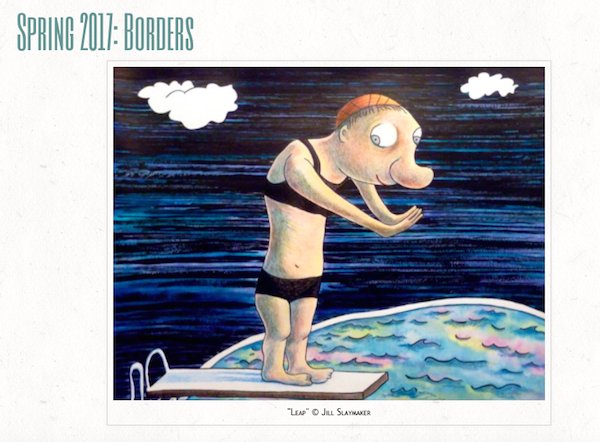 The recent spring issue also features a posthumous publication of Chana Bloch's poems "A Quid for a Quo," and "Bequest." Following the theme of Borders, "Bequest" references NASA's "The Sounds of the Earth," a broadcast which was meant to reach out across the galaxies to alien life forms:
Bequest

The Golden Record aboard Voyager, 1977

We wanted to make a good impression. Maybe even to launch a conversation.

Bonjour in fifty-five languages—some, like Sumerian and Akkadian, long dead.

Bach, Beethoven, Chuck Berry, the tap-tap of Morse code, birdsong and whale song.

The silhouette of a naked man and woman made the final cut, but no nude photographs. Taxpayers were adamant. Not even a naked baby.

And no photos of war or nuclear explosions. They might get ideas.

A billion years from now, when the earth is a charred cinder, our Voyager may land on some friendly galactic shore. And with it, the Golden Record, our calling card.

To Whom It May Concern: We just wanted to drop by and say, Hello, how are you? We were fine." 
Also included on their website is the TW Reading Series, where they bring to new light works previously published only in print, their mission "to expand readership for literature and journalism online." There is a submenu titled "Channels," though the focus of these channels—or categories—is unclear, as the options vary from actual stories and poetry to "trends" and "hot topics."
What is missing from Talking Writing is a bit more emphasis on its intended purpose: preserving first-person journalism. While there is a slightly heavier emphasis on nonfiction writing in the journal, the inclusion of other genres and the format of the site, which doesn't specifically privilege or specifically bookmark the first-person journalism pieces, obfuscates the focus on these works.
If you are an author of first-person journalism, Talking Writing is a potential home for these pieces and an opportunity to be showcased alongside impressive writers across the literary field. Both for discovering new voices and quality literature, it is worth adding Talking Writing to your literary subscriptions.
Copyright 2017 Woven Tale Press LLC. All Rights Reserved.