September 2017
By Donald Kolberg, Arts Bookmarks Editor
Monthly link highlights to online resources and websites that seem informative and inspiring for artists or art enthusiasts. Most are free. Suggestions are welcomed.
Harold Garde
As we age and the people who inspired, taught, and befriended us pass, it is always a joy to be able to remark on a living accomplishment. My friend and mentor, Harold Garde, who is in his nineties, has a show titled "Some Risks are Rewarded," September 27–February 1 at the Artlery160 Gallery in Boston. It is curated by Edward Robinson. Opening reception will be on September 28.
The exhibition catalog aptly cites how Garde's "extraordinary achievements in Abstract and Figurative Expressionism, from the 1950s onwards, make a significant yet under-recognized contribution to Post-War American art. His seven-decade career spans the New York School of Abstract Expressionists' second generation of the 1950s-1960s; continues with the figurative, mythic possibilities of Neo-Expressionism in the 1980s-1990s; and remains vitally inventive to present day." This exhibition will feature representative selections of Harold Garde's major bodies of work in painting, drawing, and prints, revealing his early and vigorous engagement with Abstract Expressionism as well as the persistent innovation of his mature artistic experimentation.
The Lost Hokusai
I recently had the opportunity to see the NHK World television production of the Lost Hokusai, a lost painting by Katsushika Hokusai. It was incredible in its coverage of how leading-edge analysis technology combined with traditional art restoration techniques brought back his final masterpiece from a single black-and-white photo. It made me want to know more about this artist. If you don't recognize the name, he is the creator of The Wave.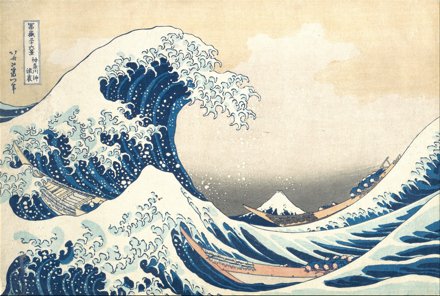 Artsy has put together an article, 7 Things You Didn't Know about Hokusai, that covers how his work helped shape the course of Impressionist art. In the 1850s, Hokusai's work crossed continents to land in the hands of artists such as Claude Monet, who acquired twenty-three of the Japanese artist's prints. Edgar Degas also took cues from Hokusai, in particular his thousands of sketches of the human form.
Raimonds Staprans at Crocker Art Museum 
Have you ever come across artists who, while they remind you of other artists, they are not derivative? Raimonds Staprans is such an artist. I was overwhelmed by his work. Staprans works from memory and imagination and from discarded pieces of his own paintings and reproductions of other artists' works, scraps of which he reassembles to model future paintings. These paintings, art critic John Yau wrote, "are disturbed by the unrelenting pressure of spatiality, in combination with disquieting color combinations.  Nothing sits comfortably."
SquareCylinder.com's article explores Full Spectrum, a career retrospective organized by Scott A. Shields, at the Crocker Art Museum. You can read about the many idiosyncrasies that they say set Staprans apart from artists who've employed similar strains of reductive realism (e.g. Edward Hopper, David Hockney, Robert Bechtle) and others (like Diebenkorn, Wonner, Theophilus Brown, and David Park) who defined themselves by applying the pigment-heavy techniques of Abstract Expressionism to figuration.
This is not only an article to be read and reread but Staprans is an artist that should be bookmarked and explored on a regular basis. Take the time to look at artwork that has helped to define a history of ism's that still influence or work.
Artist Blogs
There are so many art blogs out there done by artists. Some are spotty, others are regular, and some are downright slick. I've decided that I have not posted as many of these artist sites as I had planned too. So to correct that, I will be posting some of the interesting ones I've found. I'll look at your site if you contact me at dkolberg@thewoventalepress.net
Here are a few sites to check out:
The Blog for Abstraktion.org, a non-profit organization for the promotion, exhibition and research of abstraction across all disciplines and geographic boundaries. Based in the UK, they invite submissions from the wider abstract universe.
Art In New York City was founded by Michael Sorgatz to promote the work of local artists. To submit your artwork for consideration, please send an email containing a link to your work or three jpegs (at 500 pixels wide). There is no obligation or fee for participating artists.
ARTWATCH Commentaries and critiques on the visual and performing arts in the greater Canton, Ohio area.
Abstractcritical This was and is still a favorite site! Abstractcritical provided a proactive critical forum for abstract art between January 2011 and November 2014.
ABCRIT is a follow-on site with essays and discourse by a panel of abstract artists and writers, many of whom contributed to Abstract Critical.
The Aztec Empire
Here's another from my online catalogue collection. It's simply titled The Aztec Empire. From the book jacket: "The Aztec Empire is the most extensive and historically accurate survey of the art and culture of the Aztecs and their contemporaries ever assembled outside Mexico. The exhibition and this accompanying book present the extraordinary works of art created by the Aztecs as well as by the peoples they conquered, and the cultures that preceded them in Mesoamerica." And: "Featured in this profusely illustrated volume are archaeological objects and works from Mexico and the United States, including jewelry, works of precious metals, and household as well as ceremonial artifacts."
That's it for now. Irma is knocking on the door so I'll see you on the other side (next month), and remember you can always reach me at dkolberg@thewoventalepress.net
Copyright 2017 Woven Tale Press LLC. All Rights Reserved.