"I don't think I can get away from
mining from personal and professional experiences
for emotional truths in my stories"
Interview by August Smith, WTP Feature Writer
Lynn Lipinski is an MFA student at Mount St. Mary's University in Los Angeles. Her writing has appeared in UCLA Magazine, Trojan Family Magazine, the Los Angeles Times and several small literary presses.
Smith: Let's start with your story published in The Woven Tale Press, "The Dying Kind," a real stunner of a story about mortality and its emotional effect on a trifecta of characters. Can you talk a bit about your process behind this story? What was its genesis?
Lipinski: This story, "The Dying Kind," emerged from a difficult five-year span during which my partner Steve and I lost our fathers and his mother. All died in hospice care, and I was present during their last days and hours. Each death was moving and peaceful and deeply affecting, and unsurprisingly, everything I wrote in this time explored death and dying. The hospice workers we met on this journey were professional, compassionate, and caring. But my imagination fired up: what if the hospice worker was a drug-abusing necromaniac? And Sheila Udell in "The Dying Kind" was born. I workshopped early drafts of "The Dying Kind" as part of my MFA studies, and my classmates' and professor's reactions were so strong that I knew the story had tapped into something authentic. After several rounds of revision, it's a chapter in my thesis novel, and Sheila is a recurring character in the larger work. I had to get to know her more.
Smith: You've worked in Internet governance, and—especially with regards to your novels—the field is clearly something you draw inspiration from. I'm curious: has writing about the field changed your feelings towards it? If so, how?
Lipinski: I had no idea what Internet governance was before taking a job at the Internet Corporation for Assigned Names and Numbers in 2011. ICANN's like a big switchboard operator for the Internet, and its policies are made by a dedicated group of global volunteers who believe fervently in an open and free Internet. In my novel God of the Internet, I wrote that "the [I]nternet was created by academic utopian idealists who believed in free information and had an abnormal amount of trust in the human capacity for good." I was being a bit dramatic, but not by that much. No one person or organization actually controls the entire Internet, though what happens on the Internet is subject to local laws. Most probably think government runs it and sets certain rules, but really, there is space for every Internet user to have a voice in certain policies, particularly about how domain names are registered. Writing about Internet governance for an organization like that is a fascinating exercise in trying to simplify complex technical topics, with an eye toward language that is easy to understand for people who don't speak English as a first language. It's like a gigantic word puzzle, balancing accuracy and precision with right amount of simplification and metaphor.
Smith: How about your PR experience? You also draw upon this for your stories.
Lipinski: It's funny because I had to unlearn some of the skills of good public relations writing in order to write good fiction. My corporate writing voice persists even today, always under the surface and ready to break out in vague adjectives and diplomatic polish so as not to offend anyone. Passive voice often creeps into my fiction writing. In corporate or governmental writing, passive voice can be your best friend. Passive voice shifts the focus from the "doer" to the one who is impacted, and is a handy way to avoid assigning blame if you don't need or want to. In fiction, overuse of passive voice is an obvious no-no and quite dull to read, but a PR person would be lost without it as a tool.
Smith: Do you often directly mine your personal and professional experiences for stories? How do you feel about the adage "write what you know"? Is that a "rule" you follow?
Lipinski: I don't think I can get away from mining from personal and professional experiences for emotional truths in my stories, but I'm also a curious person. I love to learn new things and do research, so hopefully I'm constantly expanding the sphere of what I can write about. I think I'd be bored if I only wrote about what I knew. I did a lot of research into hacking, worms, and malware for God of the Internet; and I'm doing research on the Tulsa Race Riots of 1921, funeral home operating procedures, and Christian fundamentalism for my current project. I love to dive deep into Reddit forums for insights into sub-cultures. A current fave is the Reddit forum "Ask Funeral Directors."
Smith: With regards to your expertise, what are your thoughts on the current attack on net neutrality? How do you think the proposed changes will affect writers, literary journals, the arts, etc.?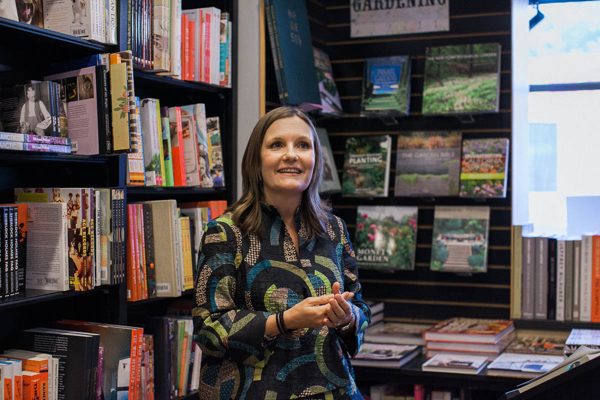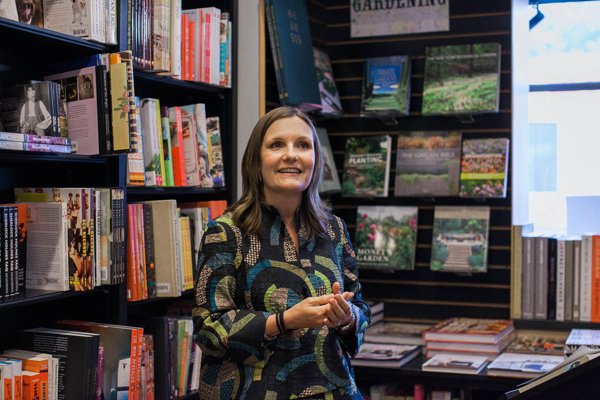 Lipinski: The Internet was founded on the principle that information should be free and flow to whoever wants it. But writer Farhad Manjoo had a point in his recent New York Times column: The free-wheeling Internet, as envisioned, is dying. Giant media companies carved it into a series of profitable fiefdoms years ago, and the 2015 net neutrality rules were an attempt to put limits on their control. When the Federal Communications Commission repealed those rules this December, they essentially created an incentive for Internet service providers to charge media companies a toll to carry content or programming via their connection. This could box out smaller media companies and make their content or apps less discoverable. I don't think it will mean that Comcast will stop offering Netflix in favor of Hulu (which it owns part of), but I do think it will mean new fees and more challenges for start-up media companies trying to break through. It could lead to Internet bundling schemes, like we've seen in cable: basic Internet gets you email and limited Web browsing among channels owned by your Internet service provider, while you have to pay more for channels and sites out of their network. I think it's terrific that so many people are paying attention to net neutrality and trying to understand what it means, even though the FCC has made its ruling. We rely on the Internet for so many aspects of our lives now, and it's critical that we pay attention to how it works, whether it's net neutrality policies, data privacy and protection, or cybercrime. It's up to us to be smart users and consumers.
Smith: There's been a lot of talk in the small press world recently about literary agents, and this is something you've written about in the past. How do you feel about the gatekeepers of the literary world? What has your experience with self-publishing been like?
Lipinski: I'd love to find an agent as a business partner, but so far that hasn't been in the cards. I understand why some small presses don't want to work with writers' agents, but I think that many agents play an important role in helping connect writers to opportunities. I think that a mistake some writers make is in taking an agent's rejection or opinion too much to heart. I spent two years looking for an agent and trying the traditional route before deciding that self-publishing was a good next step for me. If you can't find anyone who believes in your writing as much as you do, you should at least consider self-publishing. I don't regret it, but I will warn anyone considering the path that self-publishing is a lot of work, and that's not counting the time spent writing the books! Editing, art direction, marketing, layout, and distribution take up so much time and resources, so you have to be passionate, hard-working and persistent. The effort can be worth it, though, when you connect directly with readers and booksellers who love your work and support what you're doing. Also, if you do sell enough books, the upside is all yours! I'm not sure I would self-publish again, but I never say never.
Smith: At what point did you start to move away from your previous work in non-profit/government/private?
Lipinski: Let me indulge in a cliché and call it a mid-life crisis. Fiction writing was my side hobby while I worked for a paycheck in public relations. Over two decades, the urge to devote myself full-time to creative writing grew stronger and stronger until it became irresistible. In 2014, I quit my full-time job to make a real go at fiction and freelance writing, and I went back to school to earn my MFA in Creative Writing. I'll graduate in May 2018.
Smith: What current projects are you working on? What can we look forward to?
Lipinski: I'm in the final stages of writing my thesis, a novel titled Leave the Udell Family Alone that examines a family's past ties to the Tulsa Race Riots of 1921. "The Dying Kind" will be chapter two or three of that novel. I wanted to write about a contemporary family confronting an ugly history. It's a metaphor for my hometown's reckoning with its most violent episode after years of omission from history books and classrooms. I grew up in Tulsa in the 1970s and 1980s, but I did not hear much about the race riots until the state government published its report in 2001. Some three hundred people died and thousands were left homeless when a mob burned down the black community of Greenwood on the north side of town. As we approach the one-hundredth anniversary of that day (May 31, 1921), awareness continues to grow, thanks to flame-keepers like the Greenwood Cultural Center and others who recognize that to forget our history is to be doomed to repeat it. Sometimes I feel inadequate as a writer to tackle such a big theme. To borrow a boxing term, I'm afraid I'm punching above my weight class. But I'm still going to try to do my part to tell a portion of the story.
Smith: Anything else you would like to add?
Lipinski: Nope! Thanks for the opportunity and thoughtful questions, August.
Copyright 2018 Woven Tale Press LLC. All Rights Reserved.