"I wanted to see what I could do
to move poems out into a more public arena."
By Jennifer Nelson, WTP Feature Writer
Broadsided Press came about when, after earning her MFA in poetry, Elizabeth Bradfield longed to keep alive that sense of a literary community. She wanted to feel as deeply engaged with the arts as she had while attending the University of Alaska. She was scrambling to make ends meet, so she didn't want to embark on a costly venture that wouldn't allow her time for her own creative work: "But the pull was there, so I started looking around and thinking about what in my own past I could draw on that might create a new and exciting conversation that would be sustainable," Bradfield explained in a recent interview.
In 2005, Anchorage offered few literary journals, and in more remote communities—where fellow writers lived—there were even fewer. How could she create a publication that would reach those areas, and in the process, establish a larger literary and artistic community? This was at a time when literary journals were just beginning to put work online. Bradfield had a distinct advantage: she'd already learned about website design and the power of grassroots digital networks in the 1990s while working at an Internet start-up company. She realized that an online publication, if designed for low bandwidth, would be the right model.
But why choose broadsides,* pieces of paper posted in a public space? And then found Broadsided Press, a website that aims to put literature and art on the streets?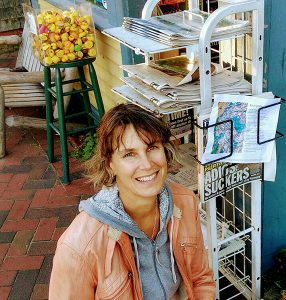 In her daily life in Alaska, Bradfield was struck by how many advertisements called for her attention, but how little art and poetry they exhibited. How could this happen in such a visually sophisticated culture as America, where people see complicated images through television, newspapers, magazines, concert posters, and logos? Bradfield was also heartbroken about how many non-writers viewed poetry as difficult or intimidating: "I wanted to see what I could do to move poems out into a more public arena where they might be encountered by people who don't ordinarily seek them out."
She was inspired by the Poetry in Motion® project, which places poetry in buses and subways in cities throughout the country. The program, initially launched in 1992 by the Poetry Society of America and the Metropolitan Transportation Authority, aims to create a national readership for both emerging and established poets. No longer would poetry only be seen in bookstores, universities, and libraries: "Poetry and art mattered to me—and I trusted that they could matter to pretty much everyone, particularly if space was made for them to shimmer."
Bradfield recalled how she'd gained a new appreciation for visual artists while at a fellowship at the Vermont Studio Center in 2000. She found these artists inspirational as they talked about the process of making art. She loved being with them while they created art. What would happen if she reached out to artists and tried putting literature and art into conversation? Through broadsides, she'd enable artists and writers to change "the visual landscape of their communities." As Bradfield imagined, "Maybe people standing at a grocery-store notice board would catch a color or image and be drawn in to consider how the words and image create a conversation?"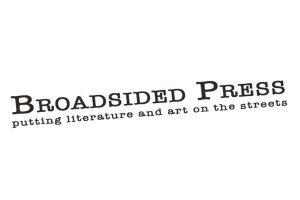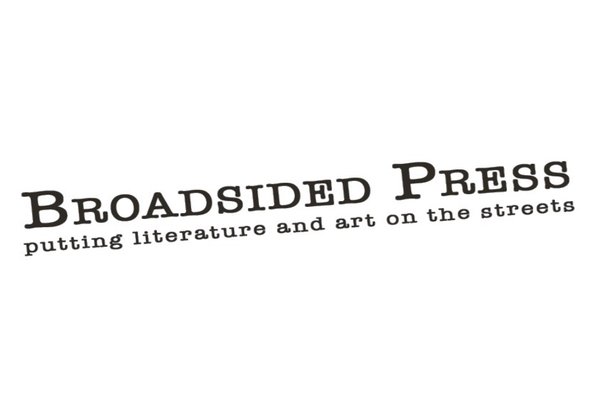 Thus, Broadsided Press was born.
In this age of digital information, there's something thrilling about encountering a piece of paper tacked to a wall. Someone actually took the time to physically post it in public, instead of just clicking and sharing. It's hard to stroll by without considering how it got there. "Some secret agent of art put it there," said Bradfield. "Some secret agent who probably lives nearby. Isn't it crazy how valuable this physical act feels?"
By posting broadsides, people can become arts activists in their towns. Broadsided Press loves to feature these inspiring moments on their website as "Vector Stories." By the way, a "vector" is anyone who shares broadsides, who moves literature and art into the streets. And Bradfield wants to get the word out that Broadsided Press "is just now in the process of moving those stories onto our Instagram account—and we're looking for storytellers!"
So, how does one make a broadside? First of all, the publications are free—except for the paper and ink it takes to print them. Broadsided Press has open submissions for writing, with a reading period from September through June. The public nature of a project is considered, and any subject matter is game. Poems have been published about janitorial labor, gun violence, habitat loss, existential despair in spring, and space travel. Given the public nature of the project, wildly experimental verse is discouraged.
Once a piece is selected, Bradfield sends it out to a group of fifty artists who work with the press: "One of them speaks up to dibs the writing, a pledge that they will respond visually." Bradfield adds however, this doesn't mean the artist will necessarily be limited to illustration. "We want to offer artists the freedom to find inspiration in any way it occurs, trusting that art + literature = something more than the sum of its parts."
Afterwards, the artist sends his visual creation to Broadsided Press; then a designer takes the art and poem and creates a letter-sized broadside of the two. Both the artist and the writer cannot make requests for changes. The first time the writer and artist see the broadside is when they are given a proof. This can be a scary, yet exciting, experience for individuals.
"We wanted to find out what it was like to be part of this process, so we also offer a Q&A in which writer and artist can share their responses to the broadside—positive and negative," said Bradfield. "I love lifting the curtain in this way and hearing what the artist and writer's experiences are like."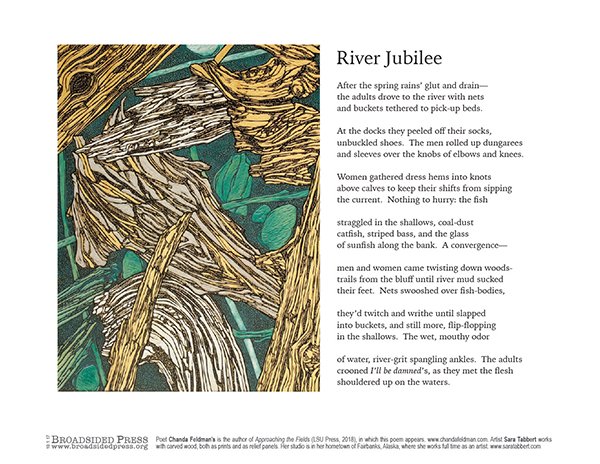 In 2011, Bradfield launched "Broadsided Responds," special features that respond to world events such as the Syrian refugee crisis and the Ebola epidemic in West Africa. These collaborations are created outside of Broadsided's usual publication schedule, allowing for artists to take a deeper look into a situation, something way beyond the twenty-four-hour news cycle. "Artists and writers are first responders to crisis," said Bradfield. 'They might not put out a fire or provide medical help, but they leap in and help us grapple with the emotional, moral, factual, and political snarls of our world."
At Brandeis, Bradfield talks to her creative writing students about the benefits of literary citizenship. This means participating in a literary community as an editor, reading series coordinator, or library-workshop leader. For many writers, this can be a way to keep a connection to their own creative spark. She sees her undergraduates as providing "a window into where literature and technology might move in the coming decades."
Teachers in American public schools and prisons have used her publications in their classrooms. She aims to gather some of their lesson plans so that others can easily teach a lesson on ekphrasis, ecopoetry, metaphor, and translation.
As a naturalist, she's dedicated to the details of the physical world, whether it's the lives of bees, weather patterns, lichen, or social dynamics. "Perhaps that necessary attention to environment played into the desire to create a press that tries to shape the visual landscape for the better," said Bradfield.
For more information or to submit to Broadsided Press visit their website.
*Traditionally, a broadside is anything printed on a single side of a piece of paper and meant to be posted in a public space. This could be song lyrics, morality verses sold at public hangings in England, and printed messages resisting the Vietnam War. Before mass-printing of newspapers, community notices would be typeset and posted—people would gather, read, and share news. In the United States, the abolitionist and suffrage movements used broadsides to spread the word of their cause.
In the Black Arts Movement and the resistance movement to the Vietnam War, broadsides were vital. Passed hand-to-hand, they were messages of solidarity and courage giving. They moved into communities that were underserved by independent bookstores or presses. The evolution of the mimeograph and the easy access to mass printing assisted in this outgrowth.  
Over time, technology and news dissemination changed. Broadsides changed in their cultural use. Some broadside printers moved toward fine art—preserving the art of letterpress type and creating beautiful pieces meant to be framed and hung on a wall. Some broadside publishers kept to the streets, to non-establishment means of distribution.
For more information on the history of broadsides, read On the Walls and On the Streets: American Poetry Broadsides from the 1960s by James Sullivan.
Copyright 2018 Woven Tale Press LLC. All Rights Reserved.