Free Motion Quilting
Interview by Jennifer Nelson, WTP Feature Writer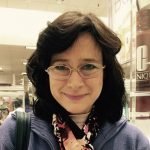 A native of Nebraska, Shea Wilkinson has been sewing since childhood. She earned a Bachelor of Arts in International Studies and German from the University of Nebraska, Omaha. After graduation, she taught English in Mexico; during this time she became passionate about creating art. She returned to the United States and immediately pursued a career as an artist. She has exhibited widely in national juried exhibitions, including Craft Forms, Materials: Hard & Soft, Focus Fiber, and The Artist as Quiltmaker. Shea has received numerous awards, including the James Renwick Alliance's Chrysalis award for a distinguished emerging artist in 2016. She lives in Omaha, Nebraska.
Nelson: What factors contributed to your interest in quilting when you were a child?
Wilkinson: The initial push to quilt as a child came from my love of my "blankie," which by eight years old, was quite tattered and unable to be further repaired, necessitating a new one. My family had moved into an old home in a small town around that time, and we found vintage fabrics in the attic, which I used to sew my first blanket. My interest grew along several lines, including fabric dolls and costumes. Living in a small town and not having cable or Internet at that time made sewing the most entertaining option available.
Nelson: How did you transition from quilting as a craft to the medium as more of a fine art?
Wilkinson: During high school and college, quilting was something I did in my free time to unwind. After college, when I was teaching English in Mexico, I found myself with a great deal of free time, so naturally I began to sew quilts. I watched online tutorials by Leah Day to learn how to "free-motion quilt," which is basically quilting in any direction, where design options are infinite. Learning these techniques led me to keep my first sketchbook, in order to keep track of the designs I wanted to use. The sketchbook started to transition from designs to small drawings, and it grew organically from there, with free-motion quilting providing the backbone for my development.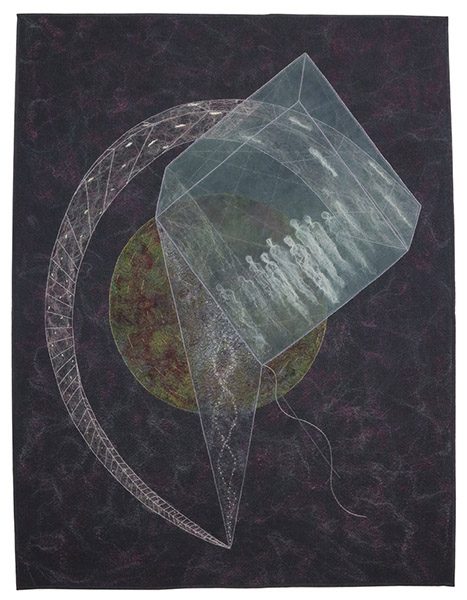 Nelson: Can you talk about the inspiration behind some of these series, in particular, Parallel Worlds, where you use hand embroidery and machine stitching to create evocative compositions? But also in the Cave Painting series, where you use petroglyphs to depict visitors from a far past?
Wilkinson: I grew up with the X-Files, watching it from the beginning, and repeatedly into adulthood. That's the most pop culture reference I can provide to express how into the weird and paranormal I've always been. That includes all areas of mystery, ancient and modern. I'm always looking for the threads that bind them all together, and I see my art practice as being the best way of exploring and processing the things I've studied and deduced about reality.
The Parallel Worlds series was jump-started by reading Isaac Asimov, and the themes that regularly arise along the lines of multiple dimensions. As I work through the series, I've incorporated many other interrelated facets, such as my fascination with crystalline structures, quantum physics and its narrative of reality, spiritual concepts of passing through various stages of being, and the places consciousness can take us which do not pertain to our society's materialist worldview.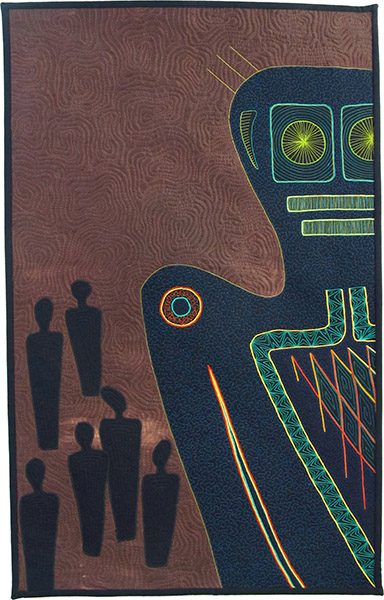 The Cave Paintings series was created because I'm really interested in the millions of accounts of extraterrestrial contact, which have been recorded for as long as man could leave records. Descendants of the cave dwellers have fascinating accounts of what their ancestors experienced, and how they regularly interacted with "star people." I recently returned from the Southwest, where quite a lot of petroglyphs are preserved. It has sparked an interest in returning to this topic using the techniques I've developed since I did that series four years ago.
Nelson: I'm impressed with the intricate, detailed stitching in such works as "Inhuman," part of your Android series that explores the future of technology. Can you explain how you create such elaborate stitching using a sewing machine?
Wilkinson: I'd like to start with mentioning that anybody with a sewing machine could technically create the same effect with the addition of a darning or free-motion quilting foot. That small element is what allows you to move in any direction, including circles. The trick is to have a lot of patience! Many pieces include several layers of stitching on top of stitching. Some layers, usually the background, are stitched with just one layer, meaning I stitch it once and I'm done. The foreground work or main elements that stick out much more, involve going over the same lines two, three, four, or even five times, depending on the desired strength and thickness of the line, or in order to blend two colors together. Some pieces allow for me to work more with one continuous line, and others require a lot of stopping and starting new individual lines.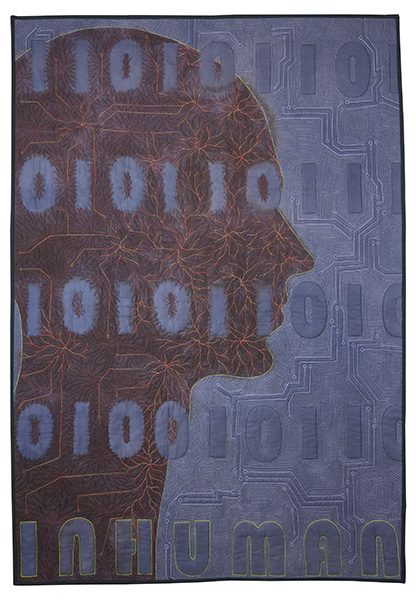 Nelson: You sew bags for Artifact Bag Co., an Omaha-based maker of bags and aprons founded during the 2010 recession. How much of your time is devoted to making products for this company and what type of products do you create?
Wilkinson: I sew several different bags for Artifact, and spend about twenty-three to twenty-five hours a week there. The job requires the same attention to detail as my artwork, which I like.
Nelson: In your fiber artwork, you've explored the themes of extraterrestrial worlds, the future of technology, mythology, and nature. Where do you see your artwork evolving in the future—do you anticipate broaching new themes, or experimenting with other fiber mediums?
Wilkinson: For the foreseeable future, I have a few ideas I anticipate exploring, some are mythological and others are more rooted in science, such as sound waves and dynamic flow patterns. The development of new techniques and mediums has always been driven by the subject matter, looking for better ways to manifest ideas. For Parallel Worlds, I've been working a lot with loose fibers, like silk and wool, beads, and even paper. I can't say what new materials the next body of work will include, but I have the feeling it will continue to lean more toward mixed media than my early work, which was purely fiber based.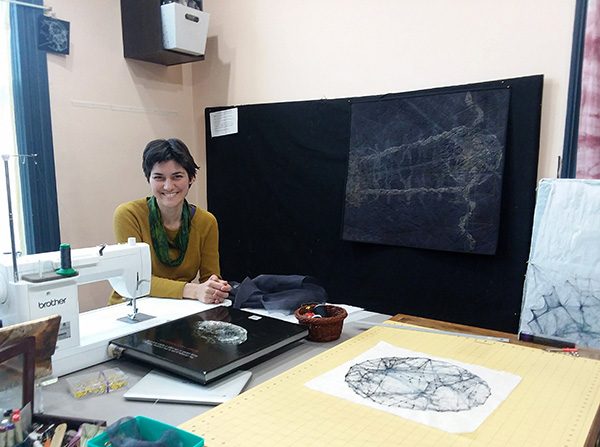 Nelson: Can you describe a typical day for you in your studio? I understand you have one room in your house devoted to your Artifact duties and another one for your personal work.
Wilkinson: Since December, I have begun working out of Artifact's studio space, and usually go there during the week from 10:00 a.m. to 3:00 p.m. Then the rest of the afternoon and evening is devoted to making work or attending to the less creative aspects of art-making: staying administratively organized, taking photos, writing proposals, etc. Weekends are a mix of quilting and just enjoying life. I'm really satisfied with the balance I've struck between my job, which requires craftsmanship, and my art practice. At work, while using my hands, I can let my mind roam free and think about any artwork issues that need resolved, or listen to podcasts that support my creative interests and ideas.
See Shea Wilkinson's work in WTP Vol. VI #2.
Copyright 2018 Woven Tale Press LLC. All Rights Reserved.