Photographing Impressions in the Sand
Interview by Jennifer Nelson, WTP Feature Writer
Nancy Breakstone is a Connecticut-based photographer who calls herself a "water-woman." Oceans inspire her artistically, and water sports contribute to her physical and emotional well-being. She has travelled to beaches around the world, including Playa Negra in Costa Rica where she took photos of the intricate patterns in the sand. These photos became the basis for her series Impressions in the Sand. Her work has been exhibited at the Carriage Barn Arts Center in New Canaan, Connecticut; the Connecticut Academy of Fine Arts; the Barrett Art Center in Poughkeepsie, New York; and the Limner Gallery in Hudson, New York. A solo exhibit of her work was held at the Gallery at Grain Surfboards in Amagansett, New York.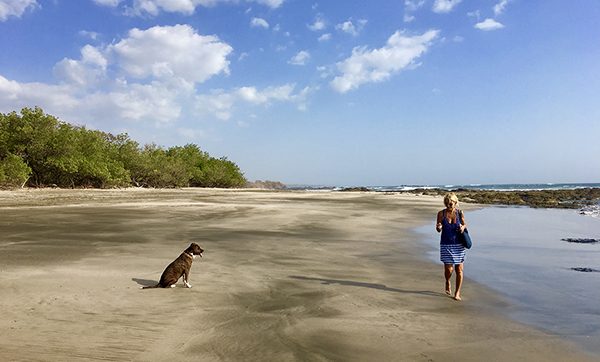 Nelson: You've led an active life as a windsurfer, sailor, and stand-up paddle-boarder. How have these pursuits shaped you as an artist, and why did you choose photography as your medium?
Breakstone: You can't spend as much time on the ocean as I have without developing a profound respect for its power, not to mention affection for its ever-changing beauty. I'll never forget the day in Costa Rica when I discovered that the ocean was an artist, too. It was with deep humility in the face of the variety of its creations that I chose photography to capture them.
Nelson: Please describe the process you used to take abstract and realistic photos in the series Impressions in the Sand? What type of camera did you use? What are the challenges of taking these types of pictures?
Breakstone: All the photos in Impressions in the Sand are realistic. They are what I saw on the beach unaltered by any modern digital techniques. The images themselves are often abstract, which I think delights the eye and the mind.
I started using an iPhone and then moved up to a Canon. But the temperature is always between ninety and one hundred degrees on the beach in Costa Rica, with the sun beating down on the camera and me. Unfortunately, the camera overheats quickly. So, I've returned to my iPhone over the last few years because I can keep it near a freezer pack to avoid overheating during a shoot.
The beach where I shoot is well travelled by people, dogs, and horses. The real challenge often is to shoot the image before someone or something crosses it and leaves a footprint. As my shooting is dependent on the tides, I have to shoot at so many different times, always making sure my shadow doesn't get into the shot.
Nelson: Many of your photographs are in black and white. What are the advantages and disadvantages of black-and-white versus color?
Breakstone: I am not hidebound by either presentational format. I don't find any innate advantages in black-and-white versus color. I shoot each image in natural, black-and-white and blue lens filter modes. Of course, each image is completely different in structure and some may still have ocean water remaining in the image. That creates a light reflection issue. It's a personal choice to decide which version to use for the final print, which I have made for me in a professional studio. Most of my images are abstract, and my personal preference is I want to be able to see an objective image within the larger image. Others can see whatever they like. Naturally, it's got to have energy, movement, and flow as it's a product of the ocean.
Nelson: How has travel to different countries impacted your artwork? Can you elaborate on the differences you see in oceans throughout the world?
Breakstone: My art at the moment is centered on a volcanic black beach on the Pacific Ocean in Playa Negra in Costa Rica. After being at dozens of beaches around the world, I have never seen the images that I have discovered there. Which really tells me it's all about the sand because, temperature aside, I find it hard to distinguish one ocean from another.
Nelson: Describe a typical day for you in your studio.
Breakstone: My studio is that black beach in Playa Negra. I plan my shooting visits there when both low tides have some light. If I could control the moon, I'd have every low tide occur in the morning—the best time for me to shoot. The ocean creates the images in the sand anywhere from the top of high tide, almost to the bottom of low tide. So I'm on the beach an hour and a half before low tide to try to capture whatever the ocean has or will create.
The sun and one-hundred-degree heat in the afternoons are brutal for my camera and me. Happily, the Pacific is not quite as warm as a bath, and a quick dip provides relief when the heat is just too much. So I'm in and out of the ocean all day. On an average day, I spend about three hours shooting. On my last trip in February, I was on the beach as soon as the sun rose and again before sunset. In between taking photos, I paddle-boarded or rode a horse on the beach. After dinner, I finally got a chance to look at what I'd shot and decide which photos spoke to me. I take about two hundred shots a day, but unless they have something to say, they are put in the bin.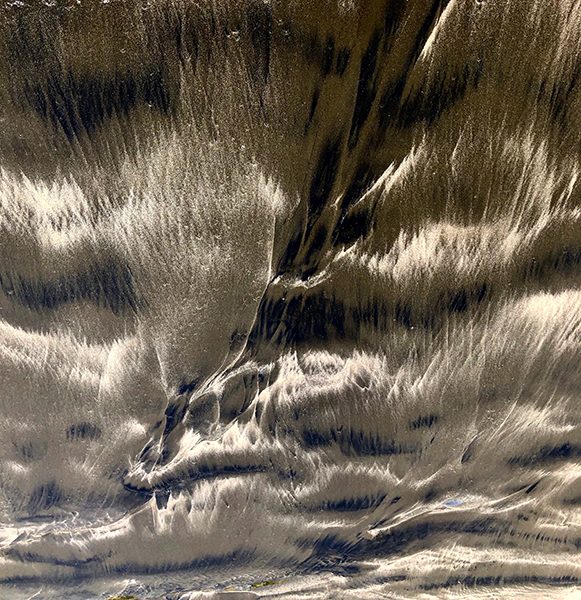 Nelson: How do you balance running your company, Coastal CT SUP, and creating artwork?
Breakstone: Paddling in Connecticut is obviously very seasonal—June through September—so my trips to Costa Rica are easily scheduled around it. Last year, I visited in February and November. This year I went there in March and plan to go again in November. Much of the sand on Connecticut beaches has been trucked in, so forget about those. I have seen some images left in the sand on some darker beaches around the United States, but they are nothing close to what I find in Playa Negra. The real scheduling problem is dropping off and picking up my photographs for summer exhibitions in New England, and the opening days or nights for those shows.
Nelson: How do you see your art evolving in the future?
Breakstone: Frankly, I may be a one-trick pony. The only way to evolve my photography is digitally manipulating the prints, which I've decided not to do. Each image is organic and individual. I would never change that.
See Nancy Breakstone's work in WTP Vol. VI #3. 
Copyright 2018 Woven Tale Press LLC. All Rights Reserved.