Random vs. Intentional in Abstract Painting
By Richard Malinsky, Arts Editor
Naomi Schlinke describes two artistic careers in her website. During the 1970s and early '80s she was a professional modern dancer and choreographer with the Margaret Jenkins Dance Company and the Joe Goode Performance Group, both based in San Francisco. The San Francisco contemporary art scene was heavily influenced at that time by new concepts in dance, music, visual arts, and architecture emanating from the famed group of contemporary artists at Black Mountain College, North Carolina. As she began her transition from dance to painting she was guided by these core aesthetic and existential values.
This duality follows through in her painting. Her lyrical abstract compositions are a balancing act between seemingly random and intentionally designed works. She is an intuitive painter with a mental image of an action and how her materials will react to that action. Speaking of her work she states: "Ultimately, each painting represents a culmination of the deliberate and the serendipitous, the visual, and the kinesthetic."
Schlinke works with colored ink on smooth Mulberry paper or white clayboard. She begins by adding ink to the surface and then presses another surface to it. Pulling them apart while still wet reveals shapes and patterns reminiscent of organic growth forms found in nature. After the ink dries she scrapes and sands the surface to add texture and motion, and then repeats as many layers as she feels necessary to complete her composition.
An early work, "Wave Guide," clearly illustrates this process. Also, combining multiple panels into one cohesive composition of positive and negative space creates a paradox of intimacy and vastness. It's not surprising that she began to explore large wall installations based on uniting vast areas of space with varying single and multiple groupings expressing both gravity and motion.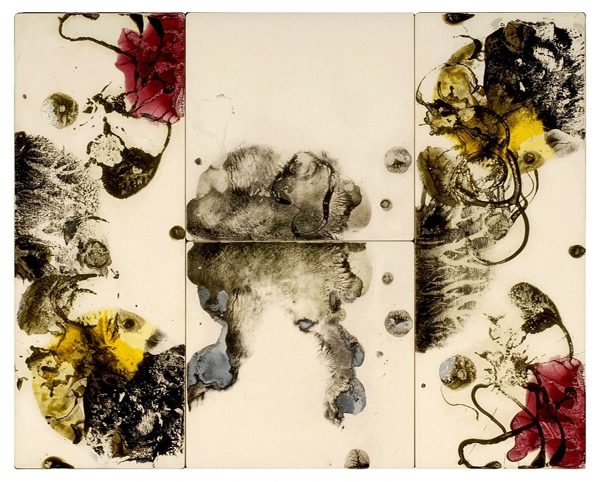 In 2016 she broke away from combining multiple panels. Her site presents two series titled Linear Collage and Painterly Collage. "N1" is a dramatic linear composition of intertwined dancing forms composed of cut sections of paper painted in her unique technique. The positive and negative space is still there, but now organized as a single image within a formal rectangle.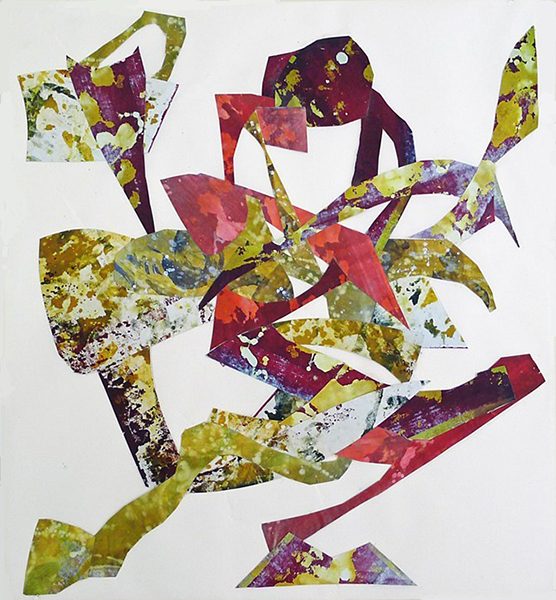 "Black Mountain" represents Painterly Collage. Her scraped and scratched black ink texture is now part of an overall fluid color field that defines the edges of the composition. Cut color forms sit atop the surface and create the illusion of spatial depth.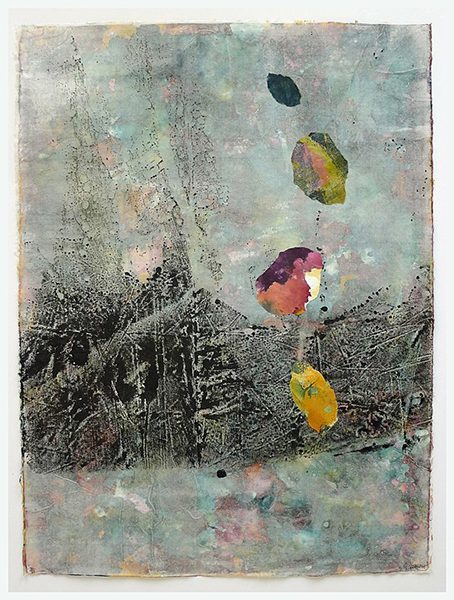 Her current work represents a pictorial evolution in full stride. The energetic composition "Grotto" features the unique fluidity of ink with degrees of transparency that enhance interplay of her organic growth forms. There is a freedom in this work that shows a painter not afraid to take a chance and completely in control of her materials.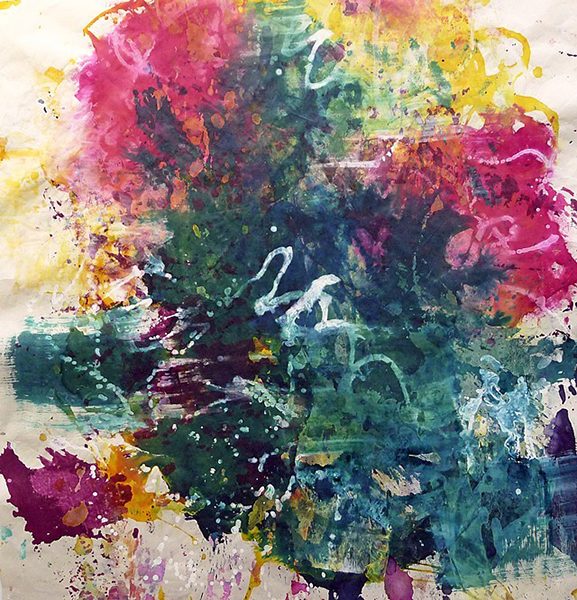 Naomi Schlinke is drawn to the sensuous and the contemplative, the beautiful and the provocative. She describes inspiration; "In the work of Chinese 'flung ink' artists, as well as in the fluid manipulations of Abstract Expressionism, and the ecstatic uncertainties of Surrealism."
Copyright 2018 Woven Tale Press LLC. All Rights Reserved.