Twilight
See Keiji Shinohara's work in WTP Vol. VI #5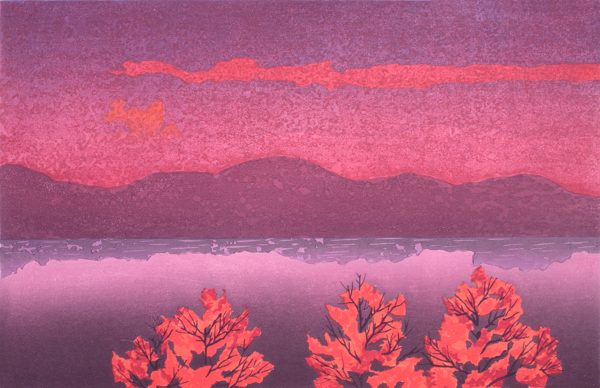 woodcut
11.13" x 17.13", ed. of 30
While living in Kyoto, I trained for ten years in the traditional Japanese woodblock printing style known as Ukiyo-e. The technical foundation for my artwork is rooted in that training, accompanied by techniques of contemporary western printmaking. Yet the imagery itself is very different from historical Ukiyo-e.

The process of printmaking is appealing to me because of its inherent surprises. Until I peel away the paper from the woodblock, I really don't know what the image will look like. There is always a negotiation going on with the material. Each piece of wood brings its own character to which I must adjust each time. I may decide to change the image in order to preserve what the block is offering me.

For me, the story behind the work is very important; there is a sense of narrative that is very private. The feelings and emotions that I convey through these abstract landscapes matter most to me. Almost always my images are of nature, but it is the essence of the landscape that I want to express, not realistic accuracy."
Keiji Shinohara's nature-based abstractions are printed on handmade kozo paper using water-based pigment onto woodblocks in the ukiyo-e style—the traditional Japanese printmaking method dating to 600 CE. Though Shinohara employs ancient methods in creating his woodblock prints, he also diverges from tradition by experimenting with ink application and different materials to add texture to his prints. He personally executes all the steps involved in the printmaking process, from carving the woodblock to printing by hand.
Shinohara was born and raised in Osaka, Japan. After ten years as an apprentice to the renowned Keiichiro Uesugi in Kyoto, he became a master printmaker and moved to the United States. He is currently teaching printmaking at Wesleyan University in Middletown, Connecticut, and has been a visiting artist at over one hundred venues and thirty solo shows. He has received grants from the Japan Foundation and the National Endowment for the Arts and his work is in many public collections, including the Fine Arts Museums of San Francisco, the Cleveland Museum of Art, the Fogg Art Museum at Harvard University, Milwaukee Art Museum, and the Library of Congress.
Courtesy of the artist and Garvey|Simon Gallery.