Fabric Art and the Universal
By Richard Malinsky, Arts Editor
Andrea Rae is a mixed-media artist who blends fabric, soft sculpture, and photography in both representational and symbolic work that explores humanity's correlations rather than our differences. Her site presents a multitude of individual works as well as large-scale installations.
Rae began experimenting with different materials and elements early in her MFA studio program, at Purdue University. She began contemplating their meaning and history—what they communicated and shared with the people who used them. Fabric, with its universal qualities, became the focus. "It connects us in a way that nothing else does," she states. "We all wear it, sleep on it, and use it every day. Even in the poorest of countries, cloth is used, touched, worn, and felt."
This, in turn, brought back her childhood memories of making refrigerator magnets with nylon, cotton balls, and thread with her grandmother. The ability of fabric to stimulate memory ignited a spark that fueled her creative concept and expression. 
The fabrics she uses are old and discarded, which means they have a history. By cutting these fabrics into small pieces, she symbolically represents a moment in time, an experience, or a memory. These pieces are then stuffed into sheer nylon that is squeezed and shaped into symbolic figure forms. She explores how these abstract figures communicate individually, in masses, and in photographs.
Rae skillfully executes her concept in the emotionally charged "Nest – Self Portrait." Each abstract figure is composed of fabric relating to a moment, an experience, or a memory that has impacted her life as a women and as an individual. When she positions herself surrounded by these symbolic figures, she makes a powerful statement of her connection with the past: "When I lay with these figures, those women all become one with me and I become one with them." It's refreshing to view a kind or portraiture that tells its story conceptually rather than simply as a  technical likeness.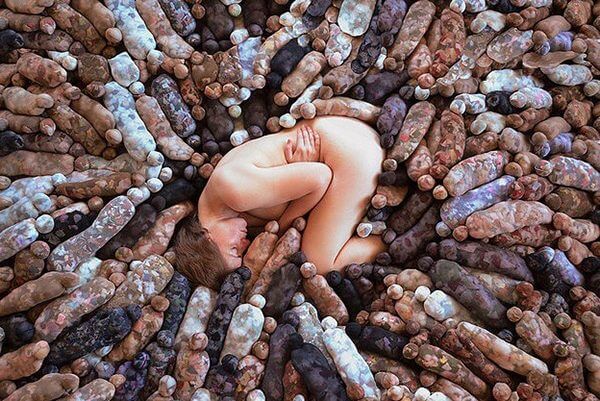 While exploring her concept in the Mobs and Masses Series 2017–2018, she "became aware of the fusion of individual minds into one collective mind." In "Ayatollah's Funeral 1989," she employs color to signal diversity in a group that otherwise shares a common goal, despite age, status, or gender.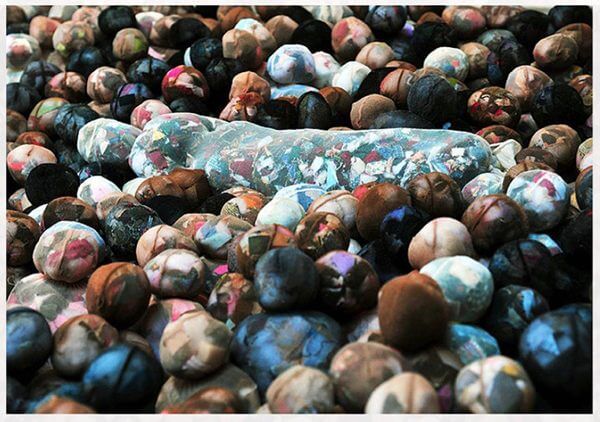 Her Pin Cushion Series, 2016–2018 explores misogyny, gender roles, gender stereotypes, and the struggles of women universally. Her sensitivity to the historical of objects and materials, led to the pin cushion as icon for domesticity and past societal expectations, as can be seen in "Cushion":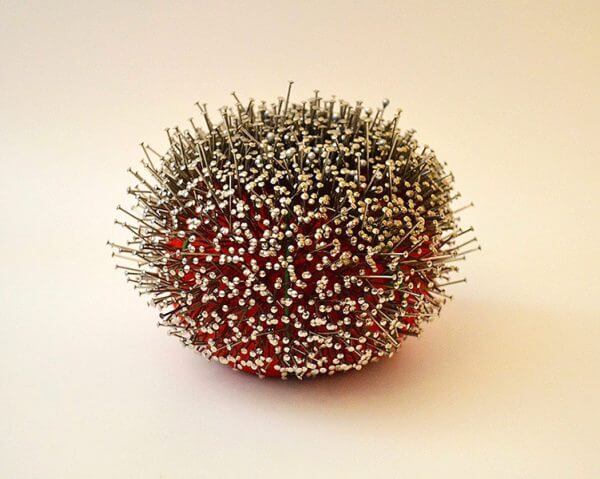 She takes this concept to another conceptual level in "Self Conflict."  The pins now serve as a symbol of pain endured, as this female form is cut off from her complete self, and the work has evolved her concept to represent women's evolutionary struggles for equality and self-image.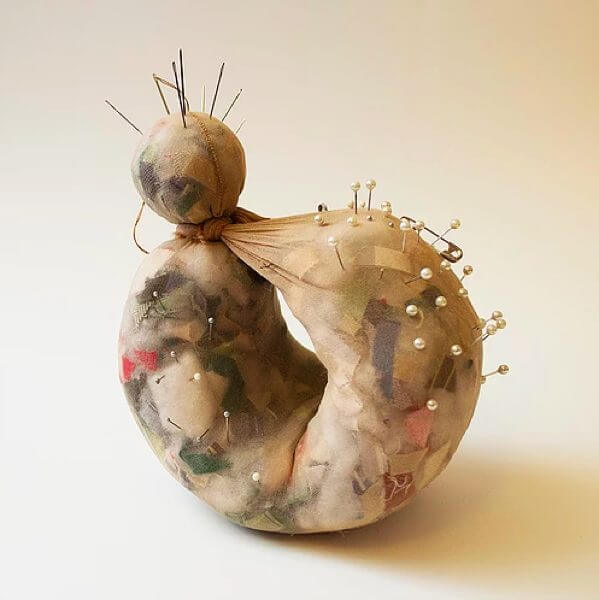 Andrea Rae believes, "When one's identity is removed of all social constructs, there is a failure to achieve ego. This offers an opportunity to see and to know each other on a more personal level. It makes our similarities more visible." In looking at the installation photos of her solo exhibition at Rueff Galleries, Purdue University, 2017, whether sculpture or photography, large or small, on the wall or on the floor, her body of work at this juncture in her career is strong and cohesive. She is a young artist who has already made a significant mark.
Copyright 2018 Woven Tale Press LLC. All Rights Reserved.