July 2018
By Sandra Tyler, Editor-in-Chief
Summer is upon us and so are our 2018 literary and fine art Hampton competitions: submissions open July 15th! Don't wait until last minute to submit, as we do consider all submissions on a rolling basis for the magazine as well.
Jacqueline Kolosov, our first place 2017 literary awardee, recently flew back home to Texas, and this is what she had to say about her week stay at the house:
"My time at the shingle house on Hand Lane has been filled with the garden's robins, cardinals & other birds; the occasional coming of a distant train; and at night, always, the rhythms of the ocean. Elizabeth Sloan Tyler's paintings form quiet focal points throughout the house, and lingering in her studio, the brushes still in their coffee can canisters, work from different points of her life on the walls and along the floor, brought inspiration and perspective. In particular, I found myself drawn to her late work, where the boundaries between land and sea and sky vanish, and all is movement. This vibrant but subtle energy ultimately fueled my own days. Coming from dry, arid West Texas, I liked nothing more than to sit on the back patio and read, write and draw, surrounded, everywhere by green. Walking beside the ocean, which is five minutes away (on foot), became a daily ritual, particularly late in the day when the light shifted, and color infused sky and sea. I cultivated solitude during my time here, but there is plenty to do in Amagansett, and I thought about going to yoga as well as out to hear music (but opted instead for the birds and sea). On my last day, though, I did rent a bike and rode to the bay at Devan Beach which brought me through the more wooded side streets further afar. I could not be more grateful to Sandra Tyler who ensured that I found yogurt, milk and oatmeal for my first morning, and drove down one night (with her dog Toby) to share dinner and her mother's work. I am deeply grateful to Sandra, DeWitt Henry, and everyone at The Woven Tale Press for making this experience possible. I will draw upon my time here in the months ahead."
That night when I drove down to see her, she also showed me the seashells she'd collected farther up the beach than I myself have ever walked. She spoke of my mother's Turner book she'd been reading, and the time she spent looking at her paintings. Since my mother's passing in 2015, the last three years have been a long, slow healing. Jackie's real appreciation is helping me to find closure. I wasn't prepared for how meaningful this finally would be, to be sharing this oasis with others as appreciative. I look forward to welcoming our 2018 winners into my mother's home.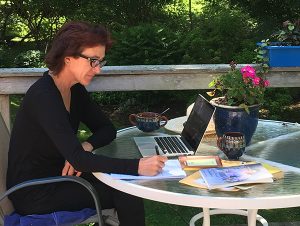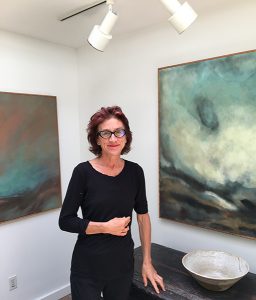 For more information on our literary competition go here, and for our fine art, here.