Blacksmithing as Fine Art
By Richard Malinsky, Arts Editor
Artist Monica Coyne is also a blacksmith, and her work is evidence of the powerful relationship between the human hand and steel. Although she began as a woodworker, studying Japanese joinery and timber framing, she went on to shape steel into tools, and is well known in the blacksmithing community for forging forms that contradict the weight and the practical application of the craft.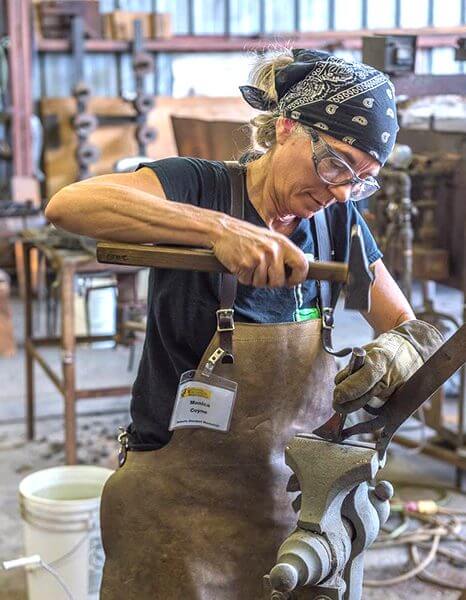 Coyne experiments with balance and asymmetry, producing some surprising forms in her steel sculpture, tables, and architectural embellishments: "I have always been fascinated by the idea that the shape of something can create an emotion in people. I can follow the vein of iron and carbon. I can take it to a place of function. Or I can follow it where it wants to go." Her quest is to make the metal move, and to guide that movement. That quest combined with her mastery of the medium has moved her work beyond the functional, into the fine art galleries.
I was immediately drawn to the fluidity of her sculptures. The abstracted form below of a partially developed female form incorporates just enough detail to allow the eye to construct the full figure. The positive and negative shapes gracefully complement each other and are accentuated by the dynamic angle jutting from its asymmetrical balance point on the base.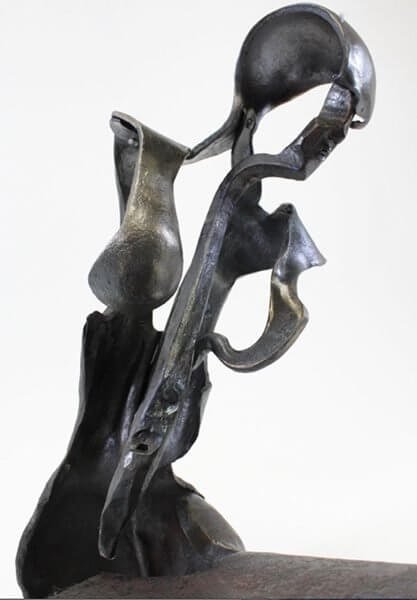 Other sculptures are whimsical abstractions that seem to be growing like branches or seedlings, as seen in the figure below.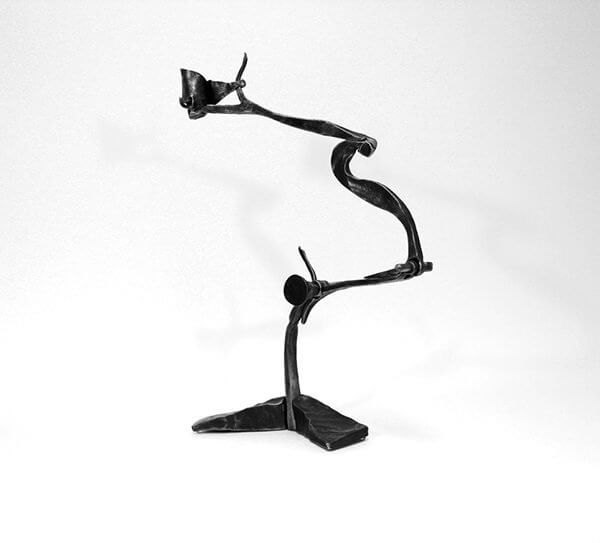 Coyne's whimsy extends to the design of her art tables. The twin table bases below playfully suggest two people on their knees, with fingers spread to support the heavy wooden tops. In other works, she varies her tabletops with glass or different wood finishes that may harken back to her woodworking days.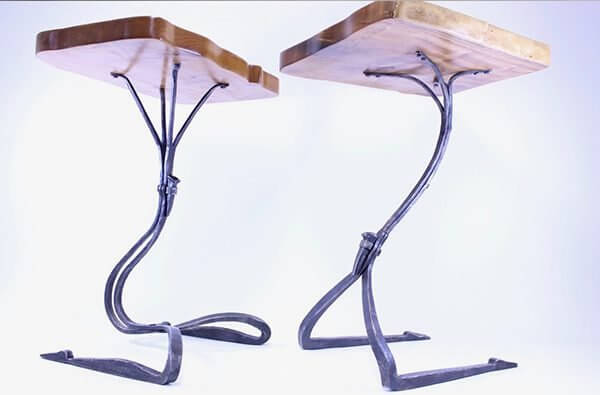 Her architectural wrought ironwork is masterful. Whether a fireplace screen, hanging lamp, or a range hood resembling a Tiffany lamp, with her technical skill and creative vision, Coyne transforms the functional into the beautiful. I went back to her "Driveway Gate" several times, to admire the linear choreography of its design.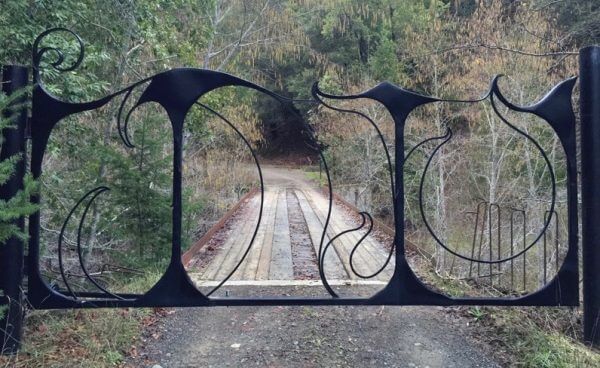 She has an impressive exhibition record, including both fine art galleries and blacksmithing venues, and her work was featured in The Insider Magazine and Fine Homebuilding in 2017. Coyne's work blends a visual connection with the raw material, translating that human energy into an aesthetically pleasing while also functional piece.
Copyright 2018 Woven Tale Press LLC. All Rights Reserved.