"I am not interested in writing
detached from people's actual lives."
By Jennifer Nelson, WTP Feature Writer
Lynn Casteel Harper is a writer, minister, and chaplain. Her nonfiction book, On Vanishing, is forthcoming with Catapult Books. Her work has appeared in Kenyon Review online, Catapult, The Huffington Post, North American Review, Tiferet, New Delta Review, CALYX, and the Journal of Religion and Abuse. She was a recipient of the New Delta Review Nonfiction Prize in 2013 and the Orison Anthology's 2017 Nonfiction Award. She was named runner up for the Torch Prize in 2016. She earned her Masters of Divinity degree at Wake Forest University in North Carolina and completed a Clinical Pastoral Education (CPE) residency at Robert Wood Johnson University Hospital in New Jersey. She currently serves at the Associate Minister of Older Adults at The Riverside Church in New York City. See her essay appearing in WTP Vol. VI #6.
Nelson: For seven years, you worked as a chaplain at a continuing-care retirement community in New Jersey. How did this experience, as well as the people you encountered, lead to your writing about them?
Harper: I had the unique opportunity of working in people's homes each day, spending time with individuals in critical moments of fear, sadness, and joy; facilitating small groups, including one specifically designed for persons with severe dementia; and working closely with professional and familial caregivers. I witnessed both the challenges of daily life in a nursing home and the tremendous community spirit that often emerged there. I encountered the resiliency, complexity, and creativity of older adults, including elders with dementia. The richness I witnessed, however, did not square with the flatly stereotypical, even outright demeaning, representations of old age in the broader culture. That dissonance led me to the page. I hope not to write only about them, but, really, to write about myself—the fact of my own aging, the grappling with my finitude, limits, death: all the stuff our culture wants us to ignore.
Nelson: How did moving to New York City and working at Riverside Church inform your writing?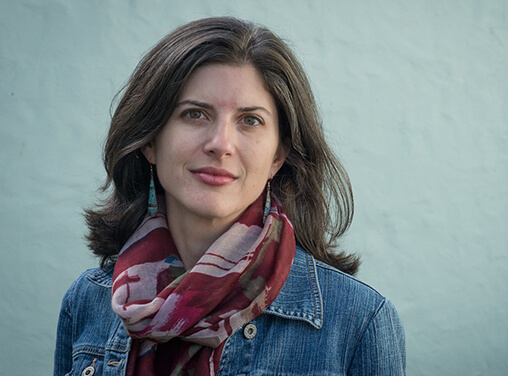 Harper: It's hard not to feel simultaneously supported, inspired, and intimidated by the city's literary legacy; physical daily reminders of great writers and artists abound. For example, my apartment building sits adjacent to the building where Madeleine L'Engle lived and wrote; Thomas Merton worshipped at a church two blocks from Riverside; James Baldwin resided just south of my building. I feel accompanied by a "great cloud of (poetic) witnesses"—to borrow and bend a biblical phrase—which encourages me to keep pen to paper. New York also allows me to meet face-to-face with my editor and agent, as well as with artists of every stripe. Sitting down with actual human beings in actual space and time matters, I think.
The Riverside Church is an incredibly diverse community that has a long history of prophetic creativity. I get to work closely with its remarkable older adults. I marvel at the ninety-eight-year-old member who walks ten blocks to church; the woman who is working on a collection that combines her poetry and photography to pass on to her grandchildren; the man in his mid-eighties who takes two buses every Wednesday to volunteer at the church's food pantry; the homebound parishioner who writes weekly letters to me. They are constantly showing me that seemingly small acts of fortitude and care are worthy of my and others' attention—for me, this attention often takes the form of writing.
I also get to write sermons and prayers, which requires me to regularly read and interpret ancient, sometimes esoteric, scripture passages for our day and time. This difficult task invigorates me as a writer to weave these threads together without tidying them up. Unlike essay writing, everything I write for the church must live off the page in the spoken word.
Nelson: Can you talk about the process of taking the essay "On Vanishing," and developing it into a full-length book with the same title?
Harper: I actually set out to write a full-length book on dementia and spirituality, so the essay "On Vanishing" sort of evolved out of my larger vision, rather than the other way around. The book's original title was When I Have Dementia, but my editor wisely suggested changing it to On Vanishing. I think he did not want my book to get shelved in the medical section as some kind of self-help guide, when it is something different from that—more literary than instructive.
"On Vanishing" was the first piece that appeared from the manuscript; it was published by Catapult, the press that ended up acquiring the whole manuscript. The essay seemed to resonate with readers. I began getting e-mails from strangers who wanted to share their experiences with dementia, the stories they felt were overlooked or ignored.
The little phrase "on vanishing" seems to strike at the heart of what I and others are grappling with—is the person as person vanishing? Amidst all that seems to be vanishing in dementia, what might remain or even be ascending? And why is the vanishing metaphor so dominant in the first place in dementia discourse? I began to pull more intentionally on that thread, playing with that metaphor, as I completed a draft of the manuscript.
Nelson: Can you comment on using metaphor in your work, including "On Vanishing," which is a medical metaphor for dementia, Alzheimer's, and amnesia?
Harper: Life seems too contradictory and rich for anything but metaphor. I believe that the images and symbols we use actually create reality; the metaphors we use deeply matter. Alzheimer's metaphors abound, especially images of vanishing. Persons with dementia are said to be "disappearing," "gone," "out of their minds." Persons supposedly become "shells," "husks," the "living dead." The disease is imagined as "the death that leaves the body behind." These metaphors serve to degrade the complexity and spiritual vitality of persons with dementia, adding to the suffering of those who have it, their caregivers, and everyone else in the risk population—that is, all of us who plan to grow old. My work uncovers and challenges these metaphors, as I search for new, more robust renderings of—metaphors for—dementia that expand our vision beyond progressive vacancy and dread.
While my subject in On Vanishing is, in a sense, medical—in that dementia is a general term for a cluster of medical conditions—I am hoping to open up a different kind of rhetorical space that moves beyond the strictly clinical or diagnostic, and meets persons who have dementia in their full humanity, in our full humanity.
Nelson: In "The Shut Door," which appears in The Woven Tale Press, you blend memories from childhood and adulthood in your exploration of issues around privacy and social media. How did you pinpoint experiences to highlight, including forming a secret society in sixth grade and visiting Emily Dickinson's home in Amherst, Massachusetts?
Harper: An advocate for solitude, I have been ambivalent for some time about social media and constant social accessibility—so I guess this disposition flavors and frames the raw material of my life. These themes serve as the large umbrella under which I collected and integrated some of the material that appeared in the essay. In a rather short period of time, I discovered the notes from my childhood secret society, read The Cloud of Unknowing and Adrienne Rich's "Vesuvius at Home," and visited Dickinson's home. I tried to follow each thread, finding that each enriched the other. I think my Midwest upbringing has taught me unrelenting frugality: don't let anything go to waste. My mom, for example, digs out the leftover coffee grains in her used Keurig pods. She can't stand to think they would go to waste, and adds them to her compost pile. I'm doing my version of digging out the leftovers, life's "used granules," for their conversion to useful literary matter.
Nelson: You have given workshops and spoken to groups about dementia and spirituality. How has this work impacted your writing? And vice versa?
Harper: These speaking engagements put me in direct dialogue with persons, usually caregivers, who are intimately invested in the lives of persons with dementia. I am always reminded of how unsupportive our culture is of our professional and familial caregivers, and of the creativity and resourcefulness of caregivers and care receivers. Their stories need to be heard, and we need a richer, more nuanced lexicon for them. My mother was a caregiver for her father who had Alzheimer's; unlike me, they did not leave the dementia floor at five every evening. I must listen to these lived experiences. I am not interested in writing detached from people's actual lives; I wouldn't know where to begin.
Nelson: How do you see your writing evolving in the future?
Harper: Right now, I am in the middle of editing On Vanishing, so it's hard to think outside this project. While I don't have any definitive plans for my next project or even a clear sense of the evolution of my writing, I do feel compelled to stay the course, to keep returning to the page, especially in this political moment. I cling to the late Irish poet John O'Donohue's definition of beauty as "rounded substantial becoming." Not pretty, not nice, but rounded, substantial, becoming. In a world that seeks to flatten and narrow our emotional and spiritual landscapes, I hope my writing will attest to "rounded, substantial becoming," pushing beyond the flat and aphoristic, preserving existential dissonance and beauty.
Copyright 2018 Woven Tale Press LLC. All Rights Reserved.