Summer 2018
By Marni Elyse Katz, WTP Art Correspondent
Four times a year, WTP art correspondents from around the country will report back on the previous season, with images from exhibitions you otherwise might have missed, and their own insights into these varied venues. Provincetown, MA, will be featured annually with an exclusive summer coverage.
Summer on the Outer Cape is practically synonymous with art. Yeah, the beaches, sharks, oysters, and frosés, are also part of the experience, but the art… This is the twentieth summer I've spent in Truro, where I have gotten to know many artists, gallery owners, and such. As you can imagine, I spend quite a bit of time (and money!) at openings. These were the highlights of my art-filled Provincetown summer.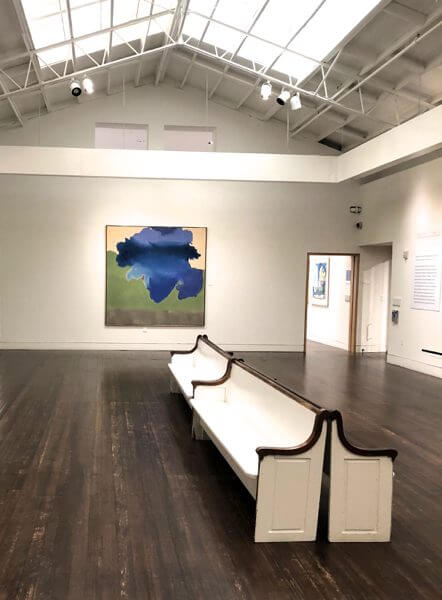 The must-see show of the summer was Abstract Climates: Helen Frankenthaler at the Provincetown Art Association and Museum (PAAM). Lise Motherwell, a stepdaughter of Frankenthaler and PAAM Board President, and Elizabeth Smith, Founding Executive Director of the Helen Frankenthaler Foundation, curated the exhibition, which felt simultaneously splashy and intimate.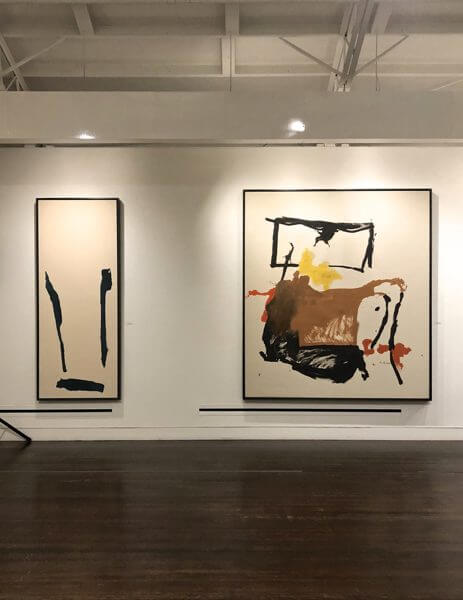 Large format works were presented in all their spare, splashy glory. Some, strong and powerful; others emotional and quivering. I learned about rasa theory in grad school when I studied Indian art. It's the concept of art transporting the viewer to a state of wonder and bliss. The Helen Frankenthaler show did that for me. I felt the art move through me.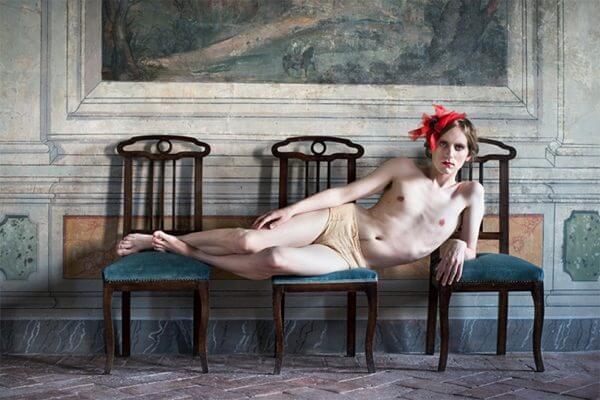 After the Frankenthaler preview, we headed down Commercial Street to Gallery 444 for the Clark Gallery popup. I am always meaning to go to Clark Gallery, but since it's in Lincoln, I have never made it up there. This was the perfect opportunity to meet owner Dana Salvo. Upon entering, I became immediately enraptured with the exquisitely gender-bending photographs by Lissa Rivera of her boyfriend and muse, BJ Lillis.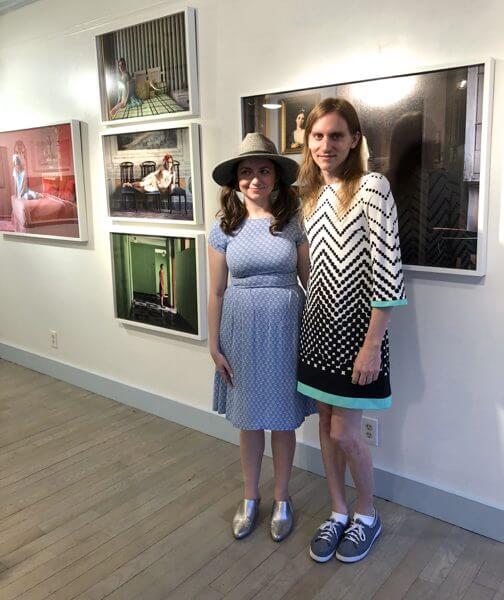 As I fawned over the work, Rivera, a curator and photographer, told me their story. The two met at work. When Lillis, an historian, confided that he liked to dress in women's clothing, but was not feeling confident to do so in public, Rivera suggested she photograph him. They fell in love and the series Beautiful Boy was born. Rivera scouts the locations and sources the clothing and props. He dresses in women's clothing regularly now; I'm not sure who picks those out.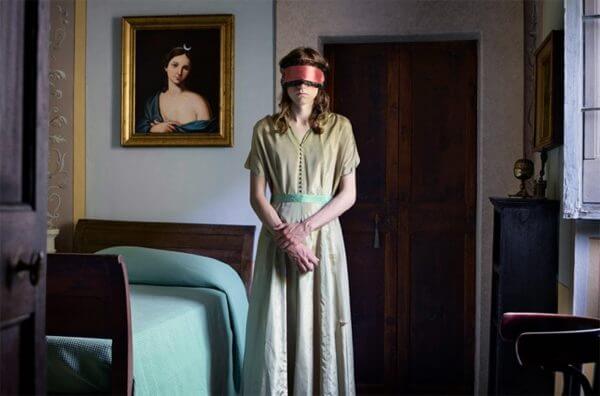 They've created pictures in many interesting places, including her Brooklyn apartment, a mid-century modern house in Palm Springs, an abandoned Catholic school, the Ace Hotel, among others. This photo, which I now own, was shot at a villa in Italy. It was BJ's idea to put on the blindfold. It's a wonderful addition to my collection, which contains quite a few obscured female figures. Of course, there's a slight twist with this one.
This summer, printmaker Lynne Kortenhaus had her first solo show at Schoolhouse Gallery. Sea Dances featured etchings and monoprints inspired by the sea, made last summer at Fine Arts Work Center. She invited me to her studio there last summer (followed by cocktails and snacks at Strangers & Saints). I saw these pieces hot off the press, amidst her jumble of working photos, sketches, and raw materials. Printmaking is a technical, technique-driven medium, but in Kortenhaus's work, mechanics are blissfully absent. Her ethereal abstracts and impressionistic landscapes are dreamlike.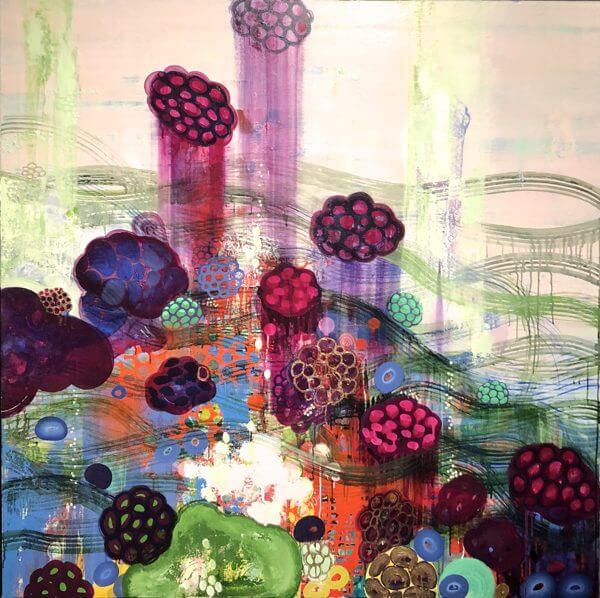 Sarah Lutz is one of my very favorite artists (and people). My husband surprised me with her work for my birthday this year; it is among my most prized possessions. In her new work, Lutz continues to play with her beloved marine-inspired motifs, but goes deeper in color, executing lush, almost moody, though still very much playful abstracts. This piece is so lush, I could eat it with a spoon, like grape jam flecked with celebratory confections.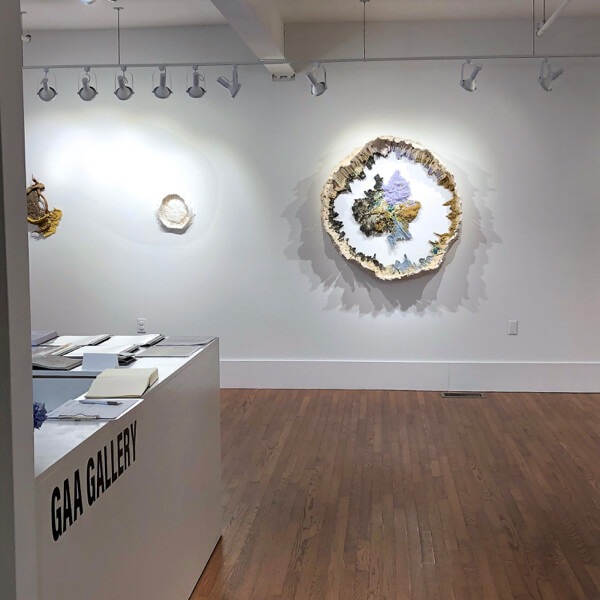 Bettina Rosarius opened Gaa Gallery three years ago, bringing a fresh, thoughtful infusion of contemporary work by artists not seen before on Commercial Street. Forward-thinking installations are edgy and interesting, while Bettina's welcoming manner and engagement with the work make them accessible for those who take a minute to talk, read, and learn. In the case of Brooklyn-based artist Brie Ruais's pieces one need just stand in front of them, observe, and absorb. Her sculptures are earthy, primal, and personal. Ruais often starts on the floor with a hunk of clay that weighs the same as she does, then pushes her body against it to create her forms.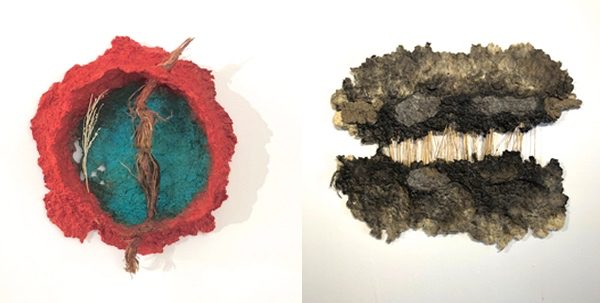 These pieces evoke the rawness of nature. They're obviously person-made, planned to point, and absolutely artistic, yet at the same time feel like they could have been plucked from some untamed part of our planet and mounted on the wall.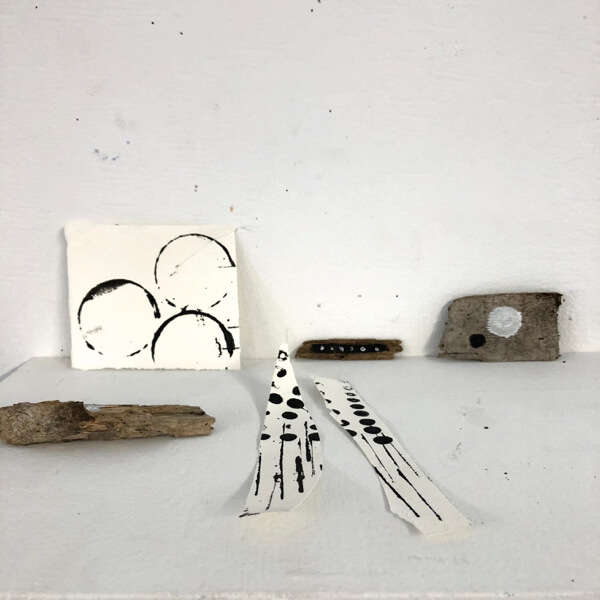 My friend, a Boston architect and dedicated minimalist, Deborah Baskin, stayed with me for a few days this summer to take an art class at Truro Center for the Arts at Castle Hill. I brought her to see the Frankenthaler exhibit, where she murmured about the genius of Frankenthaler's ability to fashion a masterpiece with so few lines, as well as to Gaa Gallery to see the work pictured above, where she appreciated Ruais's organic approach. I think the installation Deb created at the end of her course reflects our Provincetown field trips.
If you are interested in becoming an art correspondent for WTP, please inquire at wtp@thewoventalepress.net
Copyright 2018 Woven Tale Press LLC. All Rights Reserved.