October 2018
By DeWitt Henry, Literary Bookmarks Editor
Monthly link highlights to online resources, magazines, and author sites that seem informative and inspiring for working writers. Most are free. Suggestions are welcomed.
The Drum: A Literary Magazine For Your Ears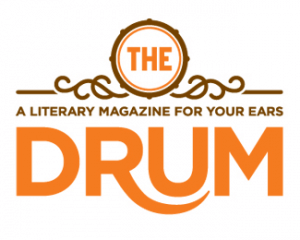 An innovative, media-savvy enterprise begun in 2010 by novelist Henriette Power, now Henriette Lazaridis, The Drum beats on and offers recorded poetry, fiction, essays, and interviews with notable and emerging writers mostly from the Boston area, and often participating in the annual Boston Book Festival or involved with the creative writing center, Grub Street. So far they have posted sixty-nine issues, the latest being September 2018. Their submissions are open through October 31, 2018. A banner archive offers issues back to #56 (April, 2015).
Previous issues feature: two poems and an interview by Austin Segrest (8:17 min), a February Flash Mixtape (21:44), Not Your Usual Valentine's, poems by Frederick Speers (27:59) and two poems and an interview by Leslie Williams (15:31). Another feature is "Where Do We Find Ourselves?"—"People stepped into our portable story booth and gave us their thoughts. Some were hesitant, others confident. Some were anxious, others optimistic. All were recorded at the Boston Book Festival on October 28th, 2017." Still other "stories on the street," and "zipcode stories" seem gimmicky, but "stories from our print journal partners" (Agni, Harvard Review, Ploughshares, and Post Road) bring to listeners' attention such outstanding stories as Nick Dybek's "Three Summers" from a 2015 Ploughshares (39:16), read by David Mawhinney.
The extensive list of past contributors includes Alix Ohlin, Ann Leary, Askold Melnyczuk, Bret Anthony Johnston, Celeste Ng, Holly Lecraw, Jennifer Haigh, Major Jackson, Martin Amis, Pablo Medina, and Roland Merullo. Some 274 to date.
In the editor's founding story, she wrote: "What continues to strike me the most about this new endeavor is how it reveals the paradox of the digital age: far from removing all humanity from our increasingly technologized lives, digitalization has made it more possible for individuals to produce and to connect….The Drum's writers seem to feel that they're reaching people in a new way. Even though it's just me in the room (sometimes accompanied by a helper), they respond to the larger audience they know they can reach through something as simple as an mp3 file."
The Ekphrastic Review

Toronto writer and artist Lovette C. Luzajic founded The Ekphrastic Review in 2015, "to promote how looking at art could help writers grow" and find inspiration in painting, photography, and sculpture. "Looking deeply at art," she states, "can…ignite endless new potential." Likewise, for artists, "writing creatively about art…can bring clarity and purpose to our work." So far The ER claims three thousand unique readers and fifteen thousand page views per week
Visited August 2018, the main page features "Marc Chagall's Le Violiniste Belue: A Personal Appreciation" by Diana Leo. Leo uses the image to prompt and organize her prose memoir of her father as a concentration camp survivor. Chagall's violinist evokes a memory of a fiddler in her childhood's Brooklyn neighborhood, to whom her mother and neighbors tossed pennies wrapped in newsprint; and which in turn evokes the memory of her father: "Is this how Chagall's fiddlers ended their lives? Knocked off their chairs, their villages gone, wandering from one courtyard to the next, but still reminding us of the important moments in life, of who we are, and where we came from? Maybe. But not Le Violiniste Bleu. He will rise higher and higher. He will go on to do wonderful things and be an extraordinary man. Just like my father."
The quality of writing is uniformly high and includes poetry, memoir, and fiction inspired by or alluding to particular works of art, which are reproduced in color at the head of each entry.
Scrolling down the homepage we have more featured works. "On Bernini's Apollo and Daphne," by Libby Maxey, a poem. "We Are Living in Magritte Weather," by Barbara Crooker, a poem accompanying "The Battle of Argonne," by Rene Magritte. "Ramble in the Jungle," by Alun Robert, a poem accompanying "Dream Garden," by Henri Rousseau. "Sorrow," by Gaby Bedetti, a poem for Anthony Bourdain, 1956–2018, and accompanying the photograph "Violets After Rainfall," by Gaby Bedetti.
There is also the editor's "Surprise Ekphrastic Writing Challenge: Van Gogh." She reports that "the two artists who stand out for sheer volume of submissions inspired by their work are Vincent Van Gogh and Edward Hopper" and thereby issues her challenge. By Sept. 7, 2018 (when a new challenge will be introduced), she seeks responses to one of the four Van Goghs she has posted in terms of a poem, or short fiction or nonfiction piece inspired by it. "You can describe the artwork or work from 'within' the piece, or it can be a mere doorway to an unexpected and unrecognizable place." She hopes to "shed some light" on Van Gogh's appeal.
Regular submissions are also invited. "The Ekphrastic Review will consider any kind of poetry, micro, flash, and shorter fiction, and interesting reflections, essays, and other prose about or inspired by art. Think creative nonfiction or literary prose and NOT academic or industry theory or criticism."
Over eight hundred contributors are listed and archived so far. Luzajic also makes a charming appeal to continue funding the site: "Ekphrastic supporters can choose a 12" x 12″ work from her square foot product line for $200 (Canadian dollars!) instead of $250 with coupon code EKPHRASTIC50 at checkout, with free shipping! You get a statement piece of original art at a great savings, and the code tracks the sale as a contribution towards the development and maintenance of The Ekphrastic Review."
Caroline Siegrist: A Prose Writer to Watch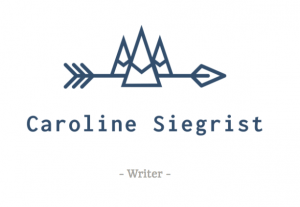 This site is a gift, not for its layout, bells or whistles, but for its content. My introduction to Caroline Siegrist was her remarkable memoir/essay, "Code Grey," in Hippocampus Magazine, a dramatic account of a young woman chaplain's first assignment to a night in a hospital emergency ward. While she waits nervously on duty, shooting victims from both sides of a gang fight are rushed in. The narrator remembers and wryly judges her vulnerable self in the moment, while also offering a hard-edged accuracy and eloquence in describing the carnage, the attempts to save lives, and the pain of waiting friends and families that must be separated in order to prevent more violence. Siegrist captures the mysteries of affliction, as well as the differences in background of the neophyte chaplain and those she tries to serve. She accompanies a mother to see her dead son's body: "I rein in the impulse to knock on the door, and we push into the room into the dark, cool room. When we step inside the exam room, Mrs. Jones whimpers, and goes limp in my arms….'Hold on, hold on,' I say, trying to shore up her soft body while grabbing a chair and sliding it across the room, the metal legs scraping across the tile as I move it under her. She makes a low, tremulous moan as I lean her into the chair….'I know,' I say. I kneel and move my hand toward her back, hesitate. She lets out broken, wrenching sobs. I rub between her shoulders, the sound of my hand against her windbreaker oceanic and familiar. 'I know.'"
She can't know, of course; but as a writer, she can share the toll of trying.
On the website, her blog posts and published writing goes back to 2014, when she was twenty-six, and they chart the continuing journey and passages of her life. She "grew up in rural Georgia and meandered my way to Boston, Vancouver, and now, Nashville, where I live with my husband, son, and one cat…I worked as a hospital chaplain for a year and a half after completing a theology degree. When I realized I was better at reflecting on chaplaincy than practicing it, I became a freelance writer." We also learn that "I'm millennial to my core…I took a year off after college to accumulate 'experiences.'" While a chaplain, she has a fiancé who is an IT engineer; then they marry and settle in Nashville. "I have just finished a year of hospital chaplaincy work and education, a year in which sleep came at a premium and death came at regular intervals. Now, freshly married and in a new city, I am in between commitments. I walk the tension-wire between obligations. I sail on a sea of free time; I can write for days and never hit land." Then they start a family and she writes of the demands of pregnancy and then of mothering an infant son as usurping her writing discipline.
Her accounts remind me of Charles Baxter's and John Updike's stories of soul-searching, flawed clerics. Her voicing of women's fears of being silenced by domesticity and mothering recalls Tillie Olsen's Silences, and in a recent post, "Things We Carry," she alludes to Tim O'Brien's trope of soldiering in Vietnam in her cataloguing of the tasks and challenges of baby and child care.
"Lately I've been complaining that I can't write," she writes. "Motherhood frazzles…." She is frustrated by mindless rituals, and by her own best efforts and mistakes, such as forgetting to bring a regular diaper as well as a swim diaper to the pool: "because the swim diaper doesn't absorb pee and has to only be switched out at the very last minute, as smoothly and hastily as a decoy jewel replaced at the last second of a heist." Still by the end of her day, she finds meaning: "I try to think of it [domestic chores] as kindling I gather all day for the bonfire that is our life together….I admire the flames of amber and incandescent white. I let it warm me from the inside out."
In this and in other essays, she seems to be progressing towards a book. I hope that life, editors, or agents don't pressure her into fictionalizing her journey, for it is that; and she is mastering the art of memoir, her own carefully worked art about living. Her weakest posts seem overly chatty and precious, but I trust her mettle. She starts with sentimental occasions, such as the death of a cat; taps into our easy, conventional expectations; but then pulls us up to another dimension with her endings.
Copyright 2018 Woven Tale Press LLC. All Rights Reserved.