Nesting #4
See Stacy Slaten's work in WTP Vol. VI #8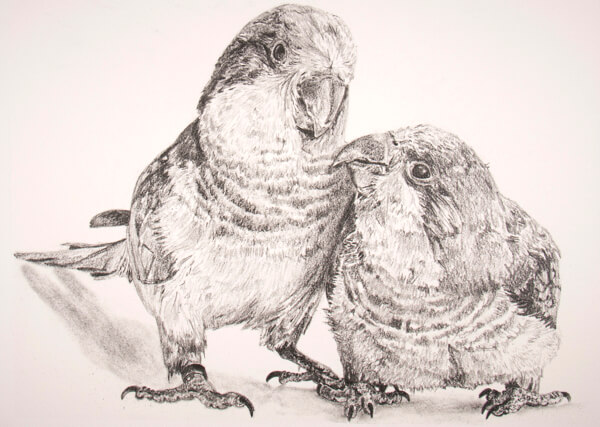 graphite on paper
12" x 9"
Slaten's understanding of the human form underlies all her work with an emphasis in figurative studies, although she is now investigating the anatomy of birds.
Birds, particularly parrots, express similar human needs of love and belonging. The bonds formed between mated pairs of parrots are among the strongest known in the animal kingdom. We can observe in their behavior actions similar to human affection, such as spending a large amount of time in actual physical contact to their mate, shared nest-building and rearing young, and defense of their territory. Slaten investigates these connections, using their bird forms to symbolize and discuss the human need for connection.
Stacy Slaten is the Assistant Professor of Painting and Drawing at Northern Virginia Community College in Alexandria, Virginia. She earned a Bachelor of Fine Arts degree in Drawing and Painting, another in Jewelry Design and Metalsmithing. She earned a Master of Fine Arts degree in Painting from Miami University in Oxford, Ohio. She currently lives in Alexandria with her parrot and continues to investigate drawing as a primary expression.