Abstract Art Series and Butoh Dance
By Richard Malinsky, Arts Editor
Maya Dunsky is a multidisciplinary artist, butoh dancer, choreographer, and painter. Born in Israel, she studied there as well as in Japan, and now lives and creates in Zickron Yaakov, Israel. She is professionally trained in classical ballet, butoh dance, and the fine arts.
Butoh is a form of Japanese dance theatre that came into being after World War II, influenced by the industrialization of the traditional culture, and by the horror of the Hiroshima and Nagasaki bombings. Common features of the art form include playful and grotesque imagery, taboo topics, and extreme or absurd environments; and it is traditionally performed in white body makeup with slow, hyper-controlled motion.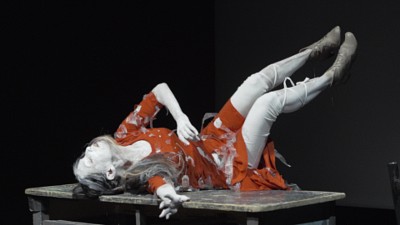 Butoh dance conceptually follows a creative process much like abstract painting—focusing on thematic content, without telling a linear story. This process is as much a part of her choreography as her abstract painting, and her website is devoted equally to both, with the two sections Butoh Dance and Painting Gallery. While the images are unrelated, both art forms feed each other conceptually.
In contrast to her dance themes, her paintings seem to relate more to the relationship of all living things, and one theme is of longing. On her site, she speaks of the yearning to return to home: "I aspire to lead the awakened and present the audience a world where they can let go of attachment and recall the true primal nature of being."
In the Floating Land Series, amorphous cell-like forms within precisely drawn concentric circles allude to the continuity of life cycles that unite us, both biologically and spiritually.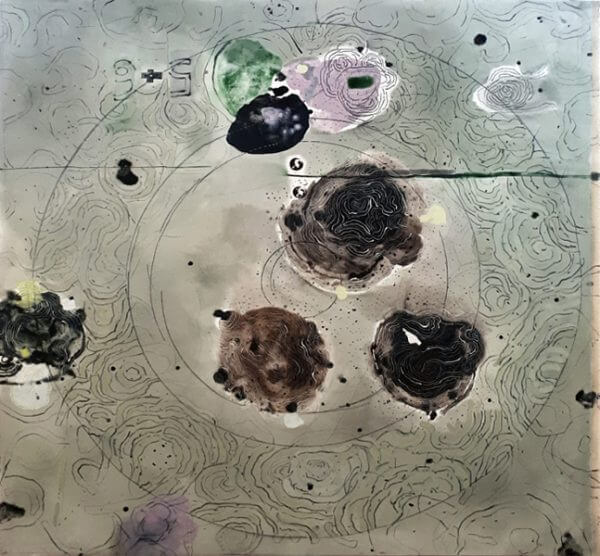 The repeated forms in this series of large paintings unite her thematic compositions. The concentric circles in the figure below echo the passage of time now, much like the concentric growth rings of trees. It is interesting that the center is highlighted, as if to suggest a universal beginning.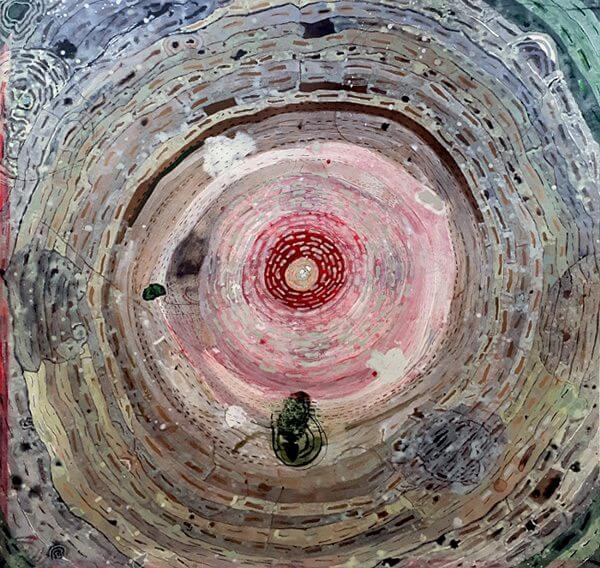 In the Sound Whisper Series, several horizontal compositions contain mystical and meditative elements in an abstract atmosphere of internal motion that seems to flow from left to right. The selection below features a dark spot that pierces a quiet blue space, one that generates a gentle frequency across the composition. She states she is "fascinated by the tension that exists in the range between beauty and loss and by the relations in between the pagane and the urbane."

In the compositions of her Dress Series, Dunsky strives for a tension between identifiable and abstract forms. In the selection from this series, a muted, intense smooth color background is balanced against dark-and-light linear forms to striking effect.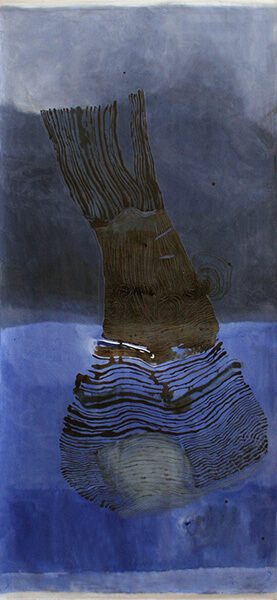 Maya Dunsky exhibits her painting extensively in Israel and abroad. Her site presents an extensive list of over thirty venues as well as eleven solo exhibitions. She is represented in the Herzliya Museum and Haifa Museum, Israel permanent collection.
Copyright 2018 Woven Tale Press LLC. All Rights Reserved.