"As a poet, the poem has to be more than a single moment;
it has to point to something."
Interview by Joyce Peseroff, WTP 2018 Poetry Judge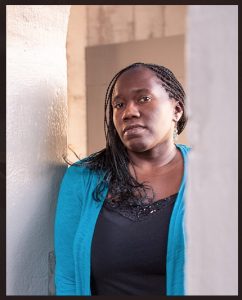 Cynthia Manick is the author of Blue Hallelujahs (Black Lawrence Press, 2016), and is a Pushcart Prize–nominated poet with an MFA in Creative Writing from the New School. She has received fellowships from Cave Canem, Hedgebrook, the MacDowell Colony, Poets House, and the Saltonstall Foundation of the Arts, among others. Manick's work has appeared in the Academy of American Poets Poem-A-Day series, Bone Bouquet, Callaloo, Kweli Journal, Los Angeles Review of Books (LARB), Muzzle Magazine, The Wall Street Journal, and elsewhere. She currently resides in Brooklyn, New York.
Peseroff: Several of the poems you submitted to this year's WTP poetry competition, specifically "Letter to 1991," "Glory," and "Mind the Gap," are brilliantly constructed portraits of people a reader yearns to meet. If every portrait is a self-portrait, how much of yourself do you discover as you write about family, friends, and others?
Manick: When writing poems I discover a little more about myself—the way memory works, the way wisdom is achieved, and the art of looking back. When you're young everything is an emergency, so at the time the teeth gap in "Mind the Gap" felt dire. But as you get older, moments bring clarity and you're able to step outside yourself. As a poet, the poem has to be more than a single moment; it has to point to something. I also discovered that people change, evolve, protect, we rage, we can be fun and soft, and we can be sarcastic and petty, and all of these states are part of humanity, and in result, a part of poetry.
Peseroff: Your first book of poems, Blue Hallelujahs, was published by Black Lawrence Press in 2016. Are these poems part of a new manuscript?
Manick: The three poems you mentioned above are actually in Blue Hallelujahs and those poems represent a past that has shaped the way I move in the world. The other two poems "A Taste of Blue" and "Notes Toward A Poem on Self-Care" are definitely part of the next project. Calling it the next "manuscript" seems so big to me, so instead I call it my next project. I'm currently enjoying words again and seeing where the words take me. Sometimes it takes me to the wound, to questions, while at other times it takes me to the stars and imagination. So the next project will be a book of realizations.
Peseroff: Two things struck me immediately about your work—your astute voice, and your gift for images, many of which involve the body. How do you bring this visceral sense of the world into your poems?
Manick: I try to observe. I freely admit that I'm a compulsive word collector. I have various notebooks of words and phrases that I've written in over the years. Whenever I read a book, I'll put a piece of scrap paper at the back, and write words that inspire me. Or when I'm outside, I'll write down things that are interesting. For example, last night I passed by a Chinese food restaurant. I smelled fried rice, heard different languages, saw people in line, and the windows were steamed. But then I heard classical music and turned to see a young girl (probably a daughter of one of the staff) with sheet music practicing piano on a keyboard in the corner. I started creating a narrative of what her life could be like, so quietly observing is vital to my writing practice. Secondly, the body is the root of interaction. It's the first image people see, it's how we locate self (think of a baby discovering its own hand), and it's the one thing we all have in common. The poet Natalie Diaz once said "you enter every dark place with your hands," so the body is how we first relate to everything around us.
Peseroff: In an interview with Tell Tell, you mention that you work full-time for a nonprofit. What advice do you have for women trying to manage a writing life that includes jobs, family, and other responsibilities?
Manick: I'm always honored, stunned, and twenty percent freaked out when I've learned that people have read my past interviews (laughing). Well my advice is to realize that yes you can have it all but not simultaneously. There is power in saying no to things that aren't in your best interest. The people in your life must know that you're a writer and it's important to you. So when having writing time, whether it's an hour or fifteen minutes, they should respect that time. Decide what time writing works best for you. I don't write every day but I'm a night writer, so I usually write around 10 or 11 at night. Then during the day via my commute or during my lunch hour, I edit. Some people get up an hour earlier in some households and write then. Also create a writing space wherever you live. It can be small—a corner of a sofa, a cheap desk from IKEA, or the kitchen table where you put short tablecloth down and self-made sign that says "writer at work" so your body and mind knows that it's writing time. Lastly, don't feel pressured to be productive all the time; sleeping, enjoying life, and reflection are important.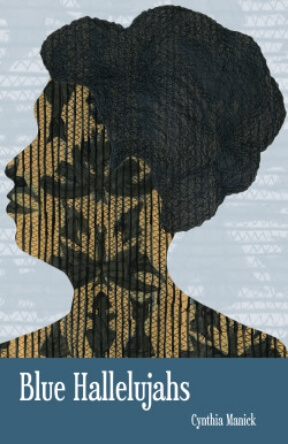 Peseroff: In "Note Toward a Poem on Self-Care…," you write, "at any altitude remember that ink can hold / the right kind of memory…". Do you see your writing as a way to preserve people and places that may otherwise vanish?
Manick: Yes, when we look at history, it's written accounts from the victors that primarily survive. Memory and people fade, but writing and putting it out in the world leaves it for others to find. Also as a Black woman, family history was usually passed down via oral tales, a name or date scrawled in a bible, or on the back of a photograph. As the elders of families passed on, the history passed on as well. Writing poems that capture people, places, and events keep them vital and it becomes the literary canon of our own lives. I never forget that at one time it was illegal for Black people to read or write. And in other parts of the world, censorship still exists. So as poets we bear witness and resist silence.
Peseroff: Who are the poets you admire and how have they influenced your work?
Manick: I'm going to list two poets whom I consider literary ancestors—Gwendolyn Brooks and Lucille Clifton. From these poets I've learned that it's okay to write about waking up in the morning, the card game on the corner, the favorite recipe that brightens the house, and the way the female body moves. They taught me that nothing is off limits and your individual lexicon and family sayings can be a part of you, and a part of your literary world.
Peseroff: What's the last book you read that every reader should know about, and why?
Manick: There are two books that I think are important and each speaks to different parts of our selves. The book Women of Resistance: Poems for a New Feminism edited by Danielle Barnhart and Iris Mahan is a collection of poems from forty-nine poets that addresses womanhood, violence, patriarchy, identity, and everything in between. This book speaks to how we navigate spaces—physical, mental, work-related, family, and cultural. The second book is Dear Continuum: Letters to a Poet Crafting Liberation by Mariahadessa Ekere Tallie, a book of letters to her poet self about balancing it all, wanting to master craft, and engaging in the poetry world. The word continuum refers to being a continuum of all the work and people that have influenced her, and that can be applied to artists of all types.
Copyright 2018 Woven Tale Press LLC. All Rights Reserved.