November 2018
Featured Bookmarks
By Donald Kolberg, Art Bookmarks Editor
Monthly highlights of online resources and websites informative and inspiring for artists or art enthusiasts. Most are free. Suggestions are welcomed.
Art Papers

From their "About" page: "Art Papers is an Atlanta-based nonprofit organization that provides an accessible forum for examining, discussing, and documenting the full spectrum of contemporary art and culture, as well as the ways they affect and reflect our lives. We do so in print, online, and through public programming." This is definitely a go-to website for anyone truly involved in the arts.
Staying up Late can Lead to Great Ideas
Whether from insomnia or practice, staying up late to do art is not such a surprise to many famous artists. Abigail Cain, a freelance writer out of New York, has put together an inspiring story of late-night artists for Artsy that we can read about, say…at night.
From Lee Krasner's insomnia to Philip Guston's street wandering in New York, we get a glimpse into some of the creative habits of these artists.
Louise Nevelson's Graphic Imagination
I have always been a Louise Nevelson fan. So, when I came across Brooklyn writer Tim Keane's Hyperallergic article "Louise Nevelson's Graphic Imagination," I had to link it here. He covers her sculpture and bas-reliefs, and endears himself with his coverage of her graphics and drawing. It's a heartfelt piece of writing that requires your reading.
22 Artists on the Materials That Inspire and Drive Their Work
Whether from an art supply store, a hardware store, or your favorite junk shop, the materials that inspire us are a strange lot. And while this list may seem benign, it does help us to start an internal conversation that could well get us thinking outside the box…way outside the box. Enjoy!
An Illustrated Guide to Jack Kerouac's On the Road
If you haven't been to Signature, it's worth a look. This bookmark sort of straddles art and literature. But Jack Kerouac is a hero, and to see the book On The Road illustrated by Nathan Gelgud was a treat. Take a look for yourself, especially if it's Beat to you.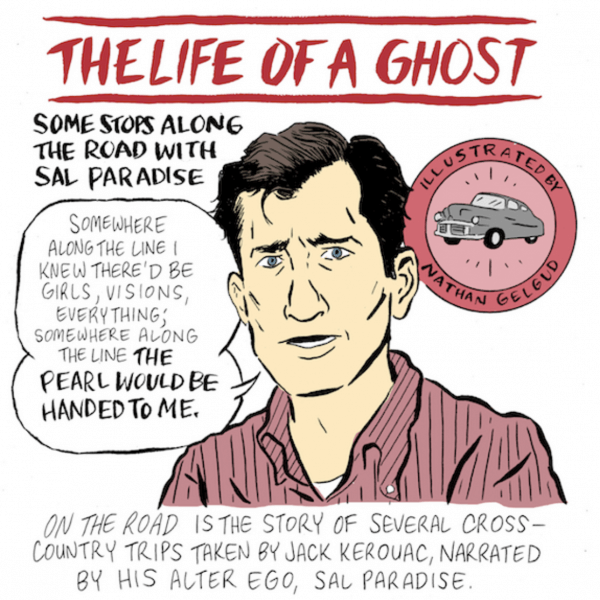 Gelgud is a cartoonist and illustrator based in Los Angeles. More illustrated guides and cartoons can be found on his website.
Lichtenstein to Thiebaud, Why Pop Artists Were Obsessed with Food
If you think past the obvious of still life and embrace a more modern view, you come up with a variety of artists that seem obsessed with food. Massive four-foot ice cream cones of Claes Oldenburg, Wayne Thiebaud's delicious bakery goods, and the carnal work of Mel Ramos are just a few of the artists that Artsy staff writer Alina Cohen covers in her article. It's a delicious read!
As always feel free to email me with your thoughts at dkolberg@thewoventalepress.net.
Copyright 2018 Woven Tale Press LLC. All Rights Reserved