See Driscoll's work in WTP Vol. VI #10
Inside the Studio offers a behind-the scenes peek into the work environments of WTP artists, as well as insight into their creative process within these resonate spaces.
By Jennifer Nelson, WTP Feature Writer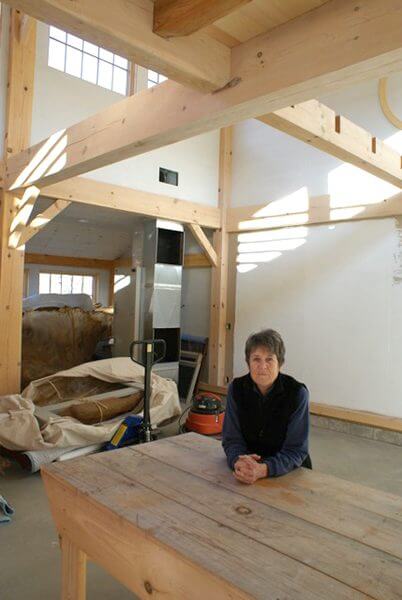 This fall, artist Rosalyn Driscoll said goodbye to her beautiful, downtown studio. For thirty years, she'd rented the 1,200-square-foot studio in a former factory in Easthampton, MA. But escalating rents, a need for more storage space, and a desire for a shorter commute pushed her to move into a newly built studio in an open field a hundred yards from her home in rural western Massachusetts. "The new studio provides spaciousness and freedom," she says. "It offers grounding and a stable connection to so much I hold dear."

In October, she disassembled, threw away, recycled, packed, and crated materials, supplies, and artwork. During the move, she relived the history of her work, admired her fabrication processes, and gained an overview of her evolving intentions and passions. It took several trips in big trucks to move. Now, she says, she's brought her old artwork into a new, pristine space—though, she's considering ways to get it out into the world. "Since most new work emerges from past or recent work, I will appreciate having it all close at hand."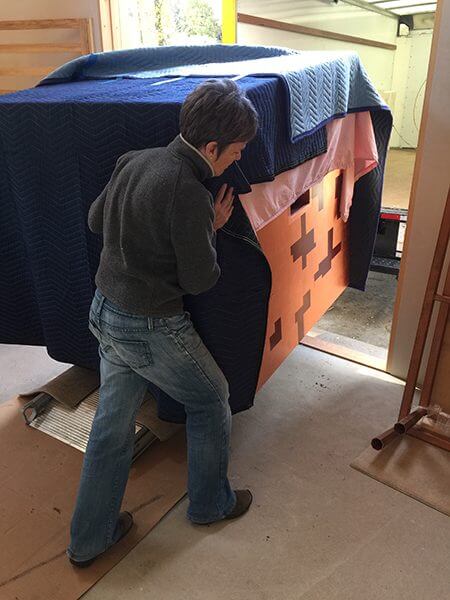 For her new studio, Driscoll and her husband chose a hill above the home where they've lived for forty years: "I've been creating commissions in the landscapes lately, so this hilltop offers a field of my own to play in." They designed the building in the shape of a basilica with a tall central nave, two side aisles, and clerestories—a row of windows well above eye level that lets in light and air. She loves how the basilica form reflects the human body's shape and produces a cascade of roofs.  It links the studio to the architectural lineage running through Christian churches and traditional American barns, alluding to the sacred and the farm.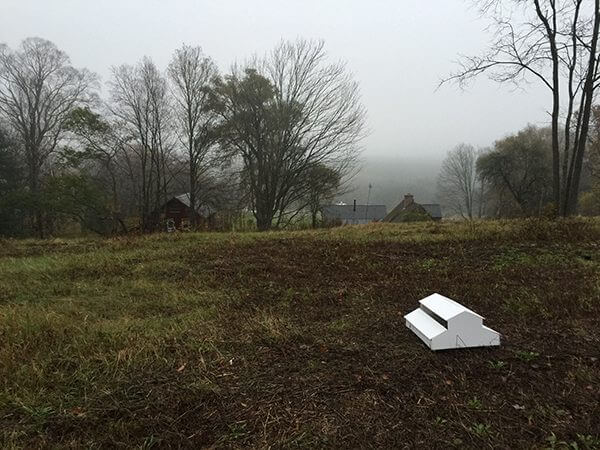 For the design of the studio, she consulted A Pattern Language, a book that encourages individuals to create their own houses, streets, and communities. For the frame, she chose timber for its long tradition, and solid, visible structure. For the technical design, she depended on the builder. Large north windows posed a heating problem, so instead narrow bands of windows were installed on the first and second stories. The 2,300-square-foot building is aligned on an east-west axis that allows full exposure to the south for photovoltaic panels. She takes some satisfaction in contributing to carbon's reduction with a sun-powered heat pump, and is also considering harvesting rainwater from the roof.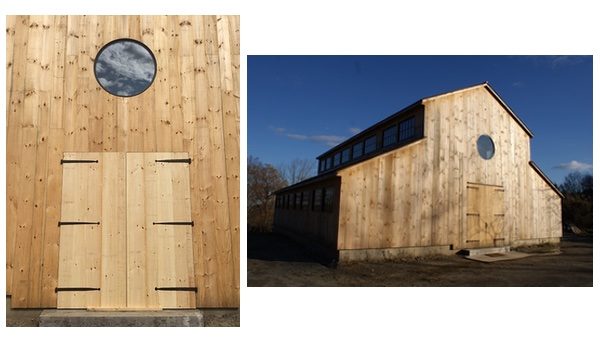 In her new studio, Driscoll can work on more than one project simultaneously, view projects from the second-story loft, and work any time of the day or night in complete solitude. During the warm months, she can extend the studio space into the yard to the south. No longer does she drive twenty minutes to work. She's uncertain if the new space will inspire new methods or forms. "The building itself has integrity and harmony," she says. "Its clarity and strength will surely inform what I make here."
What is clear is that she will be working using her favorite material rawhide. The frozen hides are thawed, rinsed, shaped, and dried. Other materials she uses include wood, stone, steel, copper, and video.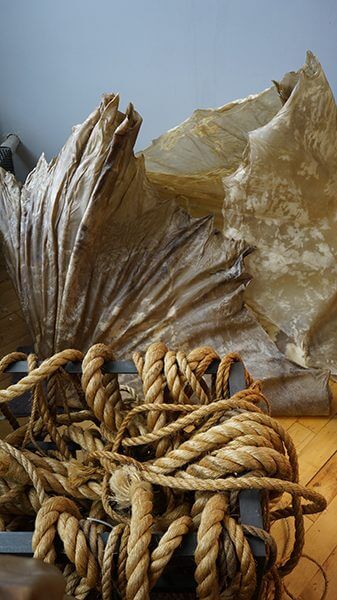 Driscoll holds dear memories of her old studio—even if it was only 1,200 square feet and half full of old art work. Its twelve-foot ceilings and massive timbers inspired her to work large and suspend objects in space. A wall of huge windows facing north flooded the room with light. It had a hardworking, robust feeling, not surprising given its history as a factory, and later conversion to shops and studios. People with developmental disabilities worked in a workshop on her floor, which created what Driscoll calls "an occasional parade past my door of wonderful human characters."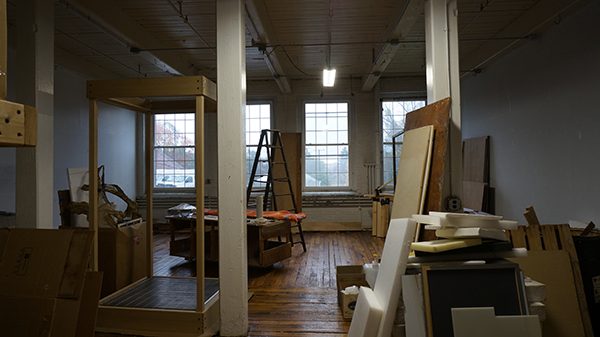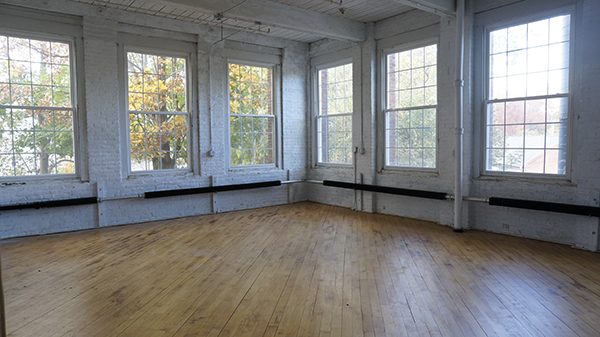 There, she also worked with Christopher Lenaerts, a fine furniture maker, who was her fabricator for thirty years. She describes him as a problem solver willing to tackle projects within and beyond his ken. His studio was next to hers. "Now that I'm moving, we'll have to figure out when, where, and how to work together," she says.
Copyright 2018 Woven Tale Press LLC. All Rights Reserved.