A Look at Indie Authors and Their Publishers
By Lanie Tankard, Indie Book Reviews Editor
Book: A Surgeon in the Village: An American Doctor Teaches Brain Surgery in Africa
Boston: Beacon Press, March 27, 2018. 288 pp., paperback $18.00, ISBN 9780807005866; hardcover $27.95, ISBN: 9780807044889; e-book $25.95, ISBN: 9780807044926. (Hardback originally published 2017.)
First published 2016 by HarperCollins Canada with co-author Carin Hoek-Ellegala as Send Forth the Healing Sun, $17.99 paper.
Author: Tony Bartelme with Catharina Hoek-Ellegala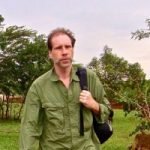 Tony Bartelme is senior projects reporter for The Post and Courier in Charleston, South Carolina. He was a 2011 Nieman Fellow at Harvard University. A finalist for three Pulitzer Prizes, he holds a Bachelor of Science degree from Northwestern University's Medill School of Journalism. Bartelme has earned a number of recognitions, the most recent being the 2017 Walter Sullivan Award for Excellence in Science Journalism from the American Geophysical Union for stories about the impact of climate change on the planet. The National Press Foundation presented him the 2017 Technology in Journalism Award for his use of infrared technology in reporting on carbon emissions. He received a travel grant for writing this book from the Fund for Investigative Journalism.
Catharina (Carin) Hoek-Ellegala is a pediatrician from The Netherlands. She worked for two years at Haydom Lutheran Hospital in Tanzania, where she met her husband, neurosurgeon Dilan Ellegala (who is the focus of this book). They now live in Lynchburg, Virginia, with their three children.
Publisher: Beacon Press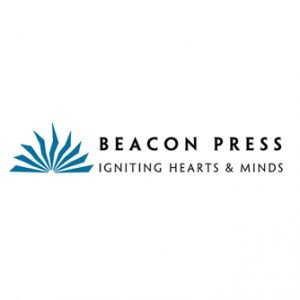 The motto of this indie press, founded in 1854, is "Igniting Hearts and Minds." Beacon is one of two presses owned by the Unitarian Universalist Association, the other being Skinner House Books. Beacon was the first publisher to bring out The Pentagon Papers in book form. Over the years, the press, whose focus is "serious nonfiction," has shepherded a number of pioneering works from authors such as James Baldwin, Herbert Marcuse, Jean Baker Miller, Marian Wright Edelman, Cornel West, and Mary Oliver. Beacon's stated mission is publishing books that "seek to change the way readers think about fundamental issues, promoting such values as freedom of speech and thought, the importance of economic and social justice issues, religious pluralism, respect for our environment and the importance of the arts in a civil society."
Helene Atwan began as director of Beacon Press in 1995. She holds a BA from the University of South Carolina and an MA in English Literature from the University of Virginia. Prior to Beacon, she worked at Random House; Alfred A. Knopf; Viking Press; and Farrar, Straus, and Giroux; as well as the Pocket Books division of Simon & Schuster. Atwan is administrator of the Hemingway Foundation/PEN Award.
Associate Publisher Tom Hallock, who has been at Beacon since 1996, heads up sales and marketing after being at Aperture; Simon & Schuster; and Farrar, Straus and Giroux. He's a former indie bookseller out of Brookline Booksmith in Brookline, Massachusetts.
Gayatri Patnaik, editorial director for sixteen years, was at Palgrave Macmillan and Routledge prior to Beacon. Born in India, she earned a master's degree in Cultural Anthropology from the New School in New York.
Executive Editor Amy Caldwell has been with Beacon since 1995.
Beacon Press accepts queries only by email. Their current publishing mission is general trade books. No "poetry, fiction, or self-help books at this time." The submissions policy is on the website.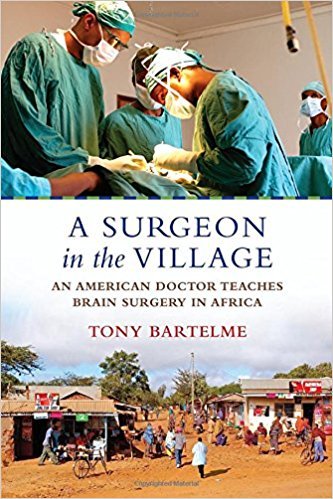 Review:
The brain is the organ of destiny.
It holds within its humming mechanism
secrets that will determine
the future of the human race."
—Wilder Penfield (neurosurgeon),
The Second Career (1963)
To treat or to train—that is the question. And journalist Tony Bartelme presents a compelling answer via the story of neurosurgeon Dilan Ellegala in A Surgeon in the Village, out in a paperback edition the end of next month. It's the tale of an American doctor who performed brain surgeries in Tanzania—sometimes with a tree saw when nothing else was available in the village.
The book covers global medicine, the history of brain surgery, life among the Datoga people in a remote sub-Saharan hamlet, the thoughts of a neurosurgeon in the operating room, politics in Tanzania—and a love story.
Ellegala is a tall doctor born in Sri Lanka, raised in South Dakota, and educated at Harvard Medical School—after which he's exhausted and seeks time abroad on a medical mission for a break. Non-governmental organizations (NGOs) turn him down, saying they have no use for surgeons—certainly not brain surgeons. Finally he secures six months at Haydom Lutheran Hospital in Tanzania, a step that will prove life changing for him and transformational for the country.
Bartelme uses Ellegala's experiences to probe an underlying issue: Treatment versus Teaching. Which method is more successful in the long run for countries without resources? Short-term medical missions (known as STMMs) to nations in need have become commonplace around the globe—as components of medical school, as church mission projects, or as the focus of NGOs. Such experiences offer two-way benefits. On one hand, patients receive care and lives are saved. On the other, those providing the care gain knowledge of global health issues in addition to more profound awareness of other cultures.
Doctors trained in wealthier countries come to those without the means for such medical education, deliver direct treatment to people in need, and then leave. Therein lies the difficulty. The problems and injuries don't stop occurring. Patients must therefore await the next round of fly-in doctors—a situation prone to foster a dependent attitude in the country while the most critical cases can die in the interim.
Some international medical groups encompass a "train first" approach to counteract that state of affairs, viewing their goals as two-fold: teaching medical skills to local practitioners during patient treatments—a model used by organizations such as Smile Train for cleft work, Partners in Health for healthcare, Doctors Without Borders for emergency medical care in crises, Helping Babies Survive (which began as Helping Babies Breathe) for neonatal techniques, or Over the Shoulder for doctor training in Iraq.
"Train forward" is the philosophy Ellegala advances during his time in Tanzania. He teaches neurosurgical techniques to a local hospital employee, Emmanuel Mayegga, to enable him to continue work on brain injuries after Ellegala leaves. Mayegga is not a doctor but does have a couple years of clinical training, more than most there. Ellegala also notices in Mayegga the demeanor of a surgeon. Mayegga eventually trains another Tanzanian, Emmanual Nuwas, in the techniques of the "No. 10 scalpel," thus allowing Mayegga to leave the village for additional study in Dar es Salaam. Once he's officially "Dr. Mayegga," he returns to Haydom Hospital. Meanwhile Nuwas has trained another, Hayte Samo, adding another link to the chain Ellegala began.
When he first came to Haydom, Ellegala had watched visiting medical students from other countries sit in the front of the room during daily briefings on neurosurgery cases while local hospital staff with less training but equal skill stood at the back. Ellegala began suggesting they trade places—a viewpoint aligning with that of Julius Nyerere, known as "Mwalimu" ("Teacher" in Swahili), who would assist Ellegala in his medical vision.
Nyerere was the first president of Tanzania after Tanganyika and Zanzibar united in 1964. In speeches during his next twenty-one years in office, Nyerere kept repeating this concept: "You cannot develop people. You must allow people to develop themselves." Another time: "If real development is to take place, the people have to be involved." And in his January 1968 speech to Tanzania, titled "A Peaceful New Year," he stated his belief more forcefully: "No nation has the right to make decisions for another nation; no people for another people."
Nyerere met with Ellegala as the surgeon worked to implement changes at Haydom Hospital and across the country, empowering local medical workers as partners. Bartelme describes these meetings. Ellegala eventually established an organization called Madaktari Africa once he left, to continue the work he had started. The Swahili word for doctor is daktari and the plural form is madaktari. Bartelme describes Ellegala reviewing the Tanzania program after it stood on its own for a while, considering how to measure success.
Bartelme mixes storytelling, reporting, and opinion—based on interviews, research, and first-hand experiences (such as witnessing Ellegala in surgery). Bartelme has a reporter's eye for background description, although on occasion with perhaps too much detail in scene setting.
Bartelme's approach in conveying the tale of Dilan Ellegala and Madaktari is akin to the one Tracy Kidder employed for a similar account of Paul Farmer and Partners in Health in Mountains Beyond Mountains. A Surgeon in the Village, however, is more of an elongated magazine feature or a newspaper editorial piece. Investigative research forms the foundation for this inspiring story blended with editorial opinion. And it works. Ellegala's moving experience provides a deeper understanding of global supply chains in the medical world—in addition to a budding romance story: Ellegala married a Dutch pediatrician, Carin Hoek, who was working at Haydom Hospital. Thousands of villagers attended their wedding in 2008.
Now they have three children and live in Lynchburg, Virginia. Central Health, a nonprofit hospital system, offered Ellegala the opportunity to create a neuroscience institute. So he did. His elderly Sri Lankan parents also moved there.
Some of the most fascinating and lovely sections of the book detail Ellegala's routines and rituals on the morning of a big operation—particularly drinking just the right amount of coffee (not too much but not too little). Bartelme takes readers into the operating room. We listen in on thoughts running through this neurosurgeon's mind while he's inside a patient's brain, "in this moment of stillness," for he never loses his awe of that organ of thought and feeling.
Tony Bartelme's narrative of one man, Dilan Ellegala, in A Surgeon in the Village represents a larger global picture in the same way Melissa Fleming's account of one woman, Doaa Al Zamel, in A Hope More Powerful Than the Sea stood for many more refugees in boats. Both Bartelme and Fleming wove words together as safety nets to hold the world's vulnerable by shining light on their plights.
Ultimately, A Surgeon in the Village is a thought-provoking book about the best way to offer charity. There's a Kiswahili proverb in Tanzania:
"Kila ndege huruka na mbawa zake."
or
"Every bird flies with its own wings."
Copyright 2018 Woven Tale Press LLC. All Rights Reserved.