"It is very important to me
to find fresh ways to examine the past."
Interview by Jennifer Nelson, WTP Feature Writer
Laura Noel is a photographer, bookmaker, mixed media, and installation artist in Atlanta, Georgia. She began her work as a street photographer, though over the years, her art has evolved into finding fresh ways to depict the movement of time. Her artwork often explores American cultural issues, as well as aspects of her personal history. Her recent series Crawling Backwards is a visualization of time travel back to a pivotal moment in late childhood when the world seemed to be filled with unlimited possibilities.
In February, she debuted her sculptures and prints of books in A Sum of Parts, a solo exhibit at the University of North Georgia Art Gallery in Watkinsville. Last year, she participated in The Other Art Fair Brooklyn, an artist fair featuring 130 emerging and independent artists, and attended The Arctic Circle artist residency in Norway. She has had exhibits at the Pingyao International Photography Festival in China; the International Photo Festival in Mannheim, Germany; United Photo Industries in New York City; The Rhode Island School of Design Museum; The Cleveland Museum of Art; The Museum of Contemporary Art Georgia; and Gallery 1401 in Philadelphia.
She received a grant from Ideal Capital to create The Lookout, a book of found poetry and street photography, and was the recipient of a year-long Walthall Fellowship, which culminated in an exhibition at the Museum of Contemporary Art Georgia (MOCA GA) with the other fellows. Her work is in the collections of The High Museum of Art in Atlanta, The George Eastman Museum in Rochester, The Ogden Museum in New Orleans, North Carolina State University's Gregg Museum of Art and Design, MOCA GA, and a number of private and public collections. She earned a Bachelor's degree in Public Policy Studies from Duke University and a Master's in Fine Arts with Distinction in Photography from the University of Georgia.
Nelson: How did your childhood and relatives in Georgia impact your artwork, particularly in such series as Crawling Backwards?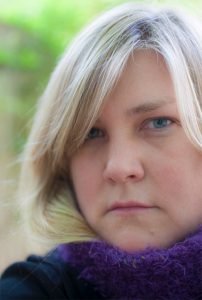 Noel: My grandmothers and great aunts were natural storytellers who found an eager audience in me when I was an adolescent and young adult. I was always a bookworm and listening to these women recount tales of loss, achievement, heartbreak, and adventure was as absorbing as a good book—better, really, because I had intimate knowledge of the small southern towns where these events took place. Unlike reading a book, I was a participant in the story—I walked the landscape and studied the places my family lived and the things they owned.
And we had amazing props.
I was always aware of my great good fortune to be born into such a colorful family. I can't remember a time when I didn't know I was going to make something from our history, even before I was really conscious of art as a force in my life.
My father and his immediate family lived in a small mill town called Griffin, about an hour south of Atlanta. They lived in a large house with with my father's Aunt Constance, who had no children of her own. Around the age of forty, Constance married a wealthy older man named Frank, who was a big game hunter, naturalist, and collector of strange artifacts, and he moved to Griffin and built the house my father came to live in.
Even though they lived in a completely ordinary town, their house was filled with Uncle Frank's butterfly collection, a polar bear rug, an anaconda skin, poison blow darts, and even a small animal head that was alleged to be a shrunken head. She was called Susie.
I grew up visiting the "big" house in Griffin, where my grandmother and Great-Aunt Constance still lived. All these magic objects they lived with collectively acted as a key that unlocked my imagination.
The contrast between my ordinary middle school existence in bland Atlanta and weekend trips to this strange Southern Gothic place populated with oddities from around the world was practically a recipe for how to become an artist.
The death of Constance, when I was twelve, and the subsequent loss of the house and all its intoxicating belongings, cemented my path. To have something truly unique and lose it at a formative age forged the twin themes of time and loss that still follow me.
Nelson: Marmoreal and Crawling Backwards examine how memory and experience shape and fictionalize our view of the past. Why do you think it's important to look at the past in twenty-first-century ways?
Noel: Because the ideas and themes I am working with are so universal, it is very important to me to find fresh ways to examine the past. The medium of photography is especially susceptible to repetition. Literally everyone that has a phone has a quality camera. I was driven as much by how I did not want to make these photographs as how I did. I did not want to go back and photograph the remains of places my family lived. I did not want to re-stage the actual events with models and sets. These modes of working seemed either too straightforward or too complicated; neither felt right.
Digital technology and software gives me a newer tool to explore the past. I am not trying to make literal photographs. I am creating photographs that are kind of a visual time travel. I'm interested in trying to photograph the quality, color, and texture of memory, as opposed to its basis in fact.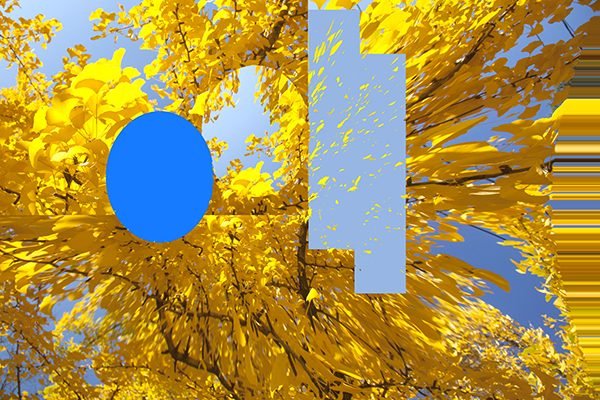 Nelson: In Marmoreal, you use a digital technique of layering images created from scratch, incorporating them into your photos of marble statues at museums. Art from antiquities becomes pastel-colored and modern. Can you explain in greater detail this technique?
Noel: I am attracted to the idea that each of the Marmoreal photographs consists of two images that parallel patterns in memory and history. The first image is an antique that survived by chance or by care. Either fate conspired to save the statue or someone saw its beauty and worth and actively preserved the object when similar items were lost or discarded. Memory often works this way—by chance and by care—such as keeping a diary or a snapshot as a token to remember. These pictures reference the real world, or rather an earlier version of today's world. The second image exists purely as pixels created in a computer. The second picture has no point of reference in the physical world other than the aesthetic values I chose as I was making it. This picture is arbitrary like memory sometimes is.
When I create the second digital picture, I don't have preconceived notions of what it should look like. I create the digital image in response to the specific statue I am working with at the time. There are commonalities, such as the gesture of peeling back parts of the image to create shifts in color concentration and transparency, that maintain the overall visual consistency of the body of work, but in general each photograph is a specific response to the individual qualities of the statue.
Nelson: Last year, you sailed around the Svalbard archipelago in Norway with fellow artists, writers, and scientists as part of the Arctic Circle residency. How did this experience impact your artwork, including your progress in your book From Deep South to Far North?
Noel: I'm still digesting my Arctic experiences. The photographs I took in the Arctic are like notes or building blocks. I have the basic clay, now how do I mold it? The challenge of the trip and making my book From Deep South to Far North is how to depict an interior journey in a fresh way. Though the Arctic is exotic, many fine artists have been there and taken suburb pictures of its desolation and beauty. I am struggling with how to do something different. I believe the answer lies in how I am pairing text and images of these two exotic extremes—a frozen, blue world under siege and a color-saturated, deep south that is both real and extinct. The book itself will be the art more than the individual pictures. I want to make a book that is a unique object, but avoids gimmicks. I'm still working out the process.
Emotionally, to sail across the top of the world in a place where nothing decomposes for hundreds of years and at the same time is so fragile was a deeply moving experience. Standing on the deck of the boat or one of the icy shores, is a strangely quiet experience, but there is an intensity there that I am still trying to dig out.
Nelson: The installation "I Want a Name When I Lose" explores contradictory ideas about failure in American society. You photograph objects—sports award ribbons and balloons—traditionally used to mark events that involve winning, and then inscribe them with words. What message might you be trying to convey through this work?
Noel: "I Want A Name When I Lose" reflects my own schizophrenic feelings about achievement professionally and personally and how to square that success or lack thereof with self-acceptance. I wish I could say I have found self-acceptance, but I haven't. I remember an art professor telling me to "enjoy the process" when I was a nineteen-year-old undergraduate. That made zero sense to me at the time. Now I understand it, but it rings hollow. I enjoy the process but it's not enough.
What's different about this series is that I made the objects I photographed and then responded to the object I made to express my thoughts that were at times bitter, but hopefully a little funny too.
I feel anger at the stereotypes of artists and the path society expects us walk, especially falsely romantic ideas of being discovered after death or getting a first New York show at ninety. I wanted to make a cynical project—it's been kind of freeing.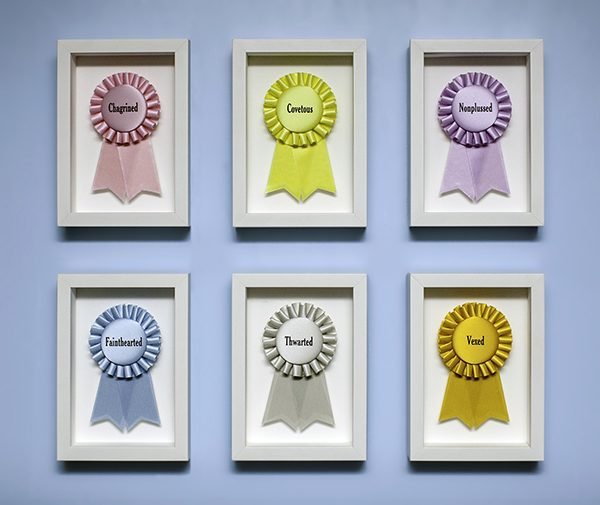 Nelson: How has earning an MFA influenced your artwork?
Noel: I earned my MFA when I was forty and had been a working photojournalist for fifteen years. I was also living in Atlanta and commuting to Athens to the University of Georgia while raising my three-year-old son as a single mother. So my MFA experience was a bit atypical. Exposure to the work of other students and faculty was the best part of the experience. Critiques and the time to make work were a gift. I have a deep regret that I wasn't able to have the full experience of spending time outside of class with my fellow students and professors.
Nelson: How do you see your photography evolving in the future?
Noel: I see my work going increasingly toward semi-autobiographical artist books with a sculptural bent. And more work in the studio along the lines of my series, The Inside Dog Barks the Loudest, where I use the studio as a blank slate to explore ideas that are not visual at first glance. At the same time, I still love street photography and the simple act of seeing.
See Laura Noel's series The Inside Dog Barks the Loudest in WTP Vol. VI #1. 
Copyright 2018 Woven Tale Press LLC. All Rights Reserved.