Drawing gestural information
By Beau Wild
Recently I completed a 60″ x 40″ graphite and charcoal image of a native American and realized how much I enjoy drawing. Because of this drawing, I have begun to add more drawing into both my abstract and figurative paintings. I have also added paper, inks, pastel, etc., to make them mixed media. Currently I am working on a series about lost- letter fragments, letters from my past which I have copied and ripped up to add to the composition.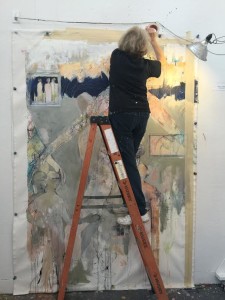 I start a painting intuitively, adding marks, globs of paint, lines created by a long stick…no real plan at all. As I continue to add line, color, texture on the surface of paper, wood or canvas, I scrutinize the forms until an image appears. At this time, I begin to make stories about the images. As the images develop, gestural lines suggesting body language and shapes blend with little detail.
I assume that I am fascinated by the figure because as early as I can remember, I was an observer. Several questions intrigued me then and continue to intrigue me now. Why people do what they do? What motivates their actions and reactions? What makes us all "tick"? I enjoy people watching while sitting in an outside cafe. When I paint, I revisit these people-watching times, and incorporate the gestural information of the people.
It is exciting to discover an image developing within the painting, but sometimes I just want to keep with the abstracted delight of color and line and mark making and texture…all aspects of an abstract which delight me. So my painting can end up with figures or just an abstract.
I do use graphite along with acrylic paint as another mark making tool. Graphite is drawing while paint is for painting. And I am delighted by the use of only black and white. I started using only a black and white palette when I began teaching the basics of abstract painting. It seems easier for students to grasp the concept of abstraction without the introduction of color.
Currently I am trying to reduce the amount of information in the painting down to the bare bones. To say as little as possible and still get the feelings expressed. I am always amazed by how much a simple line can express. So now my figures have little detail of face or body but the gestural lines of their body language tells much more.
My daily schedule is to go to my studio about 9 am, unless I am teaching, and stay there until 4pm. I have a wonderful studio along Rose Bay in Port Orange where I can work on pieces 7′ x 7′. I also paint four or five times a year at the Atlantic Center for the Arts in New Smyrna Beach, where I can work on much larger pieces.  When I am there, I can work 24 hours a day for 4 to 10 days at a time.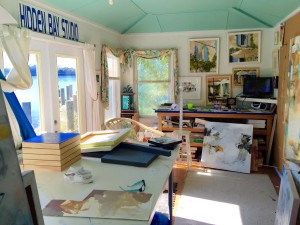 See more of Beau Wild's art in The Woven Tale Press Vol. IV #1.