My Entrepreneurial Spirit
[dropcap]V[/dropcap]ideo offers an opportunity to add texture and dimension to a poem, and perhaps a different, hopefully more inviting, way to experience poetry. I'm not looking for any literal relationship, I just like how language, music, and image can correspond with each other like a dialogue.
---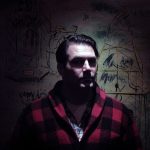 Aaron Fagan is a graduate of Hampshire College and Syracuse University. He has served on the editorial staffs of Poetry, Scientific American, and Fine Homebuilding. He is the author of two poetry collections Garage (Salt Publishing, 2007) and Echo Train (Salt Publishing, 2010). His latest manuscript, White Deer, was a finalist for the 2015 National Poetry Series. Recent work has appeared in The American Poetry Review, Maggy, The New Criterion, Prelude, Smartish Pace, and The Yale Review.
---
Visit Aaron Fagan on his website
---
National Poetry Month 2016 Features Schedule at The Woven Tale Press
Sun, Apr 3, 2016—Spotlight: Michael Dickel, Associate Editor, Poet
Mon, Apr 4, 2016—Essay-Poem Hybrid Writing by American Poet Charles Banes
Wed, Apr 6, 2016—Donna Kuhn, my lies have titles, video
Fri, Apr 8, 2016—Eleanore Hooker—Interview
Wed, Apr 13, 2016—In Paris—Charles Bane, Jr., Reading | Video
Mon, Apr 18, 2016—A Poem from Natasha Head
Wed, Apr 20, 2016—My Entrepreneurial Spirit | Video Poetry | Aaron Fagan
Mon, Apr 25, 2016—Poet Activists
Wed, Apr 27, 2016—David Loret De Mola — Guerrilla Poetry
---